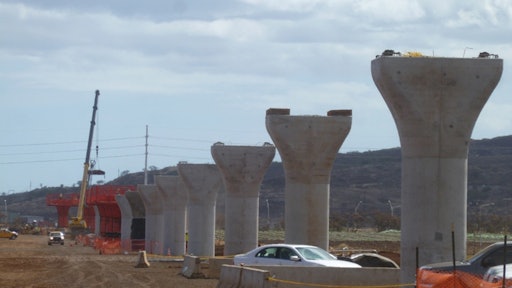 Ben Cayetano — Hawaii's former governor, a legendary politician who had slipped from public life — announced he was coming out of retirement and running for mayor of Honolulu with one primary goal in mind: Stop the rail.
Specifically, an elevated rail system running 20 miles from east Kapolei to central Honolulu. After four decades of discussion, fits and starts, the $5.2-billion project — the biggest and most contentious municipal endeavor in Hawaii's history — had its ceremonial groundbreaking in 2011.
Pads are graded for concrete piers in former sugarcane fields. Last December, federal authorities said the project was clear to proceed to the final design phase that precedes the receipt of $1.55 billion in federal funds.
And the 72-year-old Cayetano entered the mayoral race with a robust lead in the polls, pledging to save the city from "a wall of concrete snaking along its waterfront." He has been appearing at chili-and-rice feeds in school gyms with PowerPoint slides of massive rail tracks looming in front of the famed Aloha Tower.
"This is the most expensive per-capita rail project in U.S. history," he said.