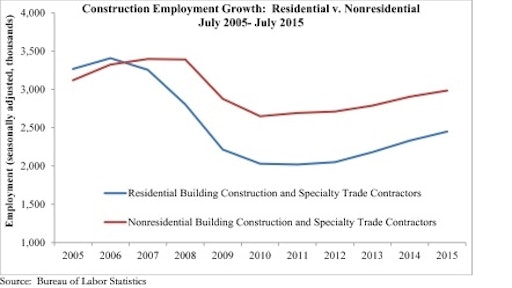 U.S. construction industry employment rose 0.1 percent in July and added 6,000 net new jobs, while the construction unemployment rate shed 0.8 percentage points and now stands at 5.5 percent. Nonresidential construction employment fell by 4,600 jobs in July after losing 800 jobs in June. Nonresidential specialty trade contractors lost 3,700 jobs for the month, while the nonresidential building sector declined by 900 jobs. Residential construction and the heavy and civil engineering segment added 8,200 and 2,900 net new jobs in July, respectively. 
"The slump in energy sector investment continues to lead to job loss in the nonresidential construction industry," said Associated Builders and Contractors Chief Economist Anirban Basu. "With energy prices dipping further during the last few weeks, additional layoffs are possible.
"The nation added 215,000 jobs on net in July, including 6,000 in construction," said Basu. "Given the uptick in overall nonresidential construction spending, one would anticipate that the net figure would be better than it has been in recent months, likely indicating that expanding firms are finding it increasingly difficult to secure properly credentialed workers. This is of course true in many industries, but construction may be considered a special case because so many workers left the construction segment in favor of others during the downturn.
"There are a number of implications," continued Basu. "First, construction wages will continue to expand, which will suppress construction industry profits absent countervailing improvements in productivity. Second, average construction workweeks will lengthen. Third, many workers who have been separated from the energy industry are likely to secure work in construction, but perhaps in a different region of the country. Fourth, construction firms are likely to accelerate spending on technologies to increase productivity."
The construction unemployment rate of 5.5 percent is two full percentage points from July 2014 and the lowest level since August 2007. The unemployment rate across all industries remained unchanged at 5.3 percent, although the figure was two hundredths of a percentage point from being printed as 5.2 percent.
Construction employment for the month and the past year breaks down as follows:
Nonresidential building construction employment fell by 900 jobs for the month, but is up by 20,100 jobs or 2.9 percent since July 2014.
Residential building construction employment expanded by 6,000 jobs in July and is up by 30,900 jobs or 4.7 percent on a year-over-year basis.
Nonresidential specialty trade contractors lost 3,700 jobs for the month, but employment in that classification is up by 60,000 jobs or 2.7 percent from the same time one year ago.
Residential specialty trade contractors added 2,200 net new jobs in July and have added 88,300 jobs or 5.3 percent since July 2014.
The heavy and civil engineering construction segment added 2,900 jobs in July, and employment is up by 31,600 positions or 3.5 percent on a year-over-year basis.
To view the previous employment report, click here.