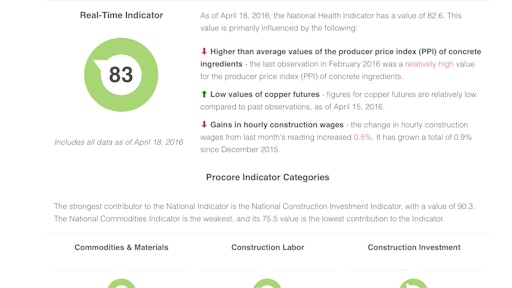 Procore Technologies has launched a new Construction Health Indicator which will provide insight into the health of the construction industry. The Procore Construction Health Indicator will provide a look at both the national and regional level of the factors driving economic movement in the construction industry.
"As a leader in the construction technology space, we feel strongly about providing this level of information so that the entire construction industry can be more empowered with data that influences what we all do on a daily, monthly, and yearly basis," says Bassem Hamdy, EVP of marketing with Procore Technologies.
The index will measure and report across labor, commodities and investment categories.
[VIDEO] Procore Construction Health Indicator
Procore has partnered with Graphiq, a data aggregation and visualization company that will analyze the publicly available census data using a proprietary algorithm to develop the Procore Construction Health Index score. The score reflects how favorable current market conditions are for construction companies.
"We're excited to be partnering with Procore to power the Procore Construction Health Indicator," said Nick Larusso, Ph.D. and director of data engineering at Graphiq. "To generate this indicator score and each subsequent report, we combined information from over 50 dimensions, including total nationwide construction spend, building permits issued by state and the price of crude oil, all of which are known indicators of the construction economy. We examined these values over time within each geographical region to get an idea of how things are changing for that local geographic market. This approach allows us to consider the many dimensions and enables us to confidently describe the health of the construction market"
In addition, Anirban Basu will be acting as Procore's Chief Economist on a monthly basis to provide deeper insight into the numbers and how they relate to the overall construction industry and the economy.
Companies in this article