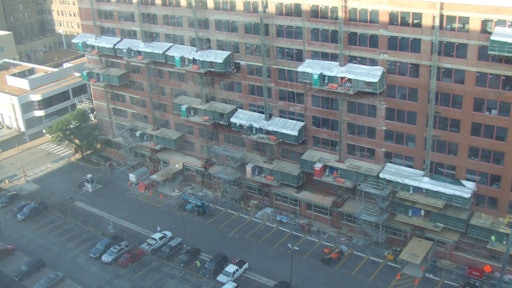 If you have to carry out temporary work at height, mast climbing work platforms (MCWPs) and aerial work platforms (AWPs) are one of the safest and most efficient types of equipment you could possibly use. Sadly, accidents can still occur when the best equipment is not used correctly.
Accidents involving MCWPs tend to make national news, perhaps more so than accidents involving booms and scissor lifts, because of the dimensions and spectacle created through these 'workshops in the sky'.
The difference is down to a couple of factors, says Kevin O'Shea, director of safety and training at Hydro Mobile: "MCWPs can be erected many hundreds of feet high on a project and can have platform lengths over a hundred feet long. When something of that size and scale collapses, it's a major event. If an accident occurs where a boom or a scissor lift collapses, there is usually only one or maybe two people in the platform. MCWPs can hold many more people. It's interesting though, because although MCWPs have a good safety record when compared to booms, scissors and scaffolding, and although accidents are less frequent on MCWPs, they seem to receive more media coverage."
MCWPs need to be installed and assembled before use. The safety of an MCWP depends largely on the assembly and correct planning before installation, i.e. wall ties, ground resistance, other equipment interference. The use of MCWPs comes with safety rules that must be followed. If these rules are followed, the equipment will perform safely. An example of these rules for installers would be:
Make sure ground conditions will achieve stability throughout the duration of use.
Respect the manufacturer's tie distance, platform lengths and configurations for installation and dismantle.
Once the first anchor/tie is secure, make sure the mast is vertical, then make sure the base is still properly supported.
Anchor/tie installations MUST take account of concrete strength, edge distance, hole depth, anchor spacing AND torque.
Inspect the drive unit BEFORE installation/dismantle to ensure that it is fully functional.
Before handing the unit over for use, complete a full inspection.
This is an example of the rules for safe installation, and there will be a similar but different set of rules for dismantle. The only way to learn how to erect and dismantle MCWPs properly is by completing rigorous training from an accredited source.
Once the installation is finished, operators should not alter any part of the MCWP. For this reason, it is important for rental companies to use a comprehensive handover certificate which shows how the machine was assembled. But regrettably, some alteration is often carried out on the job site without the knowledge of the rental company that completed the handover of the equipment. And sometimes accidents occur due to jobsite operators altering the installation of the MCWP, e.g. anchor points, outriggers, wall extensions, says Romina Vanzi, IPAF's MCWP department manager. This is where proper training and inspections come in.
"If someone alters an anchor/tie assembly post-installation, a properly trained operator should pick this up in his/her daily inspection," says O'Shea. "Additionally, a properly trained installer should pick this up in the pre-dismantle inspection."
Likewise, Emmanuelle Rainville, director of operations at Fraco, believes that more could be done to raise awareness among MCWP users on the importance of training, following the procedures, and inspections.
Overload is one of the risks. MCWPs are not equipped with overload sensors and their load capacity depends on the configuration – normally, the longer the platform, the lower the safe working load (SWL). The load must be evenly distributed on the platform. The operator is responsible for ensuring that the SWL is not exceeded. A specific load chart should be carried on the machine after installation so that the operator has this as a reference.
MCWPs function as 'workshops in the sky' and many people potentially have access to them. An MCWP can be on a jobsite from the beginning until the end, with many tradesmen working on the platform and operating it. Like booms and scissor lifts, the unauthorized use of MCWPs is a major problem on job sites.
"The industry needs to find a way through technology or other means to restrict access to the platform to trained persons," says Rainville.
Card reader and smartcard systems could be a very effective method of access control and improving safety. IPAF's machine-readable Smart PAL Card (Powered Access Licence) is now issued as standard to successfully trained operators of AWPs and MCWPs. The Smart PAL Card can be used together with card readers fitted on machines which may be set to ensure that only correctly trained operators use equipment on site.
Installation is one of the most intricate processes for MCWPs and one of the areas with the most potential for things to go wrong. Accidents can occur during installation and after installation if not done correctly.
"It's difficult for any manufacturer to control safe installation and use," says Kevin O'Shea, who also chairs IPAF's MCWP Committee. "But manufacturers train exhaustively to prevent accidents and encourage safe use. Installation of an MCWP is technically challenging and typically a well-trained installer will exercise all of his/her due diligence and knowledge gained through training to ensure that all the risks are controlled. Training is vital before using or installing an MCWP, and the industry has taken huge steps forward in working with regulators to enforce this requirement."
Apart from training provided by manufacturers, Fraco's Emmanuelle Rainville suggests implementing a third party inspection program enforced by local authorities: "This would require a competent person such as an engineer to perform an inspection after installation," she says.
It is important to note that there are two aspects to training: training and familiarization.
"Appropriate operator training for any MCWP involves full knowledge of general safety principles and specific operational aspects, including use of safety devices and application of load capabilities," says Kevin O'Shea. "Pre-use inspection of an MCWP is required and must be completed by qualified operators. It should also be a requirement to document and retain pre-use check sheets."
Romina Vanzi explains: "Despite their operational simplicity, MCWPs are still equipment that require basic knowledge to be operated safely. It's true that climbing up and down is the only movement that an MCWP does. But what do operators need to know in performing this simple operation? What pre-use checks should operators carry out before using the machine? Operators should also be trained to detect when an MCWP can be dangerous to operate. Alterations made by third parties or weather conditions can make the machine unsafe and operators must be able to detect these hazards. MCWP use would be a lot safer if everyone followed the basic rules."