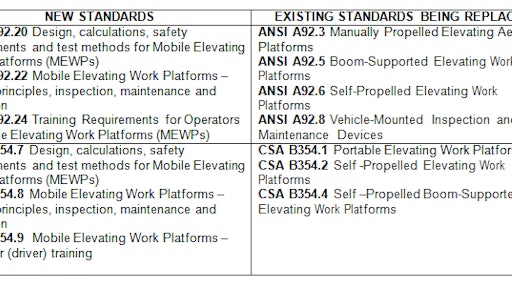 Many standards are in the process of being updated and some will be in the public comment period in the near future. This is the time to allow your voice to be heard. Ultimately, however, equipment users and the companies that rent to them should expect many significant changes when these new standards are published. Don't wait until the last minute to speak up if you will be impacted and required to address any change. This notification is to make you aware of potential changes that may impact you and your business. 
American National Standards are kept current and relevant by means of timely revision, reaffirmation or action to stabilize. Standards developers are permitted three options – periodic maintenance, continuous maintenance or stabilized maintenance. Periodic maintenance is defined as the maintenance of a standard by review of the entire document and action to revise or reaffirm it on a schedule not to exceed five years from the date of its approval as an American National Standard. 
It is most common to see periodic maintenance apply to standards. With a review every five years to extend no further than 10 years, committees made up of individual industry experts who volunteer to complete the process, invest their time to create improved standards. The time required to conduct a thorough review of a standard varies based on many factors, such as the length and complexity of the standard being reviewed, the need for change in current standards, the level of harmony on proposed changes, and the availability of members to meet.
In the US, the Scaffold and Access Industry Association (SAIA) is an ANSI-accredited standard developer that is the secretariat for the ANSI A92 series of standards that address aerial lift and mast climbing work platform (MCWP) standards. In Canada, the Canadian Standards Association (CSA) is accredited by the Standards Council of Canada (SCC) to carry out standards development and certification functions. 
During the last several years, both U.S. and Canadian aerial lift standards have been transitioning from current product-specific standards to topic-specific standards – design, safe use and training. When complete, these new standards will replace many of the existing product-specific standards. In essence, you will have one topic-specific standard (i.e. design) that will cover all types of AWPs. This basic change follows the International Standards Organization (ISO) standards for these products. 
The intention to standardize to this international standard language where possible will undoubtedly result in changes that will impact all AWP industry stakeholders, from manufacturers to users. 
CHART
It is anticipated that during the summer of 2015, the final drafts of the new suite of standards will be released for public comment. From that date, you can expect the standards to be published in about 10 months (estimate April –June 2016).
In the long term, it is hoped that all other product-specific aerial lift standards are consolidated into these new standards, such as vehicle mounted (ANSI A92.2 and CSA C225) and any other specialized AWPs (i.e. ANSI A92.7 Airline Ground Support Vehicle-Mounted Vertical Lift Devices).
With the new standards still under development, existing standards are still required to comply with the periodic review process. The CSA B354.1/.2/.4 – 2012 standards were reaffirmed in 2013; the ANSI A92.3/.5/.6 – 2006 were reaffirmed in 2014. Reaffirmed is a review without change in language, leaving them in effect for another five years. This review was completed with the understanding that the new standards will be updated and replace the older standards before their next periodic review is due. ANSI A92.8 was re-issued in 2012 and will be included in the new standards as well.
ANSI A92.2 Vehicle-Mounted Elevating and Rotating Aerial Devices will not be included in the new standards and has recently completed its periodic review. You can anticipate a new 2015 standard being published this year. The Canadian CSA-C225 Vehicle-Mounted Aerial Devices will also go through a periodic review and be re-issued. It is hoped that both ANSI A92.2 and CSA C225 will become part of the new suite of standards in the future.
ANSI A92.7 Airline Ground Support Vehicle-Mounted Vertical Lift Devices was published during 2014. This was a dormant standard and was revitalized to address this product group. It is hoped that this standard will also join the suite of standards when its next periodic review occurs.
Both ANSI A92 and CSA B354 standards cover MCWPs and transport platforms. The ANSI A92.10 Transport Platform standard was reaffirmed (no change) in December 2014 from the previous 2009 publication. The A92.9-2011 Mast Climbing Work Platform standard is due for a review in 2016. CSA B354.5 (R-2011) is under periodic review and will be formatted to follow the ISO standard structure with a design, safe use and training standard. CSA B354 will also issue a set of transport platform standards following this structure. You can expect to see these out for public comment in 2015 with anticipated publication during 2016.