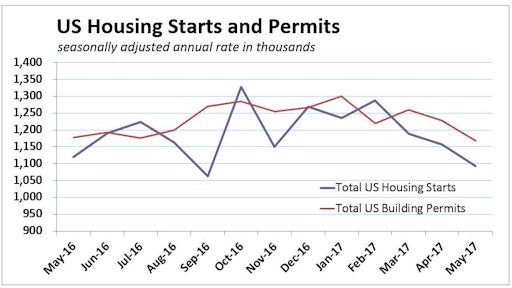 ForConstructionPros.com graph of U.S. Commerce Department data
Total U.S. housing starts turned in another disappointing performance in May, with single-family starts falling 3.9% to a 794,000-unit annual pace and multifamily starts falling 9.7%. Permits also declined both at the single-family and multifamily level, suggesting there is more at play than some temporary statistical issue.
Even with another weak month, actual starts year-to-date are still 3.2% more than in 2016 through May.
"May's 3.9% drop in single-family starts and 1.9% drop in single-family permits is perplexing, particularly given that builders are selling homes as fast as they can deliver them," according to the Wells Fargo Economics Group's analysis of May's housing estimates from the U.S. Census Bureau and U.S. Department of Housing and Urban Development. The February annualized rate, 877,000, was the fastest monthly pace since the Great Recession. And single-family starts are up 7% year-to-date compared to 2016.
Worker shortages may be a growing issue, with the number of single-family homes authorized but not started rising 4.0% in May and surging 14.7% over the past year.
The three-month moving average of single-family starts reached a post-recession high in April, and the National Association of Home Builders (NAHB) is forecasting continued growth for the sector as the year progresses.
Apartment construction is clearly declining, however. Multifamily starts dropped again in May for a fifth consecutive month of decline. Five-plus unit multifamily starts fell 10% to a seasonally adjusted annual rate of 284,000. Multifamily five-plus unit permits were also fell 10%. NAHB is forecasting that multifamily development will decline in 2017, although leveling off at elevated levels. The May data indicate that multifamily five-plus unit production is down 5.4% on a year-to-date basis.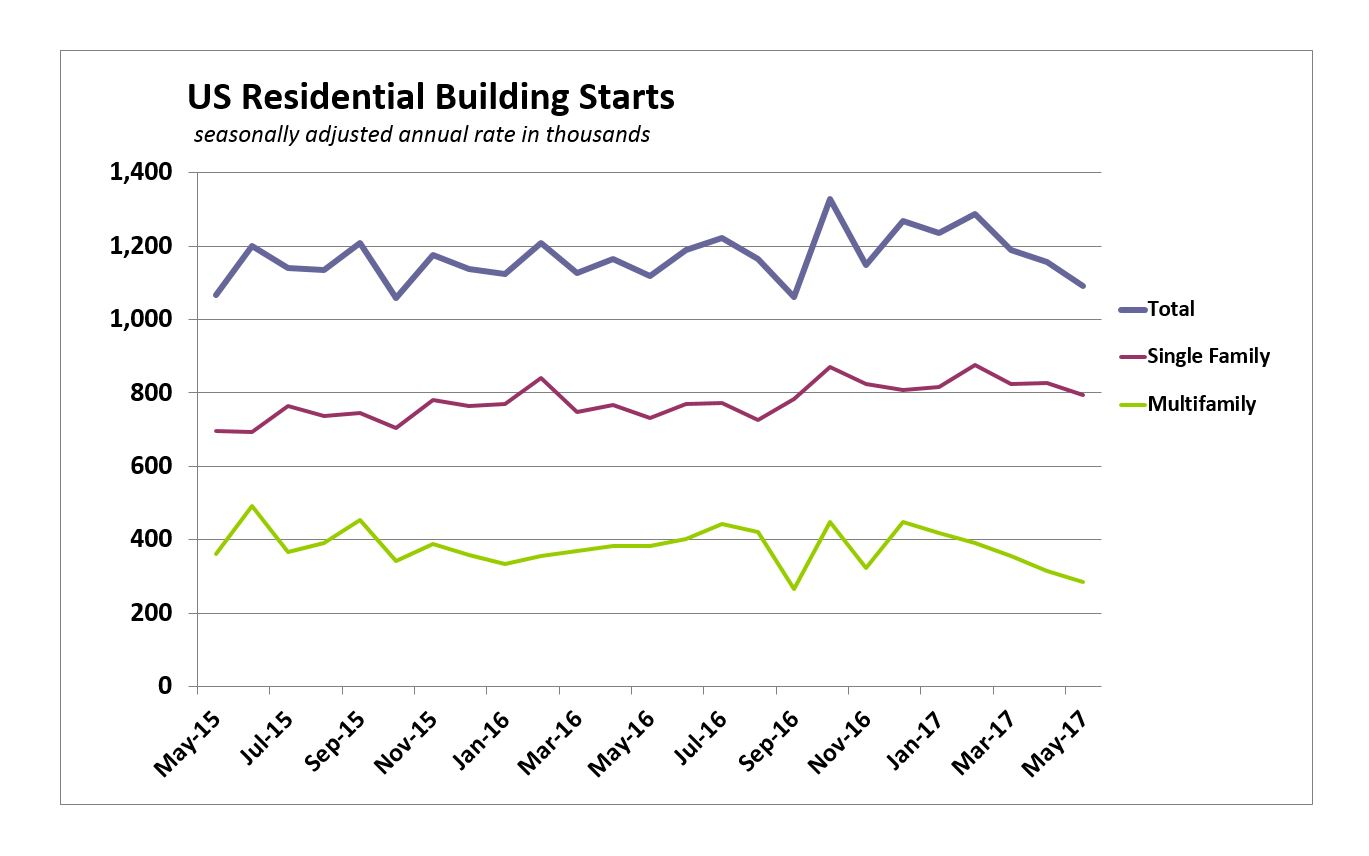 The February annualized rate of single-family U.S. housing starts, 877,000, was the fastest monthly pace since the Great Recession. And single-family starts are up 7% year-to-date compared to 2016.ForConstructionPros.com graph of U.S. Commerce Department data