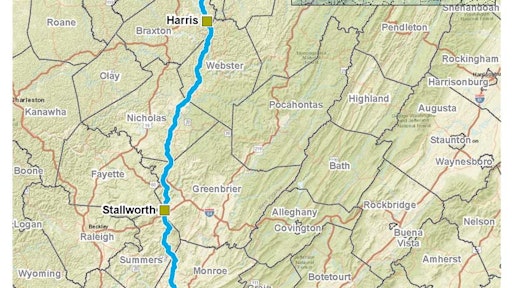 Mountain Valley Pipeline
The Federal Energy Regulatory Commission's most recent pipeline approvals include proposed Atlantic Coast Pipeline and the Mountain Valley Pipeline for transport of fracked natural gas from Utica and Marcellus shales across West Virginia. But FERC's approvals are not the final steps in the permitting process.
Both pipelines still need state permits, water-quality permits, and federal permits.
As proposed, the $5.1 billion Atlantic Coast Pipeline would span 600 miles through five West Virginia counties, through Virginia and into North Carolina.
The $3.5 billion Mountain Valley Pipeline would go 303 miles through 11 West Virginia counties into southern Virginia.
Following retirements, FERC operated from February to August without a quorum, which delayed pipeline reviews.
Appointments of Robert Powelson, a former Pennsylvania utilities commissioner, and Neil Chatterjee, a policy aide to U.S. Senate Majority Leader Mitch McConnell (R-Ky.), as commissioners changed that. Chatterjee has served as chair.
In all, there are five seats available on the Federal Energy Regulatory Commission which the White House fills with appointees in consultation with the U.S. Senate. Two seats remain vacant.
"I think that both pipelines still have an uphill battle to face in the court of public opinion in states and in federal court," Kelly Martin, director of the Sierra Club's Beyond Dirty Fuels Campaign, told MetroNews. "I think that there's a still long way to go before either of these pipelines are approved and ready to be constructed."