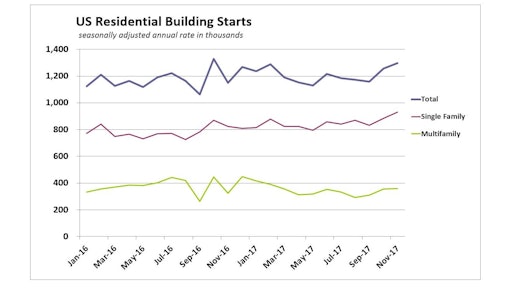 Total U.S. housing starts increased in November 3.3% to a 1.3-million seasonally adjusted annual rate, with strong readings from the single-family sector. Residential construction starts were up in the South and West, but declined in the Midwest and Northeast. Slowing multifamily starts were behind the slowdown in the Northeast, which has seen completions surge.
Joint data estimated by the Census Bureau and HUD showed single-family starts jump 5.3% in November to a 930,000-unit seasonally adjusted rate. It is the highest monthly annual rate since the Great Recession. Single-family starts are up almost 9% year-to-date compared to 2016 as limited existing inventory and solid builder confidence create positive market conditions.
Multifamily starts were effectively flat in November, registering a 367,000-unit annual rate. But multifamily construction's three-month moving average reached the highest annualized pace (356,000 units) since April. Multifamily starts were downwardly revised in October from 413,000 to a 373,000, which is more consistent with the National Association of Home Builders' forecast of the apartment sector leveling off.
The solid November estimate matches the increase in the NAHB/Wells Fargo Housing Market Index to a level of 74 in December. Single-family permits, a reasonable indicator of future construction conditions, are running 10% higher year-to-date, compared to the first 11 months of 2016.
"The building trend is clearly on the rise, particularly compared with earlier this year," according to analysis of the monthly estimates by the Wells Fargo Economics Group. "Solid readings for both October and November bode well for fourth-quarter GDP growth."