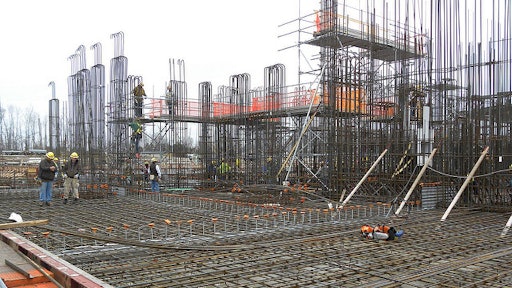 President Donald Trump announced on Thursday he would impose hefty tariffs on imported steel and aluminum to protect U.S. producers, risking retaliation from major trade partners like China, Europe and neighboring Canada.
Trump said the duties – 25% on steel imports and 10% on aluminum, along with quotas limiting the volume of metals exporting countries could sell in the U.S. – would be formally announced next week (week of March 5), although White House officials later said some details still needed to be ironed out.
Paul Ryan Leads Conservative Challenge to Trump's Steel Tariffs
Trump's tariffs mirror recommendations the U.S. Commerce Dept. made on January 11. The Commerce strategies aim at raising U.S. steel production to about 80% of capacity, from 73% now, and increasing domestic aluminum production from the present 48% average capacity to 80%.
In an ENR report on Commerce's recommendations, Ken Simonson, Associated General Contractors of America (AGC) chief economist, said AGC officials "are hopeful [Trump] will recognize this could make infrastructure less affordable, foil efforts to rev up economic growth and imperil the financial health of contractors who have fixed-price contracts but have not locked in steel purchase prices."
Simonson noted that for 2017, the Bureau of Labor Statistics producer-price index for steel mill products climbed 7.8% and the aluminum mill shapes index was up 9.4%. He said, "These tariffs would doubtless add double-digits to those rates of price increase."
Some contractors buy steel on the spot market, and others use futures contracts to lock in steel prices, notes Anirban Basu, Associated Builders and Contractors chief economist. Such contracts "can be expensive," though, and some firms choose to hold off on materials purchases. "But now is not the time to wait. Now probably is a good time to lock in prices, because the future has become very uncertain."
Overall, Basu says, the construction industry "stands to be among the biggest losers" among U.S. business sectors if the steel and aluminum tariffs and quotas are implemented.
In his March 1 analysis of January construction spending data, the AGC's Simonson warned that escalating steel prices, on top of already significant inflation of construction materials costs, threaten underlying trends that "appear to point to a recovery in manufacturing, pipeline and power construction among private nonresidential categories, and strong private and public investment in airports and schools . . .
"Already, prices have jumped for lumber, steel and aluminum," the economist said. "Potential double-digit tariffs or import restrictions on steel and aluminum could wreck the budgets for numerous infrastructure projects and private nonresidential investments. In addition, any countermeasures taken by U.S. trading partners that are affected by these measures would harm U.S. exporters, transportation and logistics businesses, and ports, which would reduce demand for a variety of construction categories."
Association officials called on the White House and federal agencies to avoid triggering a "trade war." The officials said tariffs on steel and aluminum would undermine the administration's goals of achieving sustained higher economic growth.
"Making construction, infrastructure and development projects more expensive by imposing new trade barriers will do far more damage to the economy than any limited benefits new tariffs or quotas might provide," said Stephen E. Sandherr, AGC's chief executive officer. "Worse, increasing the cost of construction will only undermine the President's ambitions to rebuild the nation's aging and over-burdened infrastructure."
China's massive steel-industry expansion has helped produce a global glut of steel that has driven down prices. But the Trump tariffs will not directly hit China that hard, according to a Reuters report. Data shows that Canada supplies 16% of U.S. demand for steel versus China's 2% and is by far the largest steel exporter, followed by Brazil and South Korea.
The New York Times points out countries hit hardest by the proposed tariffs would be U.S. allies Canada, Mexico, Brazil and South Korea, which together account for almost half of U.S. steel imports. The U.S. is also a substantial market for Britain's steel industry.
An early sign of the potentially adverse effects Trump's plan may have on the American economy is Electrolux, a global maker of household appliances, announcing on Friday that it would delay a planned $250 million investment to expand and modernize a factory in Tennessee.
"We're concerned about the impact that the tariffs could have on the competitiveness of our U.S. operations," the company said in a statement, adding it would seek more details of Mr. Trump's plan before deciding whether to move forward.
Wall Street trading reflected the divergent impact of the tariffs. Steel makers rose, with AK Steel Holding up 9.5%, U.S. Steel Corp up 5.7% and Nucor up 3.3%. Companies that are big users of steel fell. Ford Motor Co shed 3% and General Motors Co fell 4%.
The overall trend was down, with the Dow Jones Industrial Average falling 1.7% and the S&P 500 index down 1.3%.