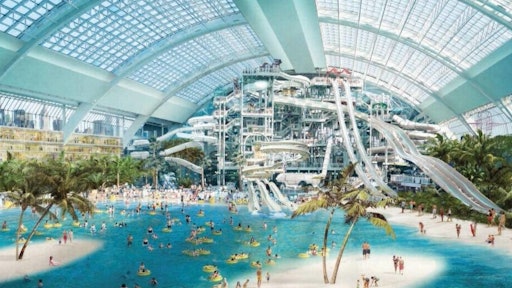 At a time when store closures are accelerating and struggling malls pockmark the country, county commissioners in Florida have approved a plan to build what would be the largest mall in the U.S.
American Dream Miami would also be the most expensive mall ever built, according to Canadian developer Triple Five Worldwide Group of Cos. The 6.2-million-square-foot retail and entertainment complex would cost an estimated $4 billion, Triple Five says.
The cost would include 2,000 hotel rooms, indoor ski slope, ice-climbing wall and water park with a "submarine lake," where guests could enter a plexiglass submarine and descend underwater.
Edmonton, Alberta-based Triple Five secured zoning approval in May from the Miami-Dade County Commission in an 11-1 vote, and is now in the process to secure environmental and water permits for the 174-acre site.
But just adding modern features and fun amenities hasn't been a surefire strategy for convincing local governments and financing sources that new malls are needed. Some projects that made it off the drawing board have turned into big money losers or faced lengthy delays.