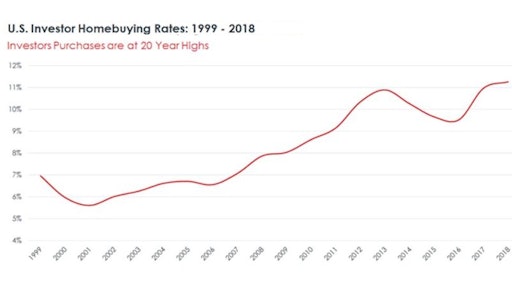 Corelogic
In 2018, the share of U.S. home sales bought by investors reached its highest level – 11.3% – in twenty years.
In releasing the data, Corelogic says the increase isn't from big institutional buyers, but rather from smaller investors just getting into the game. What's more, these investors appear to be focusing in the starter-home tier, giving first-time homebuyers a run for their money while also chasing homes in markets with relatively high rents (Corelogic lists markets with the most and least investor activity here).
The share of starter homes (defined as priced in the bottom third of the local market) purchased by investors peaked at over one-in-five homes in the past two years, with a rate of 20.3% in both 2017 and 2018. These rates are 2-3 times the investor purchasing rates of move-up (middle tier) and high-end (upper tier) homes that also peaked in 2018 at 7.8% and 6.3%, respectively.
In the aftermath of the Great Recession investors bought at least two million homes, and almost certainly far more than that, the New York Times reports. Large-scale institutional investors bought tens of thousands of homes for less than they cost to build.
The flood of capital seemed like a one-time opportunity arising from the collapse of residential real estate prices. But investors never stopped buying.
In the most frenzied markets, investors bought close to half of the most affordable homes sold last year, and as much as a quarter of all single-family homes.