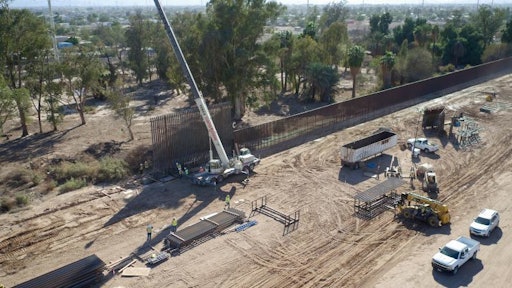 Mani Albrecht @US Customs & Border Protection
Customs and Border Protection officials are rushing to hit President Trump's target of 450 miles of new wall construction during his term, nearly doubling the rate of construction since the start of the year. The Wall Street Journal reports the administration had built 402 miles of wall as of Nov. 13.
The government has accelerated construction in some places by waiving dozens of laws, including measures protecting Native American burial sites and endangered species.
Some of the costliest construction is unfolding in Guadalupe Canyon. The canyon is so remote that area ranchers say illegal crossings by migrants are extraordinarily infrequent. Now work crews are blasting cliff sides daily to build the wall and access roads at a cost per mile of about $41 million, roughly double the border wall's average cost per mile estimated in a 2020 CBP status report.
The Rio Grande Valley in Texas, an area with historically high illegal crossings, was a higher priority for the Border Patrol. But construction there has been inconvenient because its planned path for runs through private land.
The Trump administration has filed more than 117 lawsuits against landowners this year to survey, seize or potentially begin construction. It's an increase from 27 lawsuits filed in 2019, according to the Texas Civil Rights Project.
If the Biden administration moves to stop construction, as Biden has suggested, logistical and financial challenges could hurt. A single contract in November 2019 for 33 miles of fence replacement in Arizona, currently valued at about $420 million, could cost the government nearly $15 million to terminate, according to ProPublica, which first reported on termination fees for altering contracts.
If the project is halted, further work on the Rio Grande River levee will likely be necessary. The wall was part of the flood control plan approved by the International Boundary and Water Commission, and portions of the levee have already been altered to prepare for its construction.