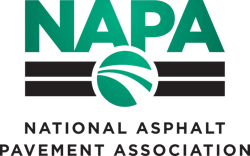 The National Asphalt Pavement Association (NAPA) announced the winners and finalists for its 2011 Community Involvement Award. The companies were recognized at a special ceremony during the association's 57th Annual Meeting in Palm Desert, Calif.
NAPA presents its Community Involvement Award to asphalt companies that serve their communities through outstanding programs and projects. "NAPA understands how important it is for the companies in our industry to participate in and support their communities," said KimSnyder, 2011 Chairman of the NAPA Board of Directors. "This recognition reflects the high priority that these companies place upon their relationships with their neighbors."
The winners of the 2011 Community Involvement Award were Barrett Paving Materials Inc.of Watertown, N.Y., and The Lane Construction Corp. of Calais, Maine. Finalists included Tilcon NY Inc. of Wharton, N.J.; Granite Construction Co. of Sparks, Nev.; Granite Construction Co. of Indio, Calif.; and Vulcan Materials Co. of Fresno, Calf.
Companies in this article