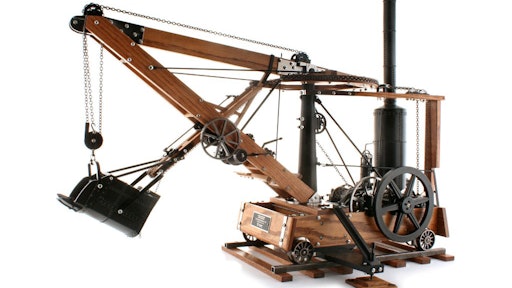 The Historical Construction Equipment Association (HCEA) will raffle a 1:10 scale model of the iconic Otis railroad shovel, with $5 ticket sales between now and September 15, 2012.
Patented in 1839, the Otis Steam Shovel is the earliest known land-based single-bucket excavator and remained in production until after 1910. Its digging action is still used in today's cable- and hydraulic-operated shovels.
The 1:10 scale model features a swinging boom, extending and retracting dipper stick, rolling wheels, and operational levers, gears, drums and bucket trip. The $4,500 model is the first of a series of scale models being produced exclusively for the HCEA.
Raffle proceeds will go to fund development of additional historic equipment models.
Tickets are available from the HCEA at www.hcea.net, or by calling the HCEA office at 419-352-5616. The drawing will be held September 15, 2012, at the HCEA's membership banquet in Bowling Green, Ohio. The winner need not be present.
Companies in this article