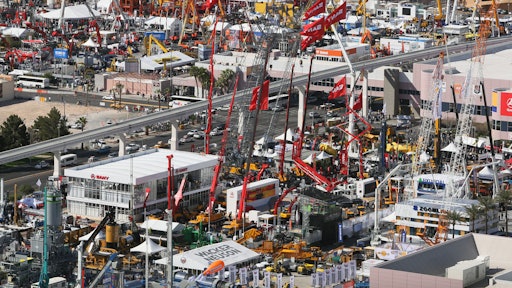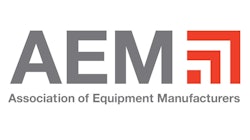 CONEXPO-CON/AGG 2014 has surpassed the 2-million mark in record time for net square feet of sold exhibit space, with more than a year to go until opening day. The show is 75 percent ahead in exhibitor count and 33 percent ahead in exhibit space compared to the last show cycle at a similar time.
The triennial CONEXPO-CON/AGG also recently captured top honors as the largest show in North America in 2011, in the annual "Gold 100" ranking of exhibit space size by Trade Show Executive magazine.
And CONEXPO-CON/AGG won as the "show with most global participation" among all exhibitions held in North America. A record 24 percent of the 2011 show's registered attendance was international, representing more than 150 countries.
"Recognition of the show's global scope underscores our strategic planning and highlights CONEXPO-CON/AGG as a true international marketplace here in North America. We are building on this global momentum for our 2014 show," stated Glen Tellock, CONEXPO-CON/AGG 2014 chair and chairman, president and CEO of The Manitowoc Company.
CONEXPO-CON/AGG 2014 will be held March 4-8, 2014, at the Las Vegas Convention Center in Las Vegas, with the co-located IFPE exposition.
"We are tremendously honored to earn these Gold 100 awards; they reinforce the terrific industry support we are privileged to receive from both exhibitors and attendees," stated Megan Tanel, CONEXPO-CON/AGG show director and AEM vice president exhibitions and events.
"We have a lot of exciting changes in the works, based on feedback from attendee and exhibitor survey data, our managing committees and extensive market analysis and research," Tanel said.
Planning for CONEXPO-CON/AGG 2014 to enhance the show experience includes:
Improved wayfinding to help attendees spend less time searching and more time checking out the companies and products they want to see
Better integrated technology services to enhance customer service
Focused international as well as U.S. outreach to better meet specific needs of industry sectors and world regions
Increased attendee and exhibitor engagement with new marketing initiatives
Wayfinding upgrades include more defined product concentration areas and a show footprint that consolidates outdoor exhibit space into three large areas (Gold, Silver and Platinum lots) to create better attendee flow between indoor and outdoor exhibits.
Companies in this article