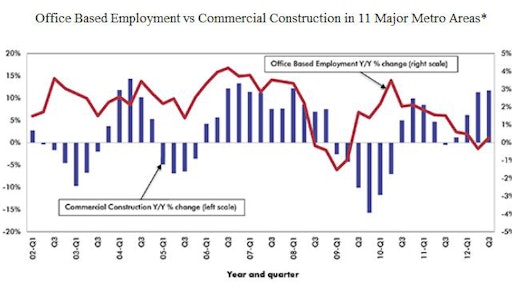 Despite the lingering cloud of uncertainty regarding the global economy in general and that of the U.S. particular, there is evidence that Canadian commercial construction picked up its pace some in 2012 following a pause in the second half of 2011.
Following declines in the third and fourth quarters of 2011, construction spending exhibited solid quarterly gains into the final quarter of 2012 (see accompanying chart).
Building growth was broadly based, with volume increasing in seven of the country's eleven major metro areas led by Montreal with a year-to-date increase of 33.7 percent, St. John's, Newfoundland (+31.9 percent) and Calgary (+26.6 percent). These gains more than offset slight year-to-date declines of construction in Toronto (-1.8 percent) and Halifax ( -1.1 percent).
Factors contributing to the steady growth in commercial building include steady improvement in office-based employment, gradual decline in office vacancy rates and a sustained pattern of stronger operating profits in financial services, professional services, information services and cultural industries.
At the same time, according to the Bank of Canada's Q1 2012 Business Outlook Survey, firms' investment intentions were solidly in positive territory against a background of near record low interest rates and easing credit conditions.
Looking forward, although the fundamental drivers of office demand and ultimately commercial construction are not all in positive territory, on balance they suggest that commercial building will continue to expand at a moderate pace through 2013 and into 2014.
This prospect is reinforced by the fact that according to the most recent Cushman Wakefield Commercial Office Survey, the national office vacancy rate for all classes of office buildings held at 7.1 percent in the third quarter, its lowest point since the first quarter of 2009.
Further, the volume of office space under construction is currently at a two year low. Finally, although growth of office-based employment contracted in the first half of this year, it has exhibited a healthy rebound through the third quarter.
Indeed, over the past year, office-based employment has exhibited significant year over year gains in:
St. John's, Newfoundland (+10.7 percent)
Winnipeg, Manitoba (+6.9 percent)
Halifax, Nova Scotia (+6.7 percent)
Montreal, Quebec (+6.6 percent)
Saint John, New Brunswick ( 5.9 percent)
Edmonton, Alberta (+ 5.5 percent)
These gains more than offset weakening office-based job growth in Calgary (-12.6 percent), Vancouver (-6.0 percent), Regina (-1.9 percent and Toronto (-0.2 percent).