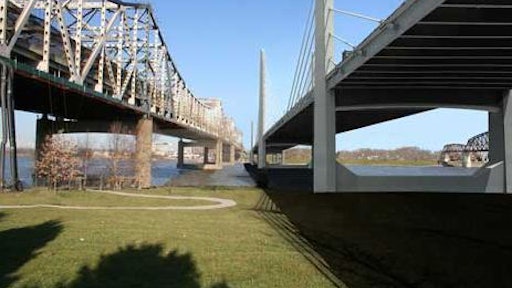 Walsh Construction Co. is the apparent winning team that will build the Downtown Crossing of the Ohio River Bridges Project, the Kentucky Transportation Cabinet announced today.
The team's "apparent best value" bid included a projected completion date of December 2016 at a construction cost of $860 million. That is more than a year and a half ahead of deadline and $90 million less than the cabinet's preliminary cost estimate of $950 million.
Walsh Construction plans to begin construction in early 2013 and complete its work by Dec. 10, 2016. The cabinet had set an absolute deadline of June 30, 2018.
The Downtown Crossing includes a new Interstate-65 bridge, a revamped Kennedy Bridge and reconstructed interchanges in downtown Louisville and Jeffersonville, Ind.
"We challenged the best transportation teams to deliver innovative, cost-efficient plans for the largest construction project in the history of Kentucky and Indiana," said Kentucky Transportation Secretary Mike Hancock. "The result of this spirited competition will be a project that will cost less and take less time to build."
The price proposals were opened and scored in a public meeting at the headquarters of the Kentucky Transportation Cabinet (KYTC) in Frankfort. The price proposals were tallied together with scores from technical and workforce proposals, which were submitted Oct. 1 and evaluated by a panel of cabinet and consulting professionals.
The "best value" is determined through an evaluation process that scored proposals based on overall price, technical plans and workforce requirements. Price proposals, which included both cost and days of construction, counted for 70 percent of the overall score.
Technical proposals, which included design and construction, were 25 percent, and workforce plans for training and including minorities, women and Disadvantaged Business Enterprises (DBEs) were 5 percent of the overall score.
Walsh Construction submitted the "apparent best value" bid based on preliminary calculations, Secretary Hancock said. As with all KYTC project contracting, an Awards Committee consisting of KYTC engineers, headed by the State Highway Engineer, will review the calculations in the days ahead. KYTC has 90 days in which to award the contract.
Total cost of the Downtown Crossing will exceed $1 billion including expenditures for land acquisition, utility relocation, preliminary design and consulting work, construction oversight, toll system development and other necessary items.
The Bridges Project, a cooperative effort by Kentucky and Indiana, will create more than 4,000 construction-related jobs over the next six years as one of the nation's largest transportation improvement projects.
Kentucky is overseeing the construction and financing of the Downtown Crossing while Indiana is overseeing construction of the East End Crossing between Prospect, Ky., and Utica, Ind.