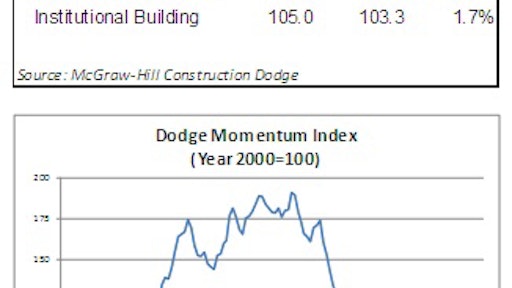 The Dodge Momentum Index held steady in November, according to McGraw-Hill Construction a division of The McGraw-Hill Companies. The Momentum Index is a monthly measure of the first (or initial) report for nonresidential building projects in planning, which have been shown to lead construction spending for nonresidential buildings by a full year.
The Momentum Index registered a 92.5 (2000=100) in November, a 0.5% increase relative to October's revised 92.0. After reaching a low point in mid-2011, the turnaround in the Momentum Index has been a relatively slow and hesitant one, with monthly upward movement often followed by a decline.
A full-fledged recovery in future development plans, particularly for commercial building, has been hampered by the business sector's anxiety about future economic conditions. Meanwhile, continued tight fiscal conditions at all levels of government have led to an uneven pattern for the institutional side of the index.
The modest gain in the November Index was the result of an increase for institutional building, which grew by 1.7% in November. The education component of the Index was a bit stronger in November, though it's likely to settle back in the coming months as budget constraints linger.
The increase in institutional building plans was partially offset by a decline in the commercial component of the index, which in November eased 0.6% from October. New development plans for office projects slipped in November, although new plans for store projects rose modestly over the month. The gain in the retail segment of the index was helped by the recent revival of plans for the Shops at Summerlin, a previously stalled project in northwest Las Vegas.