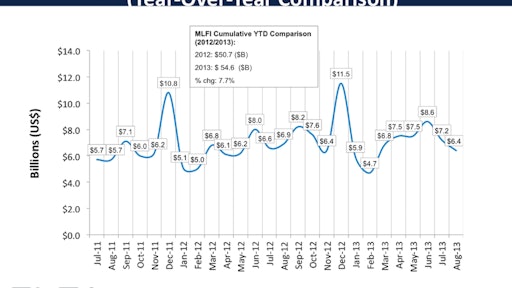 The Equipment Leasing and Finance Association's (ELFA) Monthly Leasing and Finance Index (MLFI-25), which reports economic activity from 25 companies representing a cross section of the $725 billion equipment finance sector, showed the overall new business volume for August was $6.4 billion, down 7 percent compared to volume in August 2012. Month-over-month, new business volume was down 11 percent from July. Year to date, cumulative new business volume increased 8 percent compared to 2012.
Receivables over 30 days were at 1.6 percent in August, up slightly from 1.5 percent in July. Delinquencies declined from 1.9 percent in the same period in 2012. Charge-offs increased slightly to 0.4 percent after being unchanged for the previous five months at the all-time low of 0.3 percent.
Credit approvals totaled 79.1 percent in August, up from 78.6 percent the previous month. Fifty-six percent of participating organizations reported submitting more transactions for approval during August, down from 58 percent the previous month.
Finally, total headcount for equipment finance companies was up 0.8 percent year over year.
Separately, the Equipment Leasing & Finance Foundation's Monthly Confidence Index (MCI-EFI) for September is 61.3, steady with the August index of 61.0.
ELFA President and CEO William G. Sutton, CAE, said, "Business investment in equipment took a late-summer breather in August, as year-over-year new business volume retreated for the first time in six months. Credit quality remained strong, however, as both delinquencies and losses were very low, particularly compared to the year-earlier period. Uncertainty surrounding heightened U.S. involvement in the Syrian conflict coupled with a potential federal government shutdown and a looming debt-ceiling fight between Congress and the Obama Administration may be responsible for some businesses pulling back on their equipment acquisition plans."
Laurie Bakke, President, Western Equipment Finance, Inc., said, "While the MLFI-25 data shows a softening in new business volume over the summer months, year-to-date growth over 2012 is 8 percent. Our experience at Western shows similar performance and confirms that the small ticket and lower middle market segments remain strong. However, with underwriting criteria remaining unchanged, we remain cautious as analytics report slightly higher risk factors in new business."