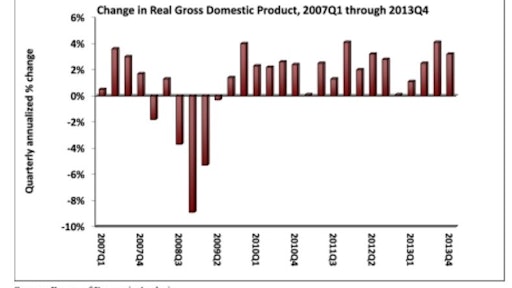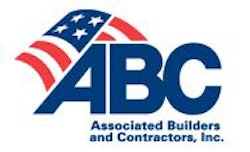 Nonresidential fixed investment expanded 3.8 percent while residential fixed investment fell 9.8 percent during the fourth quarter of 2013, according to a January 30 release by the Bureau of Economic Analysis. Overall, real gross domestic product (GDP) expanded 3.2 percent following a 4.1 percent increase in the third quarter.
Nonresidential fixed investment includes purchases of nonresidential structures and equipment and software. Residential fixed investment consists of purchases of private residential structures and residential equipment that is owned by landlords and rented to tenants.
"Due to tax increases, sequestration and a still-sluggish global economy, 2013 will not go down in history as a great year for the U.S. economy," said Associated Builders and Contractors (ABC) Chief Economist Anirban Basu. "After expanding 2.8 percent in 2012, the economy only expanded 1.9 percent in 2013. That said, economic momentum developed over the course of the year and 2013's final six months were reasonably encouraging.
"Fixed investment in nonresidential structures actually declined 1.2 percent during the fourth quarter of 2013, a reflection of the soft economic environment that prevailed earlier in the year," said Basu. "Because investment in nonresidential structures typically lags the performance of the overall economy by six to 18 months, the implication of today's report is that nonresidential fixed investment in structures will gather momentum over the course of 2014, which is precisely what ABC has been forecasting."
The following segments expanded during the fourth quarter and/or contributed to GDP:
Personal consumption expenditures added 2.26 percent to GDP after contributing 1.36 percent in the third quarter.
Real final sales of domestically produced output–minus changes in private inventories–increased 1.7 percent for the quarter after a 2.6 percent increase in the third quarter.
Spending on goods grew 1.12 percent.
Growth in real private inventories contributed 0.42 percent to GDP growth during the fourth quarter after adding 1.67 percent in the third.
State and local government spending expanded 0.06 percent during the fourth quarter following a 0.19 percent increase during the prior quarter.
A number of key segments did not experience growth for the quarter.
Federal government spending fell 12.6 percent in the fourth quarter following a 1.5 percent decrease in the prior quarter.
National defense spending fell 14 percent after falling 0.5 percent in the third quarter.
Non-defense spending fell 10.3 percent after decreasing 3.1 percent in the previous quarter.
View the previous GDP report.
Companies in this article