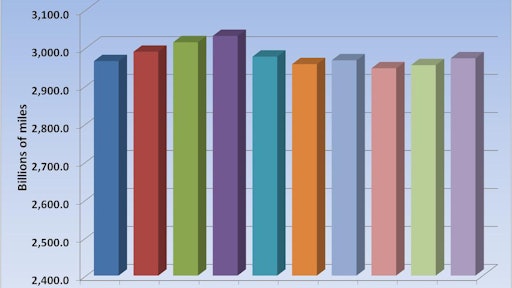 In virtually every recent congressional hearing and many media reports about federal transportation policy, the false claim that "Americans are driving less" emerges in some capacity. Federal Highway Administration (FHWA) data show U.S. vehicle miles traveled (VMT) increased 0.3 percent in 2012 and 0.6 percent in 2013.
The upward trend is anticipated to continue well into the future as the nation's economy and population continues to grow. This factual disconnect confuses discussions about the relative viability of various means to stabilize the Highway Trust Fund and support future federal highway and public transportation investments. The reality is that American driving trends are driven largely by macro-economic forces, not agenda-seizing assertions about shifts in societal behavior. These are the facts:
A downturn in vehicle miles traveled began after 2007 as the nation's economy plunged into its worst downturn since the Great Depression of the 1930s. Between 2007 and 2009, U.S. Gross Domestic Product (GDP) fell 4.7 percent, the unemployment rate soared to 10 percent, and eight million Americans lost their jobs. Freight shipments precipitously declined. These factors led to the recorded VMT decline.
The variance between when VMT peaked in 2007 and its lowest point in 2011 was 2.8 percent—a decline far less dramatic than the recurring assertions of a shift in U.S. societal behavior. Further belying these claims, U.S. VMT has remained above 2.95 trillion miles for 10 consecutive years.
The economy is now improving. With employment rising and unemployment declining, growth of highway travel is resuming. In 2012 and 2013, vehicle miles traveled on the nation's highways rose more than 26 billion miles, offsetting almost one-third of the recession-driven decline.
New data from

FHWA

show VMT decline after 2007 was less than originally thought. Preliminary data showed a 100 billion mile, or 3.3 percent decline in VMT between 2007 and 2011. The revised data show a decline of only 85 billion, or 2.8 percent. VMT declined only half as much as did the nation's GDP.
There are a number of reasons why highway travel should continue to grow well into the future:
The economy has not yet fully recovered from the recession. The number of persons employed is still below its pre-recession level, and the number of unemployed is three million more than at the start of the recession. As the unemployed go back to work, highway travel will accelerate.
Each year, the U.S. population grows just under three million, and the number of licensed drivers grows two million. With each driver in the U.S. averaging just under 12,000 miles per year, population growth alone will drive VMT up about 25 billion miles per year.
Truck travel is also expected to grow substantially in the years ahead. The

FHWA

projects truck freight will grow to 18.8 million tons by 2040, an increase of almost 50 percent from the 2007 pre-recession peak.
The reported VMT decline between 2007 and 2011 has been seized by those whose aim is to push for federal policy that prioritizes non-automobile forms of transportation. The more accurate conclusion, however, is that U.S. VMT has essentially plateaued over the last 10 years, and modest growth is likely in the future. As such, the data supports continued federal policy that attempts to address both the nation's highway and public transportation needs.