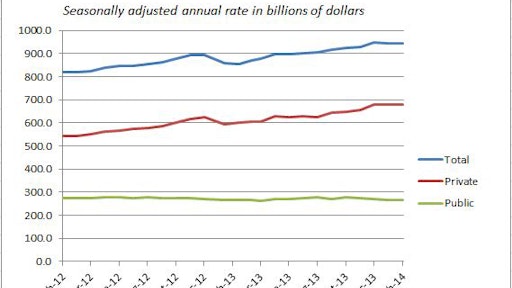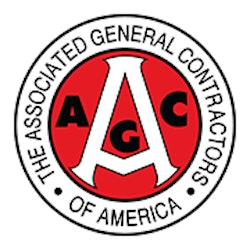 Total U.S. construction spending in February edged up from January despite adverse weather in much of the nation, as private residential and nonresidential components posted solid growth compared with early 2013. Associated General Contractors of America (AGC) officials noted that the month's Census Bureau data would have reflected even stronger growth if not for declines in public-sector construction and infrastructure investments.
"Overall construction spending in the first two months of 2014 is nearly 9 percent higher than in the same period of 2013 even though public spending has continued to slip," said Ken Simonson, the association's chief economist. "Several private nonresidential categories have rebounded impressively, while both home and apartment construction remain far ahead of year-ago levels."
Construction put in place totaled $946 billion in February, 0.1 percent higher than the January total, which was revised up $1.5 billion from the initial estimate. For January and February combined, which Simonson said gave a truer indication of current trends than the weather-affected one-month totals, spending in 2014 was 8.9 percent higher than in the first two months of 2013. Private residential construction spending increased by 15.2 percent in January and February from the same months of 2013. Private nonresidential spending climbed 11.8 percent over the same span, while public construction spending declined 2.0 percent.
The double-digit rise in private nonresidential construction so far this year is a big turnaround from 2013, when private nonresidential spending actually dipped 0.4 percent for the full year, Simonson noted. "There have been significant upturns since last year in the four biggest private nonresidential segments—power and energy; manufacturing; retail, warehouse and farm; and office. I expect energy and manufacturing construction to be especially strong this year, along with hotel, rail and data center construction."
Spending in the first two months of 2014 combined rose 3.0 percent compared with the same months of 2013 for power and energy (vs. a decrease of 13.9 percent in all of 2013); 17.3 percent for manufacturing (vs. 6.2 percent in 2013); 13.7 percent for retail, warehouse and farm (vs. 8.4 percent in 2013); and 19.5 percent for office (vs. 10.0 percent in 2013). In addition, lodging construction accelerated to a 43.8 percent rate (from 28.6 percent in 2013) and communications construction leaped 47.3 percent (vs. -11.4 percent in 2013).
Simonson added that the Census Bureau estimates for February and January may not accurately reflect the impact of severe winter weather because the agency relies in part on models as well as field reports. The models project monthly spending based on when projects began and do not adjust immediately for current conditions. Association officials cautioned that public construction spending figures are likely to decline further when the federal Highway Trust Fund runs out of money this summer. The Trust Fund provides funding to every state to help cover the bulk of their highway and bridge repair and construction projects. If the Fund runs out of money, billions of dollars worth of construction projects are likely to be stalled.
"The last thing our economy needs is a sudden halt to thousands of construction projects across the country," said Stephen E. Sandherr, the association's chief executive officer. "Congress and the administration need to act now so construction workers don't have to endure a summer break from work and pay."