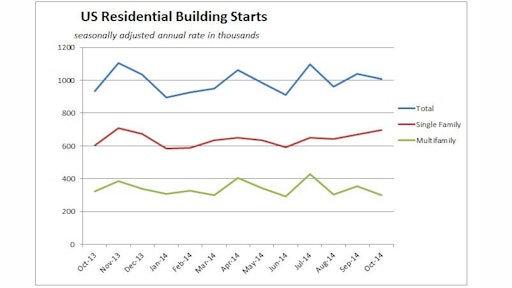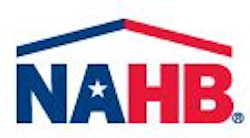 Single-family housing starts in October rose to the highest level since November 2013 while a 15.4% drop in the more-volatile multifamily sector brought combined nationwide starts activity down 2.8% to a seasonally adjusted annual rate of 1.009 million units, according to figures from the U.S. Department of Housing and Urban Development and the U.S. Census Bureau.
Single-family-home construction starts increased 4.2% in October to a seasonally adjusted annual rate of 696,000 units. It was the second-highest rate since early 2008, and the third consecutive month of single-family starts increases. Single-family permits also added a third month of increases, rising 1.4% to 640,000; the highest level since early 2008 except for November of last year.
"The increase in single-family starts shows that the housing market continues to recover at a steady, gradual pace," said NAHB Chief Economist David Crowe. "On the multifamily side, production is stabilizing above historic levels as demand for rental housing increases."
October's multifamily starts estimate was a seasonally adjusted annual rate of 313,000 units. Multifamily production has tended to see-saw from month to month, but starts remain in the healthy range of over 350,000 per year when averaged over several months.
Regionally in October, combined housing production dropped in Northeast, Midwest and West, with respective losses of 16.4%, 18.5% and 10.9%. Total production rose in the South by 10.1%.
Only the Midwest saw a decline in single-family starts and some of that decline was due to an unusually large number in September. The three-month moving average for Midwest single-family starts still remains above 100,000, which was last seen in 2007.
Permits drawn were up 4.8% to 1,080,000 on an annualized basis, which is the eighth month out of 10 that permits have been over 1 million. Multifamily permits rose 10% to 440,000 units while single-family permits increased 1.4% to 640,000 units.
Regionally, the Northeast and Midwest registered overall permit losses of 21.5% and 11.4%, respectively. The South and West posted respective gains of 8.8% and 21.6%.
The continued modest improvement in the single-family housing market supports expectations of more and stronger growth in 2015 as consumers gain confidence in their economic futures, mortgage rates remain very low by historic standards and home prices continue to be affordable to those with good credit and a solid employment history.