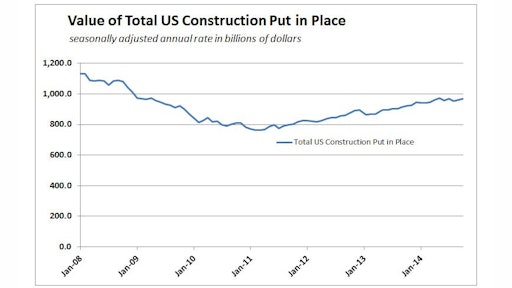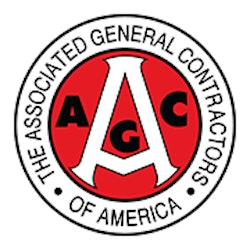 U.S. construction spending increased 1.1% in October to a seasonally adjusted annual rate of $971 billion amid growing public-sector demand and continued modest growth in residential construction. The $971 billion pace was 3.3% higher than in October 2013. Officials from the Associated General Contractors of America said the new spending figures underscore the need for measures to increase the supply of qualified construction workers as firms worry about growing labor shortages.
"While overall construction spending jumped by more than 1% in October, the gain followed two months of stagnation," said Ken Simonson, AGC's chief economist. "Public construction was the fastest-growing segment for the month but the slowest-growing over the past year and for the first ten months of 2014 combined. Conversely, private nonresidential construction inched down from September to October but has risen at double-digit rates – 11% – for the combined January through October period. And private residential construction continues to grow very modestly, with multifamily construction taking the lead on an annual basis."
Private residential spending rose 1.3% from September and 1.9% from a year earlier, while private nonresidential spending dropped 1.0% for the month but rose 6.4% year-over-year. Public construction spending increased 1.5% from September and 2.3% from a year ago.
Single-family home construction gained 1.8% for the month and 13.2% over 12 months, and multifamily increased 1.0% from the September level and jumped 27.2% from a year earlier. The largest private nonresidential sector, power construction (includiing oil and gas fields and pipelines as well as electric power) slumped 1.9% in October but rose 0.3% from the prior year.
Commercial construction – comprising retail, warehouse and farm projects – decreased 2.6% for the month but increased 9.3% for the year. Manufacturing construction increased 3.4% for the month and 23% year-over-year. Among the largest public segments, highway and street construction climbed 1.1% for the month but declined 0.1% from October 2013. Public education construction rose 2.2% and 6.1%, respectively.
"For 2014 as a whole and 2015, private nonresidential spending and multifamily spending should be the strongest segments, followed by single-family construction, with very limited prospects for public construction."
Association officials said the spending increases come as many firms report growing labor shortages. They urged elected and appointed officials to act on a series of measures the association has identified that will help expand the supply of qualified construction workers. "We need to make sure there are enough workers available to meet growing demand for construction," said Stephen E. Sandherr, the association's chief executive officer.