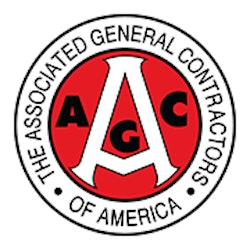 Construction spending inched down in February from January levels but increased from a year earlier, according to an analysis by the Associated General Contractors of America. Association officials noted that the latest construction figures were held back by declining demand for single family homes and declining public sector investment levels.
"Private multifamily and nonresidential construction increased on both a monthly and year-over-year basis, while single-family and public construction spending retreated last month but still advanced from year-ago levels," said Ken Simonson, the association's chief economist. "Similarly mixed results are likely to recur throughout 2015 as the economy continues to grow but potential homebuyers remain hesitant and governments face difficult trade-offs on spending priorities."
Construction spending in February totaled $967 billion at a seasonally adjusted annual rate, less than 0.1 percent lower than in January but 2.1 percent higher than in February 2014, Simonson noted. The divergent totals were reflected as well in major segments. Private residential spending in February dipped 0.2 percent from January and 2.1 percent from a year earlier, while private nonresidential spending increased 0.5 percent for the month and 5.9 percent year-over-year. Public construction spending decreased 0.8 percent from January and increased 3.1 percent from February 2014.
"Because severe weather in winter months can distort month-to-month comparisons, looking at the first two months of 2015 combined, compared with the same span of 2014, provides a more realistic picture of construction activity," Simonson added. "Among private construction segments, both new multifamily construction and manufacturing construction jumped 30 percent between the first two months of 2014 and 2015. These sectors should remain hot all year."
Two-month totals for other major categories were mixed. Spending on private office construction soared 19 percent, commercial (retail, warehouse and farm) projects rose 17 percent and new single-family housing increased 11 percent. But the largest private nonresidential segment, power (including oil and gas fields and pipelines), tumbled 17 percent. The top two public categories were little changed, with educational construction down 0.7 percent and highway spending up 1.5 percent compared to January and February 2014.
Association officials noted that the new construction spending data shows that political gridlock in Washington is undermining the industry's recovery. Combined with shrinking demand for new single-family home construction, the drop in public sector investments contributed to the slight decline in construction spending levels between January and February. They added that the association's new #DriveBetterRoads campaign is designed to encourage Congress and the Obama administration to work together to pass new infrastructure and public construction investments. 
"The last thing federal officials should be doing is undermining our recovery by neglecting critical public infrastructure like roads, bridges and clean water systems," said Stephen E. Sandherr, the association's chief executive officer.
Companies in this article