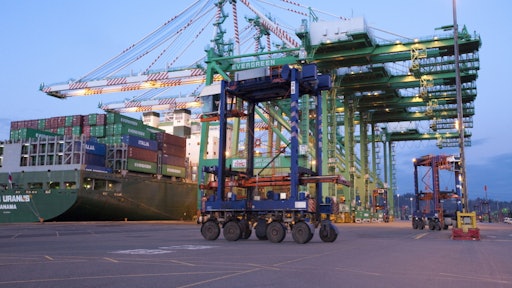 By Brian Weisbaum, project manager – Dire States, CASE Construction Equipment
Bills working their way through both bodies of the Washington state legislature would fund a six-mile stretch of road connecting the Port of Tacoma to Eastern Washington and much of the outside world. The situation is a microcosm of America's infrastructure.
In a way, SR-167 carries the weight of the region on its shoulders. The six-mile stretch to the port was included in the highway's original plan 30 years ago, but funding and logistics halted its construction.
The Washington legislature enters a 30-day special session on April 29 to negotiate the two bills that would fund SR-167, and other legislation. Between the two bills, Washington legislators are considering packages ranging from $15.1 – $15.5 billion dollars, funded in large part by an 11.7 cent-per-gallon fuel-tax increase. Washington follows a trend throughout the country: voters and state legislators are willing to look at user fee increases to fund infrastructure projects – especially as fuel and material costs are (relatively) low, and economic gains can be tied directly to the work.
Why SR-167?
America's infrastructure problem is about more than just roads. It's about everything that travels on those roads, how efficiently it gets there and the economic vitality of the communities along the way. The relationships between commerce, trade and highways is evident in the case of SR-167. Congestion, inefficient travel routes and forcing haulers to navigate surface streets have caused some businesses to look elsewhere.
"Our customers want to ensure that they have efficient gateways through which to move their cargo," says Sean Eagan, government affairs director for the Port of Tacoma. "They do not have to move it through Puget Sound. They could go through Southern California, through Canada, through other gateways. Investments in our infrastructure improve the efficiency of moving cargo, it makes our gateway more attractive to customers, and as a result, it creates thousands of jobs associated with the moving of that cargo."
The risk that shippers will use alternate ports drives up the cost of goods and makes it more difficult for products produced in Washington to compete in the open market. The Puget Sound Gateway project – extensions of State Routes 167 and 509 funded in the Washington bills – is expected to enhance state competitiveness nationally and globally with better connections between the Ports of Tacoma and Seattle and key distribution centers in King and Pierce counties and to Eastern Washington.
"We know what's going on [in Canada] as far as their transportation system," says Paul Mayo, western area manager for Flatiron, a heavy civil contractor. "With subsidized railroads and their work on their port up there – we are going to end up losing big. Failure to pass [this legislation] has dire long-term consequences for the Seattle-area market, for all goods, as we compete on the world stage."
Reducing Gridlock, Improving Maintenance
Eagan sees the current funding negotiations as a positive step in easing a concern shared by the general public and regional businesses: gridlock.
"Investments associated with the package are going to improve mobility," he says. "In the case of SR-167, it would improve travel time for individuals going between Tacoma and the eastern part of Pierce County by 15%."
Jerry Vanderwood, chief lobbyist for the Associated General Contractors (AGC) of Washington, adds that years of neglected maintenance has left much of the state's highway system in need.
"The Puget Sound Regional Council reports that hours of delay on freeways in the congested Seattle area increased 52% from 2010 to 2014," he says. "Plus, the research group TRIP found that throughout Washington, nearly half of major roads and highways are in poor or mediocre condition. A total of 27% of Washington bridges show significant deterioration or do not meet current design standards. Statewide, 21% of Washington roads are in poor condition and an additional 23% are in mediocre condition. Pavement conditions are projected to deteriorate significantly in the next five years unless the state can secure additional funding for pavement preservation and reconstruction."
For Tom Zamzow, area manager for engineering and construction firm Parsons, he says that deterioration is not something you always see.

"It's obvious to those of us who are working on it. You see large cracks in bridge columns and rebar sticking out. We know that when it was originally built, there was 3 in. of concrete over that rebar. It's been there so long, the concrete has eroded. You just don't see it when you're sitting in your car."
An Economic Boom to the Region

The Port of Tacoma and regional businesses will both benefit from increased accessibility and mobility afforded by SR-167 if the House and Senate can agree on the legislation. The bill will also strengthen the region's construction industry and spur job development.
"We anticipate that the [legislation] would mean about 100,000 construction jobs during the 16 years of investment," says Vanderwood. "The multiplier effect is even more impressive. One study shows that just six of the major transportation projects in the package would cost $7 billion, but would yield $42 billion in economic benefits over 30 years."
"Specific to SR-167, we're going to see up to 1,000 direct jobs created through the construction of the project," says Eagan. "You're going to see similar numbers throughout the state of Washington [on other projects]. In addition to that, you're going to see economic growth created because of the investments in infrastructure. WSDOT estimated that SR-167 could fuel job growth to the tune of $10.1 billion over the long term because of economic development that will crop up along the highway."
For companies like Flatiron, that investment commitment is critical to workforce development and solidifying its resources in the region.
"The package is very significant," says Mayo. "Right now, there is very little project backlog that's set to key up into the system. We're very concerned about it. For us, it means opportunity for growth – the same for all of our subcontractors. And material costs are low right now. The time is right for it. Having that nice long steady program out front creates reliability in the workforce and gives people the opportunity to develop."
Should the legislation pass, Zamzow sees that ripple effect as being most important – improving infrastructure, boosting the economy and leaving it all in a better condition than we found it.
"That then creates additional economic activity and additional benefit for all of us in an expanding economy. That's the long-term benefit for not only us, but for our grandkids."
To add your voice to the SR-176-funding conversation, follow the #TranspoNow and #Waleg hashtags on Twitter. Contact members of the Washington legislature here and thank them for their hard work on the effort: http://app.leg.wa.gov/memberemail/Default.aspx. For more information on SR-167, visit the SR-167 Completion page on the Port of Tacoma's website by clicking here. You can also follow the process by following the SR-167 Completion Coalition's Twitter feed, as well as on Facebook.