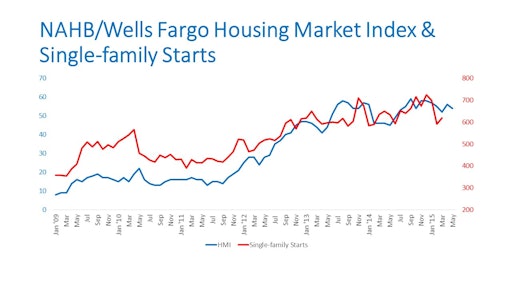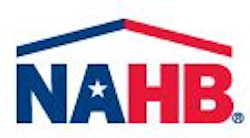 Builder confidence in the market for newly built, single-family homes in May dropped two points to a level of 54 on the National Association of Home Builders/Wells Fargo Housing Market Index (HMI). It is a nine-point increase from the May 2014 reading of 45.  The April-May average remains at the same level as the first quarter average suggesting nothing has changed significantly for the first five months of 2015.
"Despite this month's slight dip, builder confidence in the new home market remains above the 50-point benchmark," said NAHB Chairman Tom Woods, a home builder from Blue Springs, Mo. "Overall, the second quarter of 2015 is shaping up to be very solid." 
Builders continue to express concern that consumers remain tentative on their judgement of present and future economic conditions. Consumers demand prices below costs and are concerned about selling their existing home. First-time buyers still constitute about half their normal share of new home purchases.
On the more positive side, the component measuring future demand rose one point to 64, the highest in 2015 as builders do continue to see a better future. Low rates and pent up demand support the attitude. Inventories of new homes have risen since the bottom in mid-2012 and stand at their highest level since spring 2010.
"On the bright side, the HMI component measuring future sales expectations has been tracking upward all year, mortgage rates remain low, and house prices are affordable. These factors should spur the release of pent-up demand moving forward," said NAHB Chief Economist David Crowe.
The index's components were mixed in May. The component charting sales expectations in the next six months rose one point to 64, the index measuring buyer traffic dropped a single point to 39 and the component gauging current sales conditions decreased two points to 59.
Looking at the three-month moving averages for regional HMI scores, the South and Midwest each rose one point to 57 and 55, respectively. The Northeast fell by one point to 41 and the West dropped three points to 55. 
Companies in this article