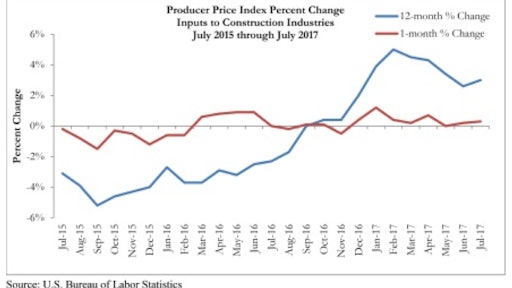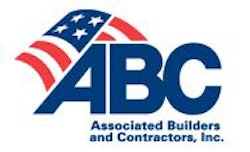 Construction input prices increased 0.3% in July and are up 3% on a year-over-year basis, according to an Associated Builders and Contractors (ABC) analysis of Bureau of Labor Statistics data. Nonresidential construction input prices were in line with overall industry dynamics, increasing 0.3% for the month and 2.7% for the year.
Eight of 11 key construction input prices rose in July. Among the inputs experiencing declines in prices were crude petroleum (down 8%) and natural gas (down 7%). Natural gas prices have fallen during four of the past six months.
"Perhaps the most astonishing aspect of U.S. economic performance in recent years has been the general lack of inflation," said ABC Chief Economist Anirban Basu. "Despite recently completing eight years of economic recovery and hurtling towards full employment, the Federal Reserve's most intensely scrutinized measure of inflation remains well below 2%. Even worker compensation has not risen rapidly, despite indications by construction firms, trucking enterprises, hotel operators and manufacturers of large-scale shortfalls in human capital. America is presently home to 6.2 million job openings and 7 million unemployed, which means that there is nearly one job for every person looking for one.
"The lack of inflation helps explain many things, including low interest rates, rising levels of consumer indebtedness, rising home prices, high multiples on corporate earnings and elevated commercial real estate values. In other words," said Basu, "the reasonably strong performance of the U.S. economy and the phenomenal performance of financial markets is largely traceable to surprisingly low inflation.
"It is in this context that today's report is so important," said Basu. "Inflationary pressures are certainly apparent in today's report. True, one should not make too much out of a single month of data. Moreover, one cannot make the claim that today's release is consistent with anything approaching rampant inflation.
"However, in certain input categories, the rise in prices has been noteworthy," said Basu. "For instance, steel mill products, iron and steel and softwood lumber have each experienced price increases of around 10% over the past 12 months. With energy prices stabilizing recently, the construction producer price index is likely to exhibit faster growth during the months ahead. Many contractors continue to report elevated backlog, and other leading nonresidential construction indicators remain positive. This implies growing demand for materials in America. With the global economy firming and with the dollar having weakened a bit recently, the implication is that materials prices will continue to rise during the months ahead along with compensation costs. These dynamics are likely to place additional pressure on construction industry profit margins."