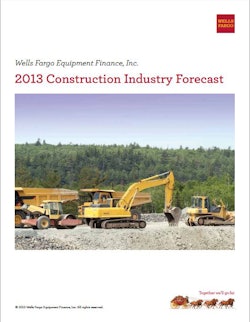 In Wells Fargo's 37th year of conducting industry surveys, 347 construction-industry executives from across the U.S. responded with their outlook for 2013. This whitepaper shows full results, with comparable data from previous years.
Here are four takeaways of particular interest:
Construction is moving ahead. Wells Fargo's bell-weather indicator for this survey — the Optimism Quotient — is a very positive 106.
The industry expects rental fleets to continue to grow. Half of construction equipment distributors expect to increase the size of their rental fleets in 2013. Only 5.5% said they expect their rental-fleet size to decrease.
Residential could lead the way. More contractors expect residential activity to increase (46.7%) than to remain the same (45.5%) or decrease (7.8%).
Contractors will buy new and used equipment. In 2013, 80.9% of contractors indicated that they anticipate buying new equipment and 80.3% indicated that they will be buying used equipment.