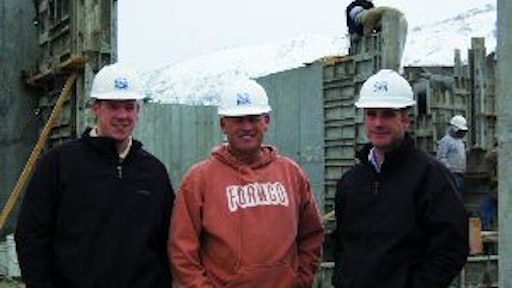 It can be a disappointing realization to work at something for years only to find yourself back to where you started. Not so for Kirby Justesen, owner of Formco Foundations out of West Jordan, Utah; especially when you're back and stronger than ever.
Justesen started Formco in 1992 as a footings and foundations business focused on residential concrete work after several years in business as a commercial concrete contractor. Justesen was looking to grow his company bigger but didn't feel he could in the commercial market at the time. "I had grown tired of the commercial end, and it seemed like it was easier to grow in the residential market because it was a bigger market. I could focus on one specific item in concrete and therefore gain efficiencies through having the best and most effective methods to do it," Justesen explains.
After expanding his business over the last 15 years and with the current residential downturn on the horizon, Justesen saw an opportunity to move his company in a direction that focused on commercial work in a way he wasn't able to before. The change has helped Formco weather the market fluctuations and put the company in a strong position for the future.
Building residential
Justesen started Formco with four employees building walls with a set of Symons forms. Over the years, he wasn't afraid to add equipment and learn new technologies to help grow his company. One of the first investments Justesen made in Formco was joining the Concrete Foundations Association (CFA). With the association, he was able to stay on top of industry trends and found mentors in contractors all over the country who could answer his questions about their experiences in the footings and foundations market. "I think that our eventual expansion beyond footings and foundations came out of the people at the CFA who gave me ideas," Justesen says.
Soon after establishing Formco, Justesen realized the convenience of having an in-house excavation crew. Justesen says he doesn't push the excavation services, but having the skills and equipment to perform the work is helpful. He now offers both cast-in-place and precast block retaining wall systems to compliment the excavation services. The 1990s also saw Justesen add aluminum forms and crane trucks to his equipment lineup.
The Salt Lake City area experienced a housing boom in the late 1990s, a time in which Formco made a lot of gains in securing its expertise in custom residential projects with large, complex layouts. Formco's equipment lineup helped its crews deliver the footings and foundations product the market demanded, thanks in part to Justesen's investment in robotic site layout equipment for plotting foundation points and placing weld plates and seismic connectors. He bought his first system in the late 1990s, a geodimeter. "It just made everything so simple at the right time because houses were starting to get more complicated and sometimes we couldn't lay them out the traditional way and had to call a surveyor," he explains. Since then he has purchased five systems.
Justesen says the $30,000 to $35,000 investment for each system is offset by the speed in which they allow Formco to lay out jobs, labor savings by having one crew member on layout instead of two, and avoiding costly repairs and rework. He adds that general contractors began having more faith in Formco because Justesen's crews had the ability to double-check surveyors' points to help avoid any errors and find points for excavators and other subcontractors if the original surveyor's points had been lost during the construction process.
Justesen says his technology lineup offers benefits beyond layout on the jobsite, namely by using the point sheet from his AutoCAD program to create shop drawings, or simplified versions of the original plan. "We transfer the information onto blank plans, color code it and do all sorts of things to give to the crews as a permanent record. We can also give copies to the owner and general contractor prior to building so they can make changes," he explains.
Justesen says the most recent boom, which started in 2004 and continued through late 2007, helped to further cement Formco's strong residential business by allowing him to make some changes in the way he did business with the people who hired him. Previously it had been unheard of in his market for a concrete contractor to supply his own materials, but the 2004 boom brought increases in rebar and concrete prices and a severe cement shortage. "Formco was positioned as a favorite, so we ended up getting our materials and it clinched our ability to sell the materials on the job because we could actually get the concrete ? and at a much better rate than our customers. That change in environment was huge, and now we're 100 percent supplying materials," Justesen says.
He notes that consistency with materials by using his own suppliers helps in efficiency and solving problems, while the ability to negotiate discounts on materials gives him another avenue for pulling in profit.
An investment in the face of downturn
Justesen's residential business was at a high in the summer of 2007. Most of the company's jobs were in a 50-mile radius around Salt Lake City, and he maintained an 85 percent residential/15 percent commercial balance. But Justesen knew the residential boom wouldn't last forever. He recognized the need to delve further into the commercial sector, a direction his local market had been pushing him in for a few years with an increase in multi-family housing. As the residential market started to crumble across the country, things remained strong in the Salt Lake City market. But Justesen had been following the economy closely, both nationally and locally, and knew all the predictions pointed to a downturn hitting his local residential market while they forecasted gains in commercial.
Where some companies might tighten spending, Justesen decided to make an investment in his company in order to take hold of the opportunity he had in the commercial sector. He hired a salesman to focus on commercial foundation jobs and invested in a new forming system that would make him more competitive when going after commercial foundations. Justesen's Big Panels from B.E.P. Forming Systems are a hybrid between a gang panel and a hand-set panel, offering efficiencies on the job because it doesn't come apart and its panels are larger. The Big Panels also integrate with Justesen's Wall-Ties & Forms aluminum forming system, which he can use in corners and other situations where the Big Panels aren't practical. In addition, Justesen says the panels are thicker and strong than the usual residential aluminum forms, ensuring there is no twisting in high-wall, commercial applications. The panels can also be used in forming elevator shafts.
Justesen says the Big Panels will allow him to compete against the steel rental systems commercial general contractors use. They will also set him apart from other local residential foundations contractors Justesen will be bidding against for commercial jobs.
Currently, Justesen has his Big Panels working on an underground parking project, above-grade elevator shafts and a few residential jobs. Since the panels are new to the company his crews are still getting used to working with them, but Justesen expects the Big Panel system to offer efficiencies and a labor savings. "What we expect to happen is we'll have at least two less guys on a crew with the Big Panels - instead of having seven or eight guys on a crew, we'll have four or five," he explains.
Building the future
With a plan in store for the company's future, Justesen is still looking for ways to diversify and enhance his company, looking to niche markets for possibilities. He recently added rapid material placement services with rock slingers trucks and is looking to team with other contractors in expanding this product in other parts of the country. Formco is also building a new headquarters, which gives Justesen a chance to try out some new products and techniques that the company could someday add to its lineup of services. For instance, Formco's new building will have cast-in-place, insulated concrete walls, and Justesen's crews are exploring decorative concrete applications with vertical and horizontal stamped overlays, stained floors, ground and polished floors, and desks with precast concrete tops. Justesen sees a strong future for decorative concrete. "It's an interesting market because in good times and bad it's going to keep growing because it's a new trend and there are still a lot of new technologies being applied to the market," he says.
Justesen's experiences over the last 15 years have helped him move Formco in a direction that he may not have intended when he started. Now doing 50 percent commercial, Justesen expects Formco to continue with this larger commercial focus beyond the recovery of the current housing situation. He sees his current setup as well diversified and able to better weather market fluctuations when they happen.
"It's a funny thing in life that when calamity hits you can become a better person, or a better company," Justesen says. "You find cost efficiencies or a better market that will benefit you in the long run."
Basement of the Year
"More than 140 corners." "A stairway to angle wall connection requiring two inside back-to-back corners." "More than 370 layout points." "Eleven wall heights and four wall thicknesses." These are just a few of the bone-chilling features of Formco Foundations' winning entry in the Concrete Foundations Association's (CFA) annual "Basement of the Year Awards," affectionately called "the basement from hell awards" throughout the industry.
Formco Foundations was one of four winners in this year's competition, taking the prize in the "single-family over 5,000 feet" category. The winning entry was a 25,000-square-foot-plus mountaintop home. Weather conditions required the project to be completed in the summer months. Three major mobilizations were needed: 22-foot-high walls for a trophy room and butcher shop; 24-foot-high walls for a racquetball court; and walls for a cabana and poolhouse. The footings required 301 yards of concrete and 8,809 pounds of steel while the walls required 953 yards of concrete and 113,452 pounds of steel.
Formco Foundations owner Kirby Justesen says homes like these are pretty typical in the Salt Lake City area, with his company completing a dozen or so each year. A little help from technology also played a part in the foundation creation. The company used AutoCAD, an in-house custom rebar-takeoff program and a Trimble Geodimeter 5500 Total Station with C.U. Data Collector. "The layout system was a must for the basement of the year project," Justesen explains. "If we didn't have the system we would have had to hire an engineer. The layout system offers control and helps with timeliness."
Justesen adds the total station makes multiple mobilizations a non-issue. "The geodimeter becomes vital on projects with several mobilizations because you have your benchmarks and can quickly plot the points you need when you need them. It takes away all the challenges of having to re-lay out a site again," he says.
Other winners in the Basement of the Year competition include:
Single Family 2,000 to 5,000 feet
Kaser & Maeyens, South Bend, Ind.
Single Family over 5,000 feet
Ekedal Masonry and Concrete, Inc., Newport Beach, Calif.
Commercial/Multi-Family
Balmer Brothers Concrete Work, Inc., Akron, Pa.
To learn more about the Basement of the Year Awards winners, visit www.cfawalls.org.