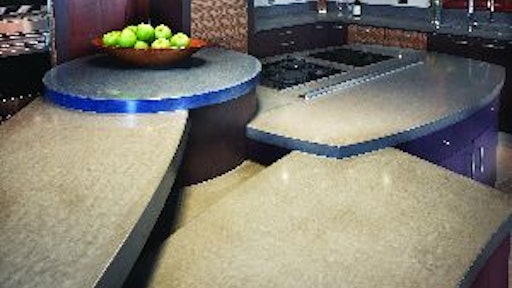 The concrete countertop industry is going to grow. But how is it going to grow? What germ of inspiration will connect you and your first countertop to the ones you are going to be producing for your customers? How can you sustain both a business and your passion?
I say there is an artist in all of us. This industry started with a few people at about the same time in California in the 1980s. We came from related disciplines: David Hertz and Mark Rugero were trained as architects, Buddy Rhodes was a potter, I graduated from UC-Berkeley in Fine Arts. So the pioneers of this industry really began in the creative arts. To find that "artist" is a great way to light one's path in this business because as businesses we're on a relentless march of efficiency, grabbing markets and trying to be the most competitive. There's always pressure to economize, commercialize and scale up, but sometimes those things are antithetical to the very reason why we got into this business in the first place. If you can't have fun with what you're doing, you might as well not do it.
I say we're all inherently creative. Many of us naturally drew a lot, flung clay or built widgets when we were young. Then we went through the standardized education mill, faced the job market reality check and gave up some of our passion. Now to look inside and say "I want to do something totally inspiring" feels a bit subversive.
I say let's forget the idea we are just about countertops. Countertops are just the beginning, a segue into changing the way we think of our home environment. It's a chance to break that paradigm of kitchens as manufactured product and bring back a sense of creativity and craftsmanship to our work.
But how can we buck conformity and find our inspiration as creative individuals in this business? Ironically, by imitation. We generally don't associate imitation with creativity — we revere the artist with an original voice. But come to find out all "original" artists originally immersed and surrounded themselves with voices other than their own. If we can see that even one of the greatest American masters of popular culture, such as Bob Dylan, or the icon of European Impressionism Van Gogh, imitated their way to greatness, then I believe it gives us permission to do the same. Of course with all great artists it didn't end with imitation, it began there. Their craft evolved from the exploration, research, distillation and reverse engineering of those who inspired them.
When I traveled to Holland and saw the early work of Van Gogh, I was stunned to see the evolution of his art chronicled from a young man struggling to find a style he could call his own to the mature work for which he is so well revered. Even in his 30s he basically plagiarized from everyone and every culture he felt inspired by, from Manet to Japanese wood block prints. Seeing paintings first-hand that were essentially almost childish imitations by this great master somehow made me realize that we all begin at the beginning. It liberated me from the misguided notion that I was a worthless artist until I was an "original" artist.
Bob Dylan said, "when I recorded my first album, half the cuts on it were renditions of songs that Dave Van Ronk did. It's not that I planned that, it just happened. Unconsciously I trusted his stuff more than I did mine. He towered over the street like a mountain, but would never break into the big time, he was big — sky high and I looked up to him. He came from the land of giants." And you wonder why Bob Dylan would look up to anybody, but there he was looking up to Van Ronk. There was a willingness there with Dylan to listen and have the humility to accept that somebody else was doing something much bigger, much better, than he was. But, Dylan also had the confidence that he would find his own voice.
I think we have to think like this in our industry as well. We have to say, "what can we do that is both innovative and enduring so that our creations are appreciated over time and not thrown out as last year's fashion statement?" What comes from true creativity is not trendy. Popular culture comes and goes, but Dylan wanted to write music that could stand the test of time. So what did he do to find that touchstone? He read Dylan Thomas and Arthur Rimbaud and went to theater.
In my own work I try to find those touchstones. And the only way of doing that is to do the work itself. You can't play guitar by studying it; you have to play it. You can't create inspired concrete without mixing it, putting your hands in it and playing with it. That's the fun of it, and that's what inspires me. I learn by being there on the job, and many times I'm inspired by the tradesmen on the job. They might be doing a process I've never seen or they've found clever ways of achieving little technical marvels in their own way.
I'm also inspired by architects like Antoni Gaudi, Bernard Maybeck, Frank Lloyd Wright, Frank Gehry, Samuel Mockbee, Tadao Ando and Will Bruder. I'm influenced by artists such as Isamu Noguchi, Joan Miró, Alexander Calder and my own artist brothers.
Another part of my inspiration comes from nature. While I wholeheartedly welcome the idea of imitation as a path to innovation with fellow humans, I try not to imitate nature but be inspired by it.
We take the primal concrete slurry and instead of eons of time and tectonic pressures we actually process it in a week. But rather than imitate a particular granite strata we create a version of our own, trying to find something that reflects the same beauty but never tries to duplicate it.
Now, people say to me, well, I'm not here to be an artist, I'm here to be in business. Well, you can be a creative business person. All of us can be creative in some things, and some of us can be creative in most things, but we can't all be creative in all things. So there is a way to creativity that includes both the traditional notion of the artist as a solitary hero slogging through a solitary struggle and teamwork. There's a way of getting teams together and tapping into creative thinking of individuals with the power group dynamics. You can assemble a creative team or form an association. You don't have to wait for the architect or designer to come to you. You don't have to wait years to develop your artistic chops. You may not be the kitchen design visionary, or the graphic art visionary, but you may be the visionary in terms of the business or in terms of the technical craftsmanship. We're in the very beginning right now. We can take this and really grow it so that it becomes the counterpoint to the kitchen and bath industry's flat, linear, boxes and slab idea of a kitchen.
Ours is a very tactile, emotionally based product. When people see the concrete they sense it. Next to manufactured stone, next to Corian, next to Formica, what do they want to touch? The concrete. Why? Because there's some tactile quality about it. It has a "mass" appeal. You have to mine that tactile quality. Your team must know how to forge new ways to convey that tactile, emotional, aesthetic connection — from your marketing materials and design concepts down to the technical details in the countertop itself. It's the only way to command a decent livelihood and to remain competitive, to sustain a passion connected to your community and to yourself.
Companies in this article