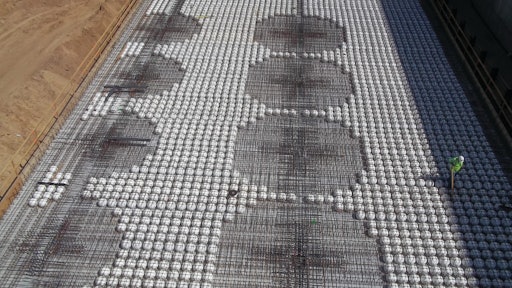 The Challenge:
How to cost-effectively construct an underground walkway directly beneath a thoroughfare that is required to support 80,000-lb. emergency vehicles.
The Players:
Findorff
GRAEF
The Spancrete Group, Inc.
Kahler Slater
The Process:
The La Bahn Arena, in the heart of the University of Wisconsin-Madison's (UW) downtown campus, is a 120,000-gross-sq.-ft., four level facility adjacent to UW-Madison's Kohl Center Arena. The arena will house a 90-by 200-ft. ice sheet for men's and women's hockey practice and women's hockey games as well as team locker rooms for both home and visiting teams. It will also feature office suites and support spaces for women's hockey and locker and team room functions for the men's and women's swimming programs. The arena will seat approximately 2,400 spectators.
La Bahn Arena raised a unique challenge: how to creatively and cost-effectively construct an underground walkway directly beneath a thoroughfare that was required to support 80,000-lb. emergency vehicles.
The new La Bahn arena needed to be connected to the existing Kohl Center Arena via an underground walkway. Above the underground walkway, a road capable of supporting the extensive weight of emergency vehicles needed to be situated. This meant the project team needed to determine how to produce a structure that could support weight from above and provide space for pedestrian and small vehicle traffic below.
The La Bahn Arena project team is comprised of four Wisconsin-based firms:
Findorff – principal contractor
GRAEF – principal structural engineer of record
Spancrete – precast producer of the BubbleDeck system
Kahler Slater – principal design architect
The team collectively pursued bringing BubbleDeck to the U.S. for the project. BubbleDeck is a unique patented integration system of linking air, steel and concrete in a two-way structural slab. The system is especially unique in the way it incorporates recycled plastic bubbles to eliminate concrete. The result improves building design and performance while reducing overall construction cost.
The BubbleDeck system virtually eliminates dead weight concrete from the middle of a floor slab by incorporating recycled plastic bubbles as a void. The system can facilitate up to 50% longer spans between columns, and the construction does not require beams. The slab is connected directly to cast-in-place concrete columns, producing a wide range of cost and construction benefits.
"Not only did we find a way to overcome the challenge of this unique arena development, we shaved three days off of our projected construction time and reduced overall cost by an estimated $25,000," said Dave Beck-Engel, Executive Vice President, Findorff.
In addition to time and cost benefits, BubbleDeck technology also reduced La Bahn Arena worksite risk through off-site manufacturing and a simple installation process, as well as supported the project's LEED Silver building specifications by reducing carbon emissions that typically arise from traditional construction methods.
The project, which officially broke ground in May 2011, has a projected completion and occupancy date of October 2012.