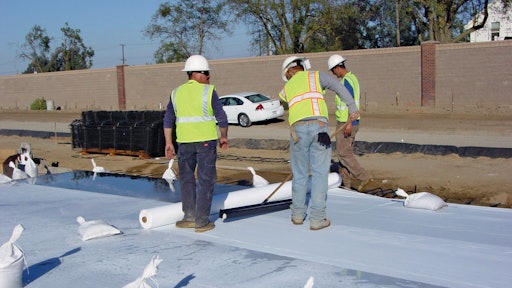 What happened?
This steel troweled interior floor exhibits surface discoloration due to differential drying on the top of the slab. The culprit was a wrinkled wet curing blanket placed on the surface of the concrete during the curing process.
Differential drying can occur with a wet curing blanket, insulated winter curing blanket or polyethylene sheet used for a sheet cure. Wrinkles allow for an evaporation and condensation cycle to occur, something known as the greenhouse effect. The dark areas of the floor are where this greenhouse effect occurred, with water evaporating from the concrete slab and condensing on the curing blanket or polyethylene.
The mottling is aesthetic only and does not have an effect on serviceability or life of the pavement. There is no way to repair the surface.
Whose fault was it?
The uneven curing occurred because the contractor who placed the wet curing blanket did not follow best practices and neglected to smooth out wrinkles during blanket placement.
Prevent this from happening to you
There are several curing options for concrete slabs, including burlap, straw or sawdust and regular wetting; sprinkling and ponding; liquid membrane-forming curing compounds; waterproof paper; and blankets and polyethylene sheets. The goal of all of these systems is to maintain moisture for proper concrete curing.
When you are using wet curing blankets or insulated winter curing blankets, follow your product's manufacturer recommendations for application. You will need to take the time to smooth out all wrinkles. Manufacturers offer tools to help contracts best achieve a flat application.
When sheet curing with a simple polyethylene sheet, choose a poly at least 4 mils thick. Clear, white (recommended for temps above 85 degrees F) and dark-colored sheets (recommended for temps below 60 degrees F) are available. Contractors should lay the plastic in direct contact with the concrete, avoiding any wrinkles. Where sheets join, overlap the poly at least 6 inches and use waterproof tape to secure the seams. Weigh down or otherwise secure the sheeting around the edges so it cannot be disturbed by wind or jobsite traffic.
Lastly, decorative stains and colors can heighten surface discoloration due to differential drying. If you cannot ensure your crews will install a completely wrinkle-free curing blanket or poly sheet, you may want to consider a curing compound or other curing method.
Concrete Contractor staff
"Concrete Diagnosis" is a new regular feature in Concrete Contractor. If you have a concrete problem you would like us to diagnose, send your photos and jobsite situation to Rebecca.Wasieleski@cygnus.com.