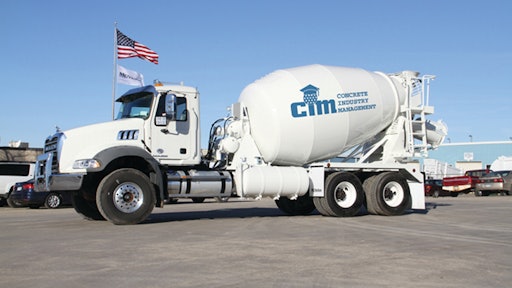 The Concrete Industry Management (CIM) program — a business intensive program that awards students with a four-year Bachelor of Science degree in Concrete Industry Management — is pleased to announce the following list of donated items for their seventh annual Auction at the World of Concrete. The Auction is scheduled for Wednesday, Jan. 25 in the North Hall Room N262 of the Las Vegas Convention Center. The silent Auction will be held from 11 a.m. to 1 p.m. and the live Auction begins at 1 p.m.
"The 2012 Auction is promising to be the biggest ever," said Eugene Martineau, chairman of the CIM Auction Committee. "In addition to our signature concrete mixer truck donated by Mack Trucks, Inc. and McNeilus Company, we have a variety of equipment, materials, software packages, safety equipment and tools available. Cement will be a hot item again this year, and concrete contractors should be excited about the number of items we have for them in the Auction." 
This year's Auction, in addition to the previously mentioned equipment, parts, materials, construction software and supplies, offers Bucket List sports and vacation packages including: The Masters; Kentucky Derby; 2013 Rose Bowl; Players Tournament Championship; Indianapolis 500; NFL tickets; NASCAR driving course; NBA and NHL tickets in Chicago; New York City packages to see the Yankees and attend a production on Broadway; sailing adventure in the San Francisco Bay touring Alcatraz and attending a San Francisco Giants baseball game and much, much more!
To date, the following companies have donated these big ticket items for the Auction:
Aggregate Industries (D.C.) - Four tickets to a Washington Redskins vs. Philadelphia Eagles football game in Washington, D.C.
Ajax Tool Works- Chisels for pneumatic and electric hammers
Allen Engineering – Pro 446SD-TC walk behind trowel
ACPA-ACPA Pipe School with lodging
ASCC - One CEO Forum registration and one round of golf
Argos Cement- Four loads of cement
Ash Grove Cement- Travel voucher
BASF- $30,000 Admixture package
Badger Meter, Inc. - Badger truck-mounted meter
Baker Concrete - All-inclusive Kentucky Derby package for two with many extras
Bee Access Systems- Rope and knotless termination package
Besser Company- Two consecutive days of technical service in plant
BIBKO North America- Iowa Motor Speedway package
Blastrac – Blastrac 1-8DEZ walk-behind manual push shot blasting system
Buckeye Fibers- Vizio 42" flat screen television
Buzzi Unicem - Four tickets University of Kansas vs. South Dakota State University, Saturday, September 1, 2012
Buzzi Unicem - Four tickets Kansas City Royals vs. Cleveland Indians, Sunday April 15, 2012
Buzzi Unicem - Four tickets University of Tennessee vs. Akron, September 22, 2012 in Knoxville, Tenn.
Buzzi Unicem - Four tickets University of Tennessee vs. Troy on November 13, 2012 in Knoxville, Tenn.
Buzzi Unicem - Four tickets Philadelphia Phillies vs. Devil Rays at 4:00 p.m. on Saturday, June 23, 2012 in Philadelphia, Penn.
Buzzi Unicem - Four tickets New York Yankees vs. Los Angeles Angels 1:00 p.m., Saturday, July 14, 2012 in N.Y.
Calculated Industries - ConcreteCalc Pro calculators
Canada Building Materials - Four NHL tickets, Buffalo Sabres vs. Montreal Canadians on February 17, 2012 in Buffalo, N.Y.
Capitol Aggregates-Cement - Four loads of type I, II on masonry, FOB San Antonio, Texas
Caterpillar - 216B3 Skid Steer Loader
Cemex Florida - Four Florida/LSU football tickets in 2012, game in Gainesville, Fla.
Cemex Florida - Six day passes to the Arnold Palmer Invitational and NBA basketball tickets; six Legends Club tickets to Orlando Magic vs. New Jersey Nets on March 23, 2012 in Orlando, Fla. Food, beer and wine included.
Cemex WPB - Tampa Bay Buccaneers vs. New Orleans Saints during 2012 season – 16 suite tickets plus four parking passes to the game.
Cemex-Cement - Ten truckloads loads of Type I/ II Portland cement
CSU-CIM Patrons Group - Wine Country Excursion- three nights stay at the Wine Country Inn and more
Clemons Concrete Coating - Products for indoor or outdoor concrete stain project
Command Alkon - $25,000 Command Batch Control System
ConcreteCareers.com - 1/3 off personal placement fee made in 2012-2013
Concrete Supply and Giant Cement - Charlotte Sports Package- Includes Buck Baker NASCAR Racing school for two and Carolina Panthers football tickets
CON-E-CO - PJ200 silo dust collector
Con-Tech Manufacturing - $500 parts credit for mixer truck parts
Crete Sheet - Ten boxes of Crete Sheets (ten per box)
Davis Colors - Los Angeles Dodgers tickets - two field-level MVP tickets to any Los Angeles Dodgers home game (except first or last game)
Dewalt - 1 ¾" SDS Max combination rotary hammer
Doug Guerrero - pen and ink drawing
Drake Cement - Four truckloads of bulk type II/V (LA) Portland cement
Dunn Investment/Mississippi Materials - All-inclusive world-class quail hunting for four at Circle M Plantation in Macon, Miss.
E.C. Levy Company - 325 tons of 6A natural gravel, FOB Levy SE Mich.
Eastern Concrete Materials/US Concrete - Four New York Yankees baseball tickets
Equipment Lock Company - Anti-theft locks
Erie Strayer - Acer Aspire 5750Z-4477 P laptop
Essroc Italcementi Group - Cement- Four loads (approx. 100 tons) of Type I/II Portland cement, FOB Martinsburg, W.Va.
Euclid - Curing and Sealing Package (72 five-gallon pails of curing and sealing compound and two sprayers, includes free shipping in continental United States)
Fastenel - NASCAR ticket for Dover, Del. race
FMI - One seat at the Construction Selling Skills seminar in Houston, Texas, February 29 - March 2, 2012
Forney LP- Fresh Concrete test kit
Forta Corp.- 2 pallets of Forta FERRO macrosynthetic fiber reinforcement (including freight)
Fraco - Canadian retreat cottage
GCC - Four loads of Type I/II cement, FOB plant
Grace Construction Products - $30,000 admixture product package
HD Supply/White Cap - Carhart Coat, Milwaukee Rotary Hammer, NFL Logo hard hat
Hilti - Hilti 18v Tool combination pack
Holcim (US), Inc. - 250 short tons of Type I/II cement (ten loads)
Honeywell Safety Products - $5,000 Honeywell safety package
Husqvarna Construction Products - K750 14" cutter with blade
Illinois Cement - Two loads, or apex. 50 tons of ASTM C150 Type I Portland cement, FOB LaSalle, Ill.
Innovative Concrete Solutions - 1 Ready Mix Chute Wash Recovery System
Iron Planet - Quail hunt at Big Oak Plantation outside of Atlanta, Ga.
Iskco - Battery Powered- Concrete Vibrator (18 volt, battery powered)
John Deere - John Deere XUV 825i Gator
Kraft Tool Company - Elite cement trowels with Proform handles
LM Scofield - Lithotex Pavecrafter imprint tools & London Slate standard grade tools
Lafarge North America- Ten loads (approx. 25 short tons each) picked-up at Lafarge US locations only
Lehigh/Hanson - 10 loads of cement
Lehigh/Hanson - Deep in the heart of Texas Golf and Relaxation Package
Lehigh/Southwest – San Francisco Giants baseball tickets, club-level seats for May 5 and 6, 2012
Mack Trucks/McNeilus Mixer Company - Mack Truck chassis with a McNeilus mixer
MAPEI - $10,000 gift certificate for MAPEI products.
Martin Marietta Materials - West - San Antonio Spurs vs. Indiana Pacers tickets on March 31, 2012 (includes hotel vouchers and a $500 travel voucher)
Matt Childs - Grapevine Tour for two
Metro Ready Mix - Destin, Fla. condo (1 week)
MEVA Formwork Systems - 2,000 square feet light rental
MTSU Patrons/ Irving Materials - Opryland weekend package for four (includes Tennessee Titans and Opry tickets)
Mitsubishi Cement - Cement- Four loads Type II/V Portland cement
Mountain Cement/Eagle Materials - Cement - Three loads (25 tons) of Type I/II cement
Multiquip - Walk behind power trowel
NJIT CIM Patrons - Two tickets to New York City wine dinner on February 26, 2012 at Valbella Restaurant
NPCA - Precast Show package
NRMCA - Three $500 gift certificates for webinars, publications, courses
Orange County Convention Center/Travel Planners - Orlando package (two 2-park 1-day hopper passes, Universal Studios and Island Adventure) and two night stay at the Peabody Hotel
Ozinga - Chicago Bulls Package- Four front row tickets plus Ketel One passes for the Chicago Bulls vs. Toronto Raptors on March 24, 2012. Package includes airfare, one night lodging and dinner.
Oztec BP - 50a Backpack Vibrator, 2" RubberHead (HR188OZ), 10" Flexible Shaft (FS10OZ)
Pankow – 2013 Rose Bowl travel package
Peterbilt & Cummins - All-inclusive package for six; your choice - one of two world class Indianapolis events: Indianapolis 500 or Brickyard 400. Package includes private jet, hotel and more.
PNA Construction - 50,000 square feet of materials for normal joint design for concrete flatwork
Prairie Materials - Chicago Blackhawks vs. Nashville Predators NHL tickets for March 25, 2012 (includes parking)
Propex/Fibermesh - Four rolls of PERC infiltration fabric
Ready Mix USA - Four tickets to National Champion Alabama vs. Auburn during the 2012 season
Ritz Safety - $1,000 safety package
Roanoke Cement - Four loads Type I/II cement, FOB Troutville, Va.
Robert Bosch Tool Corp.- 18 volt lithium ion drill/driver kit and Premium 360 watt radio with integrated Sirius satellite
RSC Equipment Rental - 27" flat screen television
Ruttura & Sons - Notre Dame football tickets (any 2012 home game)
Salt River Materials - Four loads F fly ash, FOB Joseph, Ariz.
Scurto Cement Construction - Chicago Blackhawks hockey tickets
SIKA Corp - Master Package (Master's badge for Saturday and Sunday, hospitality pass, and hotel)
Silvi Corp - Wine package
SIMCO - Full year subscription to Stadium Software
Sky Climber - One 2-meter Sky Stage Ultra Modular Platform
Solomon Colors- Brickform seamless texture skins
Somero Enterprises – Copperhead XD3.0 laser screed
St. Mary's Cement - a Division of Votorantim Cement USA – Four loads (100 short tons) Type I, FOB @ plant in Mich., Ill., Wis., Ohio or N.Y.
Stephens Manufacturing - SOS 1020 cartridge filter vent Silo dust collector with three cartridges
Stihl - Sthil SE 122 wet/dry vacuum
Stoneway Concrete - Seattle Mariners tickets vs. Twins on May 6, 2012
Sunbelt Rentals - Rental discount package including two $500 rental coupons
TEKLA- Two TEKLA Structures licenses and training
Texas Industries (TXI) - Two loads of Type I/II cement FOB Texas or Calif.
Texas Industries (TXI) - Cowboys vs. Redskins Tickets- Four tickets during 2012 game in Dallas, Texas
Texas State Patrons - Texas Hill Country wine weekend (includes three days, two nights, wine and whiskey tasting events)
Titan Florida - Two loads (50 short tons) of cement- bulk of bagged- Type I/masonry/stucco, TBD
US Concrete/Central Concrete Supply - Four tickets to San Jose Sharks NHL game (includes parking)
Vince Hagan Company - VH-245JP Silo Top Dust Collector
Vulcan Materials - All-inclusive golf and beach holiday at the Sawgrass Marriott Resort
Vulcan Materials - Four Washington Redskins vs. Dallas Cowboys tickets, includes parking
Vulcan Materials - Southern - Four tickets to Tampa Bay Rays baseball game during 2012 season
WR Meadows - 72 5-gallon pails of Liqui-Hard Ultra (includes freight in continental US)
Wacker Neuson- 14" cutoff saw
Wagman Metal Products - Poly Pro trowel blades- 12 steel reinforced poly power trowel blades
Webcor Concrete/Bode Sand and Gravel - San Francisco sailing/activity package; Up to six people sailing a 40' yacht around Alcatraz Island, under the Golden Gate Bridge and around the course for the 2013 America's Cup, and       four San Francisco Giants club-level baseball tickets
Woodland Construction- Four tickets and a parking pass to any 2012 Miami Dolphins home game (includes parking pass)
Wyco Tools- Sure Speed with 10" shaft and 1 3/8" head
Note: All-inclusive means travel, accommodations and more. Items subject to change.
The following companies made cash donations to the CIM Auction: Doka Formwork Experts, iCrete, Nevada Cement, and Volvo. Once again this year, Internet bidding will be available on the Ritchie Bros. website, www.rbauction.com. To participate in the Auction, bidders must register one week in advance.
Companies in this article