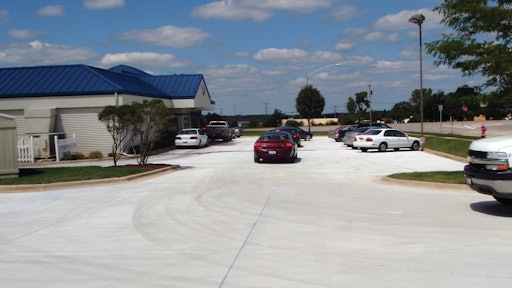 Of all the surface parking lots in the country, only 8 percent are concrete. Within this context, consider that more than 6,000 square miles of surface parking lots will require resurfacing within the next year or so. If you are in the business of designing and installing concrete parking lots, the two figures combine to spell opportunity, says John Hansen, Senior Director, National Resources, Mid/Northwest Region for the National Ready Mixed Concrete Association (NRMCA).
The current percentage discrepancy between asphalt and concrete, he adds, doesn't imply an uphill battle. In states such as Iowa and Nebraska, 65 percent of new parking lot construction is concrete and Texas has a high percentage, as well.
"In fact, because of the high price of oil, there's more parity in first cost," says Hansen. "But first cost is not the only reason flipping parking lots from what has been the asphalt standard to concrete is more attractive than ever before." He notes that concrete is more environmentally friendly than asphalt and reflects light better, a characteristic that has become increasingly important since the mandated move away from incandescent lighting to LED. He cites examples of "big box" stores selecting concrete based exclusively on lighting — because it reflects LED lighting better than asphalt, creating a safer night environment.
The concrete industry used to depend on the high maintenance costs of asphalt compared to the longer design life and low maintenance of concrete to argue their case. "Now, it's everything put together," says Hansen, "including first cost parity, environment, safety, longevity and more that makes concrete an attractive alternative to asphalt. Yet there are still objections, most of which are founded on lack of knowledge and understanding."
Vance Pool, NRMCA's South Central Senior Director agrees. "The biggest obstacle is change. You're trying to drive change when a large percentage of engineers and general contractors still don't believe concrete is competitive. Many engineers were not taught to design concrete parking lots in college, just roads."
The obstacles, though, are far from insurmountable, and that's good news, says Pool, since the concrete industry needs to move aggressively in pavement. As NRMCA reported last fall, ready mix concrete production in 2010 fell to just 258 million cubic yards, down from 458 million cubic yards in 2005, at the height of the housing boom. Indeed, NRMCA emphasized the ready mixed concrete industry has been hit hard by the combination of the housing market collapse, tightening credit and resulting constricted commercial construction, and a lack of serious infrastructure investment by the government.
Both concrete producers and contractors are looking for ways to increase demand for their product and service offering, and parking lots, along with streets and local roads, represent potential growth areas.
Owning up
Florida contractor Bryan Birdwell, Owner of Birdwell & Associates LLC, has been in the industry for 20 years and for many of those he's been installing concrete parking lots. "The biggest challenge is to get to the owner and tell your story," he explains. Whereas the engineer and general contractor may not want to leave their asphalt comfort zone and the developer is concerned about cost, the owner is the one with the long-term vested interest.
"Find out what the best fit for the owner is," Birdwell relates. "What is the owner looking for? Is it image, or does something different and new have a certain appeal? If the parking lot is destined to become a construction zone, then the strength of concrete would prevail over the use of asphalt."
He continues, "In Florida with all the heat, for example, asphalt requires even more maintenance than it does on other parts of the country. That becomes a strong selling point."
Birdwell advises contractors to focus on certain types of properties. Owners of retail establishments can be especially receptive to concrete, he notes. Yet, his company has experienced considerable success flipping parking lots in virtually any setting, including industrial facilities, recently a Wal-Mart distribution center where crews put down 370,000 square feet of concrete, and an 870,000 square foot convention center parking lot. He has also done some white topping, where crews added 3 to 4 inches of concrete on top of existing asphalt.
Among misconceptions that concrete contractors need to overcome is that concrete will crack and fail, especially in difficult climate conditions. As Birdwell emphasizes, concrete failure is almost always the result of a poor design, a lack of understanding soil conditions or bad technique.
No downside
Over 27 years in business, Len Swederski, owner of North Carolina-based Swederski Concrete & Paving and Illinois-based Swederski Concrete Construction, has designed and installed literally hundreds of concrete parking lots and consulted on many more, all around the world. He says he has never come across an application where concrete doesn't work. "At our Illinois location, we've installed parking lots in some of the most severe weather conditions in the country. When designed and installed properly, following ACI 330 Standards, there is no downside to a concrete parking lot, period."
That doesn't mean there aren't obstacles to overcome, Swederski admits. The biggest one is what he simply terms as "bad habits." Engineers and designers are used to using asphalt and soils experts are generally unfamiliar with concrete application. What they don't understand is that several things have changed over the years, not the least of which is the rising cost and demand for oil and oil byproducts and growing awareness about the benefits of using concrete for parking lots.
"Design criteria have also changed. For example, wire mesh and other reinforcing material that was once thought to strengthen concrete actually weakens it by not allowing it to expand and contract," Swederski explains.
Agreeing with Birdwell, Swederski says the best opportunities for "flipping" arise when talking with the owner. Even if an owner shows resistance to the longevity and low maintenance argument because he or she plans to resell the property in the near term, one can always talk about the higher resale value of having a concrete parking lot.
"Research new businesses that are coming to town and meet with the owner if you can," Swederski advises. He also hosts "lunch and learn" sessions for engineering firms to educate them about the value of concrete parking lots.
Wayne Moening, Northeast/Northwest Promotion Director for the Ohio Concrete Association, notes that "lunch and learn" sessions, are also part of the group's effort to further educate engineers and architects. Newsletters, face-to-face meetings and seminars also help convey the positive attributes of concrete. "We know from experience that if a bid for a concrete parking lot comes in 10 percent or lower above asphalt, nine out of 10 times, concrete will win out," he relates.
"One of our ongoing goals is to encourage engineers and architects to include concrete as an 'alternate' in the specifications, or, better yet, the base bid," he says. In both scenarios, Moening adds, a concrete parking lot is in the mix, and if it's the base and not the alternative and the base comes under budget, concrete will win."
It is all about education and building relationships with engineers, architects, owners and others. For the education part, he always includes basic concrete talking points without being overly negative about asphalt. "After all," says Moening, "when talking with engineers and architects especially, one doesn't want to be overly critical about how they've been doing business over the years. Case studies, with testimonials from owners, are very helpful, as well." The relationship part, he adds, takes time.
"The reality is if you work in a market that doesn't have a concrete mentality, flipping won't happen overnight," Swederski emphasizes. "It requires changing the mindset of business owners and engineers." This contractor also does "white topping," noting that his company recently completed a couple of "overlay" projects for area churches in North Carolina, and has actually finished several such projects in Illinois.
"Like anything else, when overlaying concrete on asphalt, you need to know what you're doing," he says. "White topping over asphalt creates a composite pavement structure and surface preparation is paramount to a good bond. The asphalt aggregate either needs to be exposed or the surface has to be milled. In some cases, there may not be enough asphalt to mill and the entire surface will need to be removed and a full-depth concrete pavement will be installed."
Whether you're flipping or "white topping" parking lots, the challenges for getting the work are very similar. They require dispelling some ongoing myths about concrete, including construction first costs, and then educating the owner or owner's representative about concrete's long-term benefits. As Swederski and Moening mention, depending on the market, winning the argument may not happen overnight, but having a meaningful discussion will pay dividends over time.