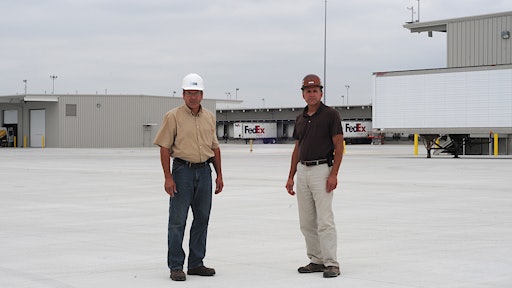 Two years ago, Ray and Perry Merlo, the brotherly team behind Merlo Construction, Milford, Mich., commenced a project of epic proportions. A new FedEx Distribution Facility near Toledo, Ohio, was in need of a 1 million square foot parking lot. Originally designed for asphalt placement, Merlo Construction set out to flip the project to concrete.
The brothers knew there were a few challenges in their way. They needed an efficient design and production method that would bring concrete's cost in line with asphalt. They also needed to educate the owners on concrete's benefits and convince them to leave their comfort zone with asphalt and try a new construction method.
With the help of Ohio Concrete, the state concrete promotion association in Ohio, Merlo Construction succeeded in creating an appropriately designed concrete parking lot and loading area. The company won both the site work package and the concrete package and this summer delivered a successful and profitable project.
Company growth
Ray and Perry Merlo founded Merlo Construction in 1991. They learned the "trowel trade" from their father, Reno, while they were growing up, but spent their young adult years pursuing other careers before the pair decided to go into business together. Merlo Construction started out specializing in concrete flatwork. After 10 years in the flatwork trade, Ray Merlo says the company had enough with the frustrations of following grading contractors who neglected to leave them with the required +/- 1/10 inch on their dirt work. "We were tired of being at the mercy of grading contractors so we expanded the business to include excavation and grading scopes. As a natural progression, underground utilities soon followed," he explains.
The economic downturn that started in the mid-2000s put a strain on Merlo Construction and other contractors in the area, leading to fierce competition in a severely depressed market. It was then the Merlo brothers made two important moves that helped their company remain competitive. First, they joined the American Society of Concrete Contractors, which allowed them access to some of the leading concrete companies in the country and business management guidance they couldn't get anywhere else. Second, they invested in GPS-guided grading and concrete screeding equipment. This helped them improve efficiencies and quality. "These two moves allowed us to not only withstand the severe economic downturn, it started us back on a pattern of growth," Merlo explains.
Today the company's typical projects include industrial and commercial projects like assisted living facilities, medical office buildings, fast food restaurants and industrial repair. They bid the concrete and dirt packages separately and get both on about 50 percent of their jobs.
About two years ago, Merlo Construction identified concrete parking lots as another potential revenue and growth stream. The company completed about a half a dozen concrete parking lot projects of various sizes in the last year and a half, with the recent work at the FedEx Distribution Center in Toledo representing the company's largest foray into this construction type.
Making the flip
Merlo Construction reached out to Ohio Concrete in the summer of 2012 for assistance in flipping the originally bid 1 million square foot FedEx asphalt parking lot to concrete. Jim Barnhart, senior engineer with Ohio Concrete, and Wayne Moening, NW Ohio promotion director with Ohio Concrete, worked with Ray for nearly a year on design and promotion meetings with FedEx officials.
The first hurdle Merlo and Ohio Concrete had to pass was two-fold – they had to overcome the perception that concrete was too expensive and also ensure the pavement was designed to provide the life the owner expected.
The parking lot was designed for an anticipated traffic of 400 trucks per day on the "heavy duty" sections while the "light duty" area would serve as employee parking. The original asphalt detail was 6 inches of asphalt on 16 inches of aggregate base for "heavy duty" areas and 3 inches of asphalt on 6 inches of aggregate base for "light duty" areas. In addition, concrete pads were specified for the trailer landing gear and dock areas at a design thickness of 9-1/2 inches on a 6-inch gravel base. The Ohio Concrete design team proposed a 6-1/2-inch unreinforced concrete pavement replacement on top of an 8-inch aggregate base for the "heavy duty" areas and 5 inches of concrete on 6 inches of aggregate base for the "light duty" areas.
Merlo Construction proposed this concrete alternate at the same price originally bid for the asphalt design. The company did not have the latitude to increase costs for the project, so the task was to create a comparable pavement at a comparable cost without under designing the concrete option. In order to accomplish this, Merlo Construction had to take steps to improve placement efficiencies, which it did by utilizing a Robotic Total Station grade control system on its excavation and grading equipment and a Somero SXP-D Laser Screed with 3-D Profiler System. "We mirrored the total station mapping from the site work to the concrete screed, so the two pieces of equipment were working off the same profile," Merlo explains. "That duo of machines working together cut our production time in half. Simply put, you could never compete with asphalt in the absence of those machines on a project like this."
Ohio Concrete's Engineering Services Center provides recommendations through the use of ACI 330 documents, Streetpave or WinPass software, but project designs are not stamped as the engineer of record. Merlo Construction had to find an engineer would stamp the recommendation without being involved in the design work. Merlo worked with engineer Dan LeClair of GreenTech in Wixom, Mich., to get the recommendation approved.
With the design and cost structure hurdle met, the more difficult undertaking remained -- convincing the owners to accept these changes. The first owner that needed to understand and accept these changes was the property owner, who leased the property to FedEx. Merlo Construction and Ohio Concrete made several thorough presentations about concrete paving. The owner's first concern was cost, but after he understood he was not paying more for concrete it was much easier to convince him of the benefits. With the plans stamped, the property owner became an advocate for the next step -- convincing FedEx the design was appropriate and concrete offered them the best option.
Concrete advocates would be accustomed to the topics of conversations Merlo Construction and Ohio Concrete had with FedEx, as they were the typical topics such as design thickness, costs and maintenance procedures during the life of the pavement. One of FedEx's biggest concerns was understanding how a 6-1/2-inch pavement design could be sufficient when the original design called for the docks and landing pads to be constructed with 9-1/2 inches of concrete. Ohio Concrete and Merlo Construction explained the difference in stagnant loading versus random traffic patterns and their effects on pavements sufficient to allow them to overcome this hurdle, focusing hard on getting them to understand they had an original design for 20 years with the asphalt pavement, along with the expected repairs required to maintain it for 20 years, and were receiving an additional ½ inch of thickness with concrete, providing a superior rigid product to carry the planned loads. Life expectancy of this concrete design, with little to no maintenance, is 20 to 30 years.
When it came to maintenance issues, FedEx was not only concerned about ongoing maintenance, but also any needed electric, drainage or similar repairs. The corporate maintenance/facilities manager who was involved in the discussions felt he could easily make these types of repairs with asphalt, but concrete would pose a greater difficulty to his crews. Ohio Concrete explained the procedure for making these cuts in the reinforcement-free concrete and the ease of replacement with fast setting concrete.
In the end all agreed concrete was a superior pavement with life cycle cost benefits. The owners approved the concrete design and Merlo Construction set out to construct the project.
Merlo Construction partnered with a local ready mix producer, All Ohio Ready Mix, Sylvania, Ohio, who was able to mobilize a portable plant to the site for greater production rates, reaching highs of 1,200 cubic yards per day, with a best of 125 cubic yards per hour. Merlo Construction commenced the first pour on May 1, and the final pour took place in late July.
With the producer on site and meeting requirements, Merlo Construction had a very efficient operation in place. Its crews placed the concrete with the Somero Laser Screed, 10-foot bull floats, a two-man rope broom, immediate white pigmented curing compound placed so no grey was showing through,  and early entry saws on as soon as possible. With the use of the total station to ensure subgrade prep was accurate they had relatively no loss of material costs. All this was completed while maintaining safety as an utmost priority by both Merlo Construction and All Ohio Ready Mix.
With an impressive project under its belt, Merlo Construction hopes to continue its efforts in concrete paving. But Merlo says the concrete industry faces an uphill battle when it comes to taking market share from the asphalt industry. "Everyone focuses on the big projects – the big box stores and those types of projects. But in my market those jobs are few and far between. Contractors, and the industry as a whole, need to find a way to propose an economical concrete option on those 15,000 to 40,000 size jobs," he says.
About the Author
Wayne Moening is Northwest Ohio Promotion Director at Ohio Concrete, is dedicated to promoting and encouraging the use, consumption and quality of concrete products. You can contact Wayne via email at wayne@ohioconcrete.org.