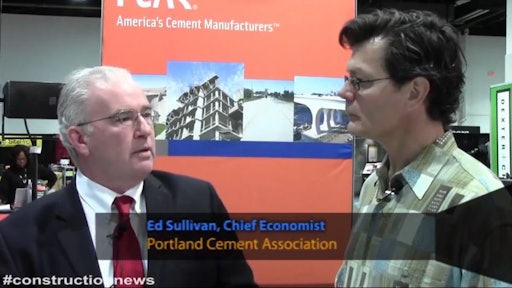 That's a wrap folks! World of Concrete 2015 is now behind us and if you were at the show and felt the same "buzz" and heard the positive outlooks from both contractors and exhibitors, 2015 is going to be one heck of a year!

To recap, organizers of World of Concrete 2015 report the event drew 55,770 registered attendees, 1,459 companies exhibited their products and most notable, this was the largest World of Concrete in six years. I think it's a fair assessment to say the market is coming back with a roar and contractors are poised to reap the benefits.

One of our favorite events at the World of Concrete is to hear Ed Sullivan, Chief Economist with the Portland Cement Association (PCA) present his annual economic forecast. This year's presentation had Sullivan noting 2015 as a very optimistic year. In 2014, construction activity grew 2.5 percent and in 2015, Sullivan expects growth to accelerate to five percent. Additionally, cement consumption is expected to grow again by eight percent this year, and another eight percent in 2016.

Sullivan says consumer confidence is at a record high and with the addition of 250,000 new jobs every month, the core of the optimism stems from the labor market. Sullivan says skilled laborers will be embraced by the growth in the economy and construction activity and cement consumption will be impacted in a positive manner.

If you were unable to attend the World of Concrete, visit www.ForConstructionPros.com/concrete and search using the term "2015 World of Concrete." Doing so will lead you to our complete coverage of the show including the latest product introductions, news, and photo galleries. Don't forget to visit the Video Network for video interviews with industry leaders conducted in our booth during the show.

Finally, we're excited to announce the February/March issue of Concrete Contractor will also feature the launch of a fully interactive IPad App. The app will include the full issue plus bonus content in the form of video, photos, and more. We have designed the app to give you a deeper, interactive experience. To access the app, visit the Apple Store and download it using the search term "Concrete Contractor" and see what we have in store for you.