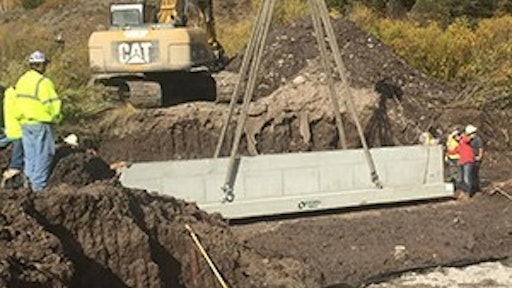 Oldcastle Precast-Idaho Falls supplied multiple precast concrete bridge elements to Bonneville County Road Department for the new bridge at Jensen Creek, in the Caribou-Targhee National Forest, Idaho Falls, ID. The new bridge will improve travel in that area and enhance the fish habitat.
Owing to the location of the site, speed was of key importance to the project, mainly because work in fish bearing streams, like Jensen Creek, is only allowed after September 1 through the end of October. To meet the schedule, precast concrete bridge elements were chosen due to their ability to be manufactured off-site, while site work was completed and then installed quickly.
On September 19, 2016, Bonneville County began installing a new bridge over Jensen Creek on the McCoy Creek Road (FS Road 087). The bridge required two, 13-foot-long by 4-foot-3-inch-tall precast stem wall footings in which the precast bridge sections would be set; two, 24-foot-wide by 6-foot-tall by 6-foot-6-inch-long precast bridge sections with attached curb; two, 24-foot-wide by 6-foot-tall by 6-foot-6-inch-long mid bridge sections; and four, 12-foot-tall by 9-foot-2-inch-wide wingwalls. All precast components, for the finished 26-foot span, 8.5-foot-rise, 3-sided bridge, were designed and manufactured by Oldcastle Precast-Idaho Falls.
"The new bridge over Jensen Creek is a partnership between Trout Unlimited, Bonneville County, and the Caribou-Targhee National Forest in an effort to improve fish habitat, as well as improve travel in that area," says Palisades District Ranger, Tracy Hollingshead. (US Department of Agriculture- Forest Services)
In an effort to restore healthy stream beds for trout habitat the Forest Service and Trout Unlimited have teamed up to relocate some existing streambeds throughout Idaho and Wyoming. Moving them from thicker forested locations that are getting dammed up by Beavers into more open areas less susceptible to the harmful affects of PONDING, caused by the beaver dams.