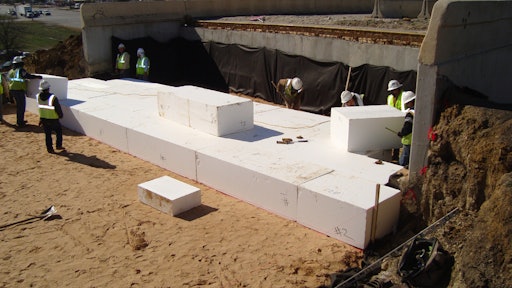 By Tom Huempfner, Vice President Sales and Marketing ACH Foam Technologies, Inc.
Large-scale construction requires making many decisions far in advance of the on-site construction work. Engineers and architects guide clients through a myriad of decisions while creating the drawings and specifications during the design phase of the project. Ultimately, successful projects are about making good decisions prior to moving the first shovel of dirt and then putting detailed plans and drawings into the hands of skilled people to do the work.
"Building roads and bridges is often about solving problems," says Phillippe Falkner. "Experience is always a great asset in building confidence in the choices we make." Falkner is the Operations Manager for Ed Bell Construction, a north Texas heavy/highway and municipal contractor based in Dallas. Ed Bell was working on a highway rehabilitation project for the Texas Department of Transportation (TxDOT) in 2010 when Falkner was presented with a rare opportunity.
"The US 67 bridge over SH 174 outside of Cleburne needed to be rehabilitated, and they asked Ed Bell to add it to our scope of work on the adjacent section of highway," continues Falkner. The bridge header was settling because deteriorating embankments at either end were causing the pavement to bunch up where the road connects to the bridge. TxDOT had already attempted to rehabilitate the embankments using traditional soil stabilization methods but moisture issues and settlement continued. "Since traditional methods hadn't worked, they asked us to do a side-by-side comparison of two different fill materials, sort of an R&D project."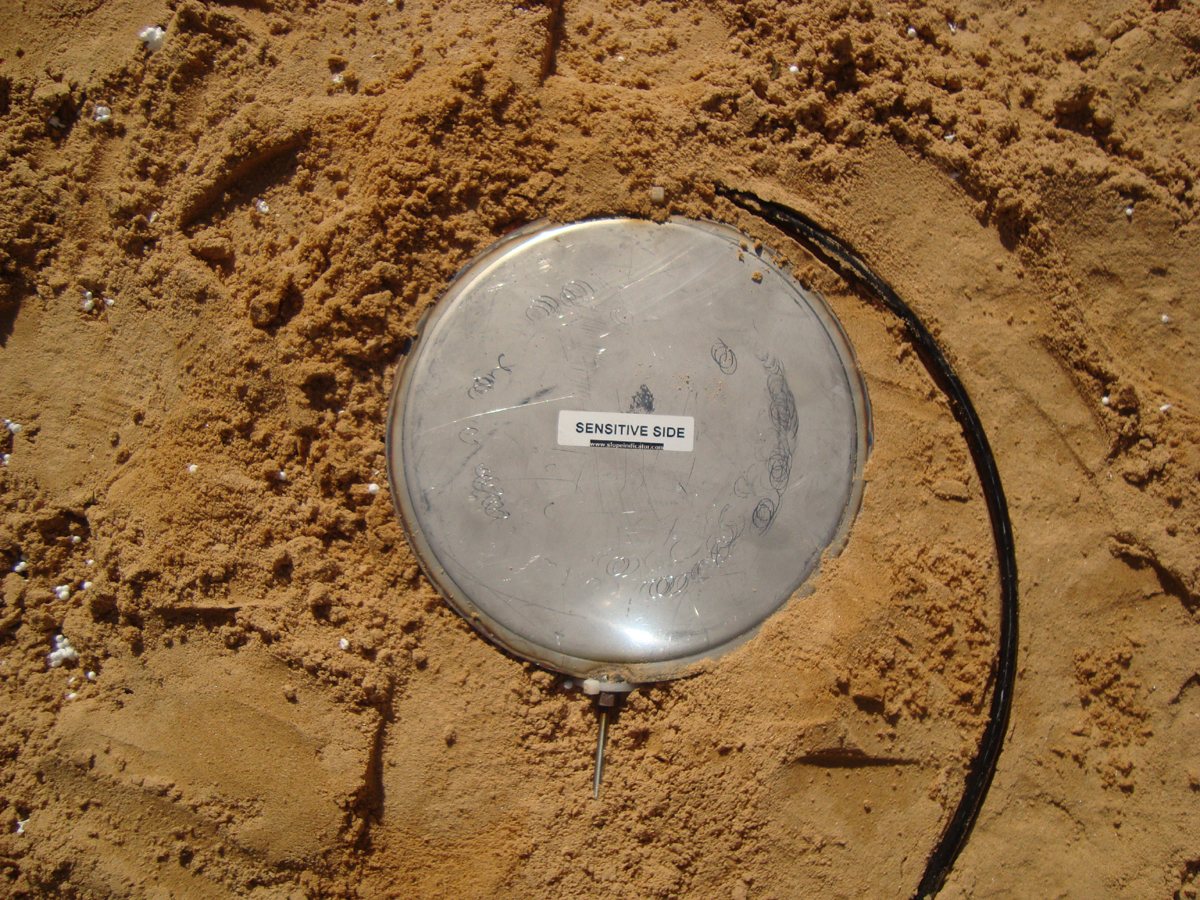 Special sensors were placed beneath both types of fill to allow TxDOT to closely monitor each material's settlement post construction.The first task on the add services contract was to rehabilitate the actual bridge over SH 174, which was being diminished by the failing embankments. Once the bridge was sound, the embankments were excavated in sections roughly 6-feet deep and 120-feet long, giving builders a fresh, wide trench on either side of the bridge to fill with the alternative fill materials. After each trench was filled it was to be paved over with new road, reconnecting both sides to the rehabilitated bridge. Working with two different structural fills, Ed Bell's assignment on the embankments was to plan and complete the work on each side of the bridge. They would also install electronic pressure monitors beneath the restructured embankments so any future settlement could be monitored independently on each side. For Falkner, the project seemed like a great learning experience as well as a chance to rethink construction processes he'd completed many times before with soil embankments.
TxDOT indicated they wanted to compare a kiln-processed lightweight clay aggregate and solid, lightweight Geofoam blocks as alternative fills. On the surface, Falkner's early expectation was that the aggregate materials would behave similarly to soil. Thinking about the geofoam block side; however, he had some concerns.
"The lightweight aggregate really only comes from one manufacturer in north Texas, so there wasn't a lot to consider," says Falkner. "Using Geofoam; however, seemed so different from typical roadway building that I needed to know quite a bit more before I could order it." Falkner decided to engage two different Geofoam suppliers to gain as much insight as he could while competitively securing the materials. "The costs between the suppliers was about the same, the big difference was the technical support ACH Foam Technologies offered in response to my concerns about building with Geofoam." ACH Foam's in-house drafters produced shop drawings of the block configuration pattern to fill-in the embankment for structural soundness and numbered each block in the order to ensure it was easy to place precisely according to the plan.
With traffic diverted, the bridge remediated and the trenches dug, all that was left to do was build the embankments and document the work. Both trenches were lined with a filter fabric before the new fill materials went in. On the lightweight aggregate side, a truck simply backed up to the hole and dumped in the material, which Falkner said is similar to kitty litter in texture. The aggregate was graded flat and covered with more fabric, performing largely the same way soil would under the grader. Special sensors were placed beneath both types of fill to allow TxDOT to closely monitor each material's settlement post construction. 
On the Geofoam side, first, a sand leveling course was put down to get a nice flat surface. The Geofoam blocks were laid in by hand with no specialized equipment or skilled labor involved. Two men were easily able to move blocks as large as 8 feet by 4 feet, weighing less than 100 pounds. The majority of the blocks required no modification, but workers were able to quickly customize blocks to fill in around the superstructure using a hand-held hotwire cutter. With the Geofoam stacked and wrapped in fabric just like the aggregate side, Falkner was looking at two ready-to-pave embankments made from very different materials.

"With the embankments built, it was time to lay the road down, and that went a lot differently than expected," continues Falkner. The road plan called for a crushed limestone base subgrade, covered with a hot asphalt mix and topped with a 10-inch concrete paving. "I was worried about the Geofoam side but it was rock solid under the equipment as we pushed the base out with a dozer. Then on the aggregate side, everything was kind of squishy and it took a lot longer than we expected to get a smooth surface." Falkner, still concerned about damaging the embankments with heavy construction equipment, decided to use a lightweight truss screed bridge paver rather than a traditional concrete paver to put in the final topping.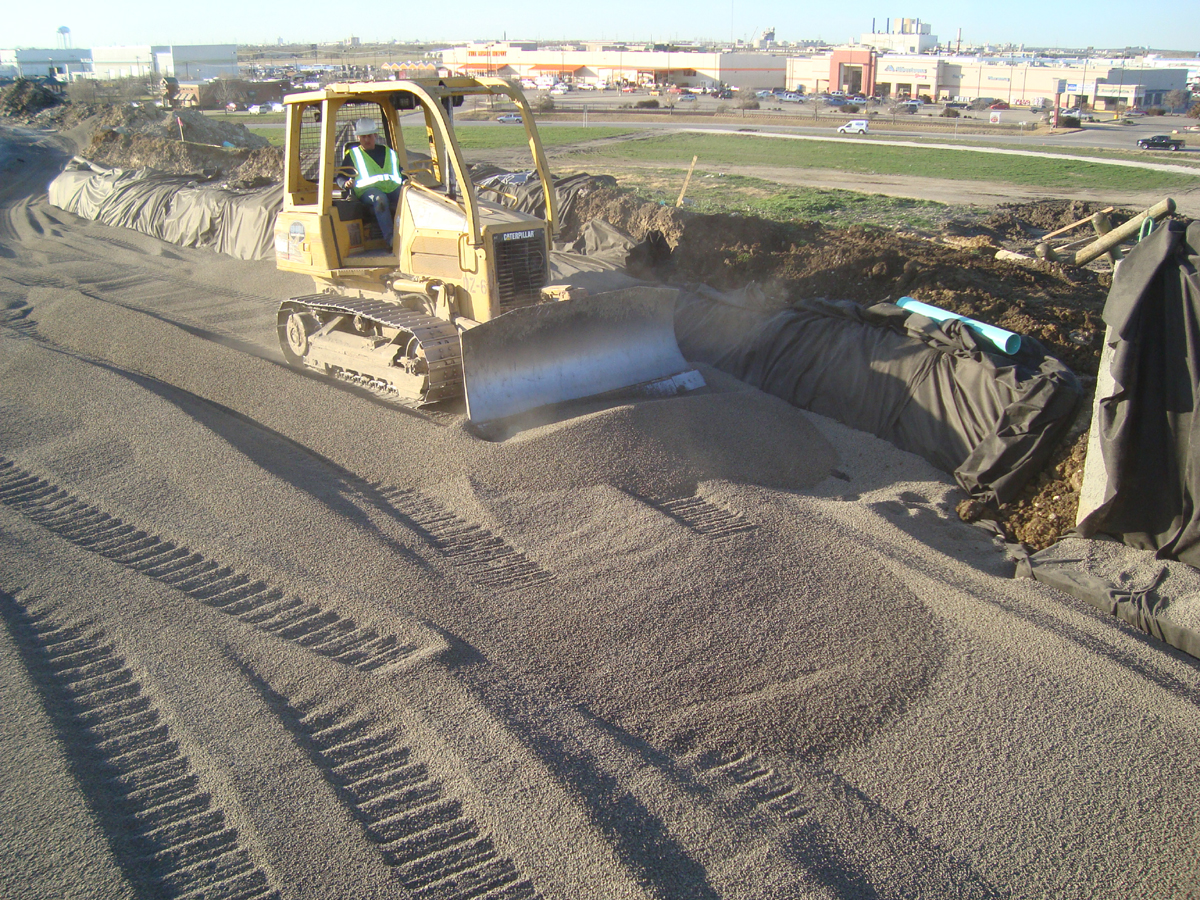 Once the fill materials were in place, they were covered with a crushed limestone base subgrade, hot mix asphalt and topped with a 10-in. concrete paved road.More than five years since the original embankments were built, data suggests both alternative fills have performed adequately. On the lightweight aggregate side, the fill settled slightly more than was originally expected but was still within TxDOT's acceptable tolerances. On the Geofoam side, there was a quick initial settlement and then no further movement at all, performing better than originally expected. Falkner adds that he continues to work on TxDOT projects with the Area Engineer and that the department has been satisfied with the work and the lack of need for return maintenance since the rehabilitation was completed in 2012.
Since Geofoam comes in several different grades, plank sizes, and can also contain termite resistant treatment, there are variables that need to be explained when quoting a project. ACH Foam took the time to explain the differences and developed a series of options which helped Falkner select the right materials for the application.
"The other guy was selling products like a commodity," says Falkner. "ACH Foam was interested in engineering an appropriate solution as part of the building team."
Companies in this article