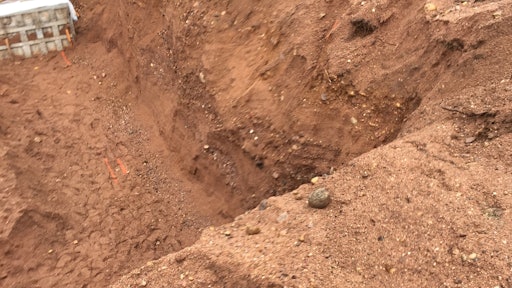 Concrete Foundations Association
Question: We were given a contract to start footings and foundations for a residential project. The excavation was provided by the builder and when we arrived, on schedule, we started unloading the footing forms and sending them into the hole for layout and staking. An OSHA inspector arrived and asked if we had completed a site inspection and considered the fact that the excavation was not to regulation. We are looking at citations for several conditions including lack of site inspection, no trench protection, a non-compliant excavation and hazardous conditions around the edge of the excavation. Concerned that the builder would pull our contract, we had decided to keep going. What are we to do in such a situation?
Answer: The immediate, or perhaps obvious answer to your question is contact the builder and explain that you can't proceed until you know the jobsite is safe…within current regulations. If they are unwilling, as the party responsible for the excavation, to discuss and then correct the conditions, you must then walk away. Although there are certain to be readers who can't imagine this position or those that would as soon roll the dice for either an incident or an inspection, as the employer it is your duty to protect your most valuable resource, your personnel, which includes you. 
However, in order to have any conversation, whether it is a productive one with the builder or having a positive defense conversation with the OSHA inspector, you must have a command of the duties as an employer as prescribed for excavation by OSHA. There are certainly situations where inspectors may not recognize the subtleties of residential construction and you must also be able to recognize the differences from commercial work if your company performs both.
There are multiple regulation components found in 29 CFA 1926 Subpart P1, which is the regulation section for all excavations. In 2002, OSHA published Publication #22262, which states that the provisions of 1926.652 do not apply to house foundations or basement excavations provided they meet a set of exclusion requirements. In general, OSHA considers excavations to be one of the most hazardous conditions for construction.  At the same time, they recognize that basement excavations are large holes with greater inherent safety until the forms are erected.  Together, between contractors and inspectors, this section is one of the most frequently misunderstood and perhaps abused regulations.  It appears to me that the reason why we are fielding an increased number of inspections related to excavations is due to the increased height of foundation walls in today's market.  When Publication #2226 was created, foundation walls were predominantly nominal eight-foot walls.  The International Residential Code3 restricts the maximum height of unbalanced fill to within six inches of the top of the wall, which is a 7'-6" excavation in theory.  Today, however, foundation walls are commonly nine-foot, many are ten-foot and we are experiencing regular constructions of eleven feet or more.  Both the builders and the sub-contractors have not revisited the regulation due to the height change and are now exposed to safety concerns, not to mention non-compliance.  
Here is what you should know:
OSHA Publication #2226
This document available as a pdf downloaded and as a web page.  It delivers, in plain language, the excavation regulations of Subpart P. The opening sections provides a conditional exclusion for house foundations or basement excavations that become trenches by definition when constructing formwork, foundations, or walls. For this exemption to apply, all the following conditions must exist:
The excavation is less than 7-1/2 feet (2.5 meters) deep or is benched for at least 2 feet (.61 meters) horizontally for every 5 feet (1.52 meters) or less of vertical height;
The bottom of the excavation, from the excavation face to the formwork or wall, is at least 2 feet (.61 meters) wide, and wider if possible;
No water, surface tension cracks, or other environmental conditions reduce the excavation's stability;
No heavy equipment is vibrating the excavation while employees are in it;
Soil, equipment, and material surcharge loads are no closer to the top edge of the excavation than the excavation is deep. When you use front-end loaders to dig the excavations, place the soil surcharge load as far back from the edge of the excavation as possible, but never closer than 2 feet (.61 meters);
The fewest crew members possible are performing the work; and
Workers spend the minimum time possible in the excavation.
Implementing the Regulation
Your first responsibility on any jobsite as an employer is that of inspection, as noted at the end of this response.  Publication #2226 can be made into a checklist that is completed and stored on the jobsite and in the project folder(s) for every project.  You may even decide to make it part of your contract negotiation with any builder ahead of a work agreement/contract or become an inspection report to report the conditions.
It is important to know the regulations referenced by Publication #2226 as they are found in Subpart P.  Not every inspector may be familiar with the residential exclusion and when wall heights exceed normal conditions, the knowledge of how to adapt is important.  In addition, a more productive conversation during an inspection visit can be achieved, and your company will be best positioned.
Subpart P consists of 1926.650, 1926.651 and 1926.652 along with Appendices A, B and C. 1926.650 is helpful since it is a definition section with important terms that will be used in the inspection and discussion. Those most important to the aspects of residential foundations include:
Benching – a series of horizontal levels with vertical levels that breaks down the height of the excavated wall or the depth of the excavation.
Competent person – a person designated by the company capable of recognizing hazards and situations that can be dangerous to employees.
Faces (sides) – the vertical or inclined surfaces of an excavation
Protective systems – a method of protecting employees from cave-ins, which include support systems, sloping and benching systems, shield and other systems.
Specific requirements are established for excavations in 1926.651 (exclusion discussed previously withstanding) where systematically, the important characteristics of excavation protection are provided. 1926.651(a) describes an important element of the employer's competent person inspection.
All surface encumbrances that are located so as to create a hazard to employees shall be removed or supported, as necessary, to safeguard employees.
While not defined, "encumbrances" are literally anything that can be seen as a hazard to an employee in the excavation.  Loose soils on the face or evidence of cave-offs would be included as well as more structural elements like root structures protruding from the excavation that could be impalement or tripping/entanglement hazards.
Contractors dealing with a basement excavation only can skip sections 1926.651(b) and (g) as they are not present in this type of work.  1926.651(c), however, is an important section to know that specifies egress from excavations.  Most basement excavations choose a ladder accessible every twenty-five (25) feet of travel distance.  Although this was not mentioned as an issue for your project, your awareness of it is important.  Additionally, 1926.651(d), (e) and (f) deal with situations where vehicles or equipment are accessing or lifting near or into a basement excavation, employees are to stand back for protection and not actively work near or under these activities.
Items 1926.651(h), (i) and (j) deal with maintaining the excavation safety in light of the presence of water and loose soils, which can both be extremely hazardous to workers in the excavation as well as the impact adjacent structures may have putting pressure on an excavation. Publication #2226 mention them in the residential checklist. These can impact the security of the excavation face leading to cave-offs. While active water filling an excavation is not generally a condition of concern for this industry, the water certainly leads to instability of the soil condition.
The final section, 1926.651(k), establishes the requirement for regular monitoring and inspection. The establishment of a competent person on the jobsite is the key to this and a recommendation by CFA members is to have an inspection form or checklist that can be part of the daily tasks for this competent person.
CFA is specifically working to establish greater awareness, better safety practices and more consistent inspection and regulatory decision making. In 2018, we will begin a National Alliance with OSHA with the goal of such improvements across the entire spectrum of residential foundation construction regulations with specific focus on excavations and fall protection. If you are facing or have faced issues, we'd like to know more and learn from your situations as well.
Want to know more?   Contact CFA Executive Director, Jim Baty at 866-232-9255 or by email at jbaty@cfawalls.org. The Concrete Foundations Association mission is to support the cast-in-place contractor as the voice and recognized authority for the residential concrete industry.
References:
1  1926 Subpart P - Excavations, published by the Occupational Safety and Health Administration, as maintained at  www.osha.gov 
2  Trenching and Excavation Safety [OSHA 2226-10R 2015] published by the Occupational Safety and Health Administration | www.osha.gov
3 2015 International Residential Code® For One- and Two-Family Dwellings published by the International Code Council, Inc., 4051 West Flossmoor Road, Country Club Hills, IL 60478-5795 | Phone 1-888-422-7233 | www.iccsafe.org