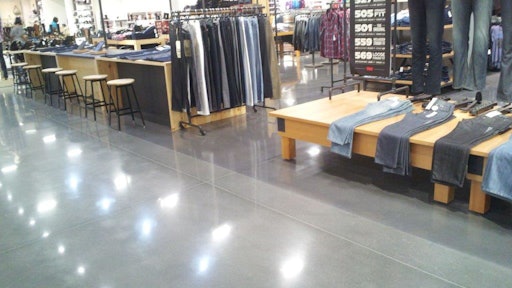 Industrial Caulk and Seal
Two thousand years ago throughout Central and South America, ancient Mayan engineers cooked limestone and created one of the first forms of hydraulic cement. That cement was the foundation of the Mayan world, and allowed the construction of walled cities. In that ancient world, local artisans crushed flowers and used charcoal and the native soil to create an astonishing array of colors to adorn the walls and buildings. These faded colors can still be seen today throughout Mexico and Guatemala. Both the ancient Mayans and our world today can agree that plain gray concrete needs help, and that color is the key.
Fast forward two thousand years to our world today, color has become a critical portion of a beautified concrete floor and a vital component in the concrete polishing process. As architects, owners, and engineers use more polished concrete in today's designs, choices abound for the floor contractor. The polished concrete industry and manufacturers have responded to the need for color, and there are more choices today than ever before.
Integral Color
In new design and construction, the architects of the world will sometimes specify integrally colored concrete. A dozen or so years ago, a very large retailer elected to use integrally colored concrete and a pad polishing system in all new construction. Integral color is part of an overall mix design and has distinct advantages over most dyes and stains from an owner's perspective. As part of the concrete mix the integral color extends throughout the concrete slab. The most pronounced benefit lies in its ability to maintain its beauty despite the effects of extended surface abrasion. As the concrete is colored through the entire slab, imperfections have little aesthetic effect on the overall floor slab.
It has its uses in new construction, though there are drawbacks to integrally colored concrete. Owners and architects can only use integral color throughout a given floor surface, and the desired result needs to be a single color. At a minimum the specific color is required to be in each individual pour and could be separated at a construction joint from adjoining colors.
Concrete Dyes
In recent years, concrete dyes have become common place in the industry. Dyes are non-reactive and designed to penetrate the concrete floor slab, and are available in both powdered and liquid form. Having a fine particle size in comparison to other coloring mediums, dyes tend to have the deepest penetration into the concrete floor surface. As such, dyes are the preferred coloring type in polished concrete floors. Dyes need to be correctly applied during the later steps of a grind and polish system.
Concrete dyes are available in both water based and solvent based formulas. Each type has a specific use in the industry. In application, the water based dyes tend to have a less monotone appearance whereas the solvent based dyes lend to a more monochromatic look. Additionally, solvent based dyes tend to have a fuller and deeper color profile.
The biggest down side of concrete dyes is that they are not UV stable. While this eliminates outdoor use, it should also be a strong consideration in commercial buildings with significant exterior lighting through skylights or windows.
 

Concrete Stains

The concrete staining world is separated into two distinct categories, acid-stain and water based. Water based stains are much more akin to a concrete coating. As with concrete coatings, water based stains are designed to bond with the underlying concrete. Of limited commercial use, water based concrete stains excel in the decorative concrete world. Like paint, these stains offer very long working times and are significantly more forgiving in application thus allowing the concrete artisans of the industry to create truly memorable effects on concrete floor slabs.

Acid stains are more common than water based stains. In acid stains the acid reacts directly with the concrete floor surface and creates a permanent effect on the floor slab. Acid stains can create startling effects in the hands of skilled craftsmen, however the acid stain color palette is restricted to earth tones. In the world of acid staining, the acid must be neutralized after the initial reaction. This is a critical step in the acid staining process and cannot be ignored or the color profile will continue to morph over time.

Both types of concrete stains require the use of a topical concrete sealer following application. The sealer will lock in those great colors. As most topical sealers can fall victim to extended wear, reapplication as part of a comprehensive maintenance program is a must.

The significant advantage of stains over dyes is in UV resistance. Due to the very nature of the concrete stain system these products are UV stable and allow for the use of colors in exterior or high sunlight applications. This reflects the required topical sealer, and the marketplace is full of UV resistant sealers for this type of application.

Each type of concrete color has a specific application based on the advantages and disadvantages of the specific system. Careful consideration of all of these systems should be given regarding the specific project and the most desirable results. As construction continues to evolve in the world marketplace, concrete has been a constant. Like the Mayan artisans of old, the decorative concrete craftsmen of today have a host of mediums and palettes from which to choose. The goals haven't changed in 2000 years, and at the end of the day people then and people today want concrete to be beautiful, long lasting, and in living color.