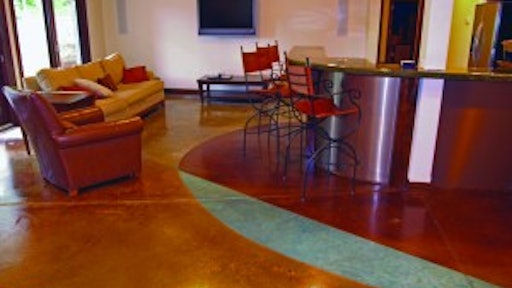 A fantastic, well-done polished concrete floor or stained concrete floor speaks for itself, right? Not always. Concrete contractors should not rely only on possible clients seeing their work just by passing by. Marketing your polished and stained concrete floors is an essential component in offering these services.
It should go without saying that quality work is a necessity. But in order to achieve more customer awareness and as a result, more business, contractors need to actively market their service offerings. "The more people know what can be done with concrete the more people will want it," points out Jim Cuviello of Cuviello Concrete.
The plan

Marketing takes time and effort, but it is vital to any contractor who wants to make money, says L.M. Scofield's Director of Marketing Cam Villar. The first step to marketing is creating a marketing plan, he adds. The marketing plan includes what market you want to serve, where you fit into that market and who your target audience is, among other elements. A contractor's marketing plan can be simple or in-depth, but the goal is the same: to help focus your marketing efforts, Villar says.
Determining your market segment and target audience may depend on several factors. If you are a small company, consider if you have the manpower, time and commitment to do large commercial jobs. If your company is large, is it worth while to market to smaller, niche residential clients? And if you're just getting into the polished or stained flooring market, are you prepared to take on large jobs or would you prefer to start small?
Your target audience and market segment will also depend on the type of equipment you own, Cuviello adds. Larger equipment may not fit into residential spaces. Smaller equipment may not get larger jobs done in a timely fashion. If you don't want to purchase more or larger equipment make sure you're marketing to the right jobs for the equipment you own.
What to market

Once your marketing plan is in place it's time to put it to use. It is important to remember that marketing is not the same as advertising. Marketing is a strategic plan formulated through research. It entails planning your message, who the target of that message is and the means for delivering that message, Cuviello says. Advertising is a function of marketing and is a method for delivering the message, he adds.
When it comes to polished concrete floors or stained concrete floors, there are certain aspects contractors should focus on in their marketing. With stained decorative concrete floors, aesthetics are probably the main selling point. Stained floors offer customers an array of options including color, design and even custom logos or images. Stained floors can offer a customer great detail and a unique finished product.
When it comes to polished floors, contractors should market the aesthetics, durability, performance and low maintenance requirements, Cuviello says. Although polished floors have a beautiful aesthetic look, Villar encourages contractors to market the sustainable benefits of these floors before marketing the beauty.
Polished concrete floors offer durability and longevity that other flooring solutions cannot. They also offer abrasion resistance. Maintenance of polished concrete floors can be a big selling factor. "Although not maintenance free, polished concrete is lower maintenance than any other flooring I know of," Cuviello says. Market the low maintenance requirements, but don't oversell or market a maintenance-free floor.
"Polished concrete is also extremely LEED friendly," Cuviello says. A polished concrete floor uses the existing concrete. A highly polished concrete floor has the ability to reflect overhead lighting and allows the concrete to hold indoor temperature longer, both of which can reduce energy demands. Polished concrete reduces the use of cleaning chemicals and the need for replacement like carpet and sometimes VCT where the worn out materials end up in a landfill, Cuviello adds.
Marketing the attributes of polished and stained concrete floors is only one element your marketing materials should cover. Don't forget to market yourself and your company. Villar also suggests marketing previous jobs as case studies as well as including references. You should always be on the lookout for new references for your marketing materials. And when you do get new references, don't replace old ones. Continually keep adding the new ones on, Villar says.
The materials

You know who you're marketing to. And you know what you want to include in your marketing. Now you can decide on your marketing materials. Contractors today have a multitude of options to choose from in both print and electronic marketing. Villar suggests having at least one nice looking print literature piece you can either hand out or mail to potential customers. Print pieces can be brochures, postcard mailers or one-page flyers, to name just a few.
A website is probably the best for electronic marketing. A website allows you to reach people you don't meet directly, Villar says. And it allows you to market your work any time of the day to a larger customer base.
Both Villar and Cuviello suggest finding outside sources that might be able to offer marketing assistance. Villar suggests asking your material manufacturer whether they offer marketing help. Some manufacturers may have marketing materials or programs in place to help contractors. Another great option is the Concrete Polishing Association of America.
No matter what type of marketing materials you decide on, always include good photography. A picture is worth a thousand words, and customers love to see examples of your work. When it comes to decorative concrete, photographs can show a lot that a customer may not understand. Plus, it can get the creative juices flowing and a customer thinking of the possibilities for their particular project.
It is not essential that contractors continually update marketing materials every month. Cuviello suggests at least updating materials every year. But, if you've created an identity between your marketing and your company, make sure to keep that consistent whenever you update marketing materials, Villar says.
Marketing materials may require more frequent updating if you add more service offerings to your company or if you want to replace photos with newer or better photos, Villar adds. If you use your website for marketing, adding new photos can be done as often as you like.
Before a customer decides on a flooring solution, they need to know the options. Remember, not all concrete is a good candidate for polishing and having the knowledge of when to walk away or control the customer's expectations is vital, Cuviello says. Don't market a concrete flooring solution when it is not the customer's best option. But when polished or stained concrete floors fit the bill, educate the customer about both your business and the benefits of polished or stained decorative concrete floors through your marketing.