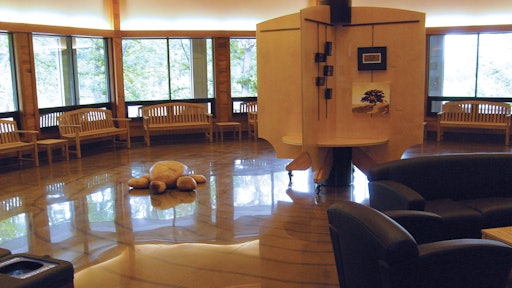 You know you perform great polished concrete work, but how do you convince your potential clients? A bus tour of your local projects sounds fun, but impractical. The most common way to show off your work to architects, homeowners, general contractors and other customers is with a project portfolio — either a website they can view on their own time or a portable collection of project photos you can share during in-person meetings.
Use high-quality photography
Just as important as quality finished jobs is photography of that work. In Part 1 of our Visual Marketing for Polished Concrete Series, author and photographer John Young, multimedia specialist for polished concrete chemicals manufacturer Prosoco, offered readers tips on how to take photos of polished concrete, detailing equipment, lighting and composition. Click here to read that article for more in-depth information.
Build a website that tells your story
The Internet changed the way we buy products and services. A 2010 Pew Research Center study reported 58% of Americans perform online research concerning the products and services they are considering purchasing, up from 49% in 2004. Undoubtedly, a lot of your potential clients check you out online before you ever receive an email or phone call. That means your website, in many cases, offers a first impression of you and your business. A professional, easy-to-use website that answers questions potential customers might have about you will increase the chances they will contact you after viewing your website.
Your website should be simple, easy to use and should answer these basic questions:
Who are you? Offer potential customers a short history of your company. Biographical information about your top management will humanize your company.
What do you do? Explain the services your company offers. If you have strong industry partnerships with equipment, product and chemical manufacturers, include that information.
What does your work look like? Offer customers a chance to see your finished work. Use only your best projects, post only high-quality images, and make sure the photo gallery is easy to use. Some contractors organize their photos into various categories — residential, industrial, retail, educational, etc. Offer brief photo captions that include where the project is, techniques used and the year it was completed.
How can a potential customer contact you? Provide a phone number, email address and physical address.
Some other types of information contractors frequently add to their websites includes affiliations, awards and links to any local or national news stories about their companies.
Mardianita Berrouet is a sales executive with Xtreme Polishing Systems, a concrete polishing contractor and distributor in Deerfield Beach, Fla. One of the elements of Berrouet's job is to teach customers how to run their concrete polishing businesses. She suggests contractors utilize YouTube to broadcast company videos and link to those videos through their company websites. She says videos will help potential customers visualize polished concrete and the process and help them connect with your company. "YouTube allows potential customers to engage with you and your machines," she says. "It offers a personal element to your marketing. Xtreme Polishing Systems tries to promote a family business feel over a corporate feel. YouTube helps us do that."
Use photos and your experience to educate customers during in-person meetings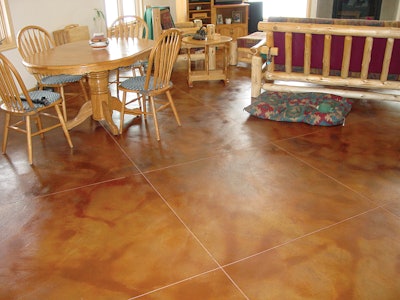 When you are face-to-face with a potential client, use your past work and your knowledge of the polished concrete industry to impress him or her. You can do that by helping your potential client solve a problem, educating him or her on polished concrete, and presenting your company and its work in a professional manner.
Lars Anderson is vice president with Concrete Treatments, Inc. out of Albertville, Minn. The company offers a full range of concrete flooring options, including epoxy, decorative concrete and polished concrete. His one-on-one customer meetings start out with a lot of questions and answers.
"We try to understand what the client is looking for, how they need the floor to perform and then decide what photos to show them," Anderson says. "I use a tablet computer with a ton of photos of past projects. I can pull up images of similar projects we completed and give them a real-life idea of what a floor might look like, complete with spalls and cracks."
Anderson says it is important to convey to potential clients that concrete flooring is not an exact science and to set a proper example of what they should expect. "Your photos should show real-life examples. Don't Photoshop images to make them look more beautiful," he suggests. "And you should be able to show people photos of projects they can go out and see for themselves — don't just show photos of floors on the East Coast if you live in the Midwest."
Anderson adds a project portfolio should include examples of projects where you worked patches and cracks into the design. This allows you to set expectations with your customers about what you can do in those situations and what they can expect.

Berrouet's company sells a coffee table book about polished concrete, Over the Top: Polished Concrete Floors and More, published by Rock Star Publishing, LLC, that it uses as a marketing tool for potential clients and makes available to other companies to purchase for their own marketing efforts. It includes the history of polished concrete and examples of finished projects in a variety of applications.
Berrouet says the book shows potential clients what can be done with polished concrete. "This industry is always changing — coming up with new ideas and new techniques. Contractors need to have ideas and be willing to learn something they haven't done yet to engage with their clients," she adds.
Project awards contests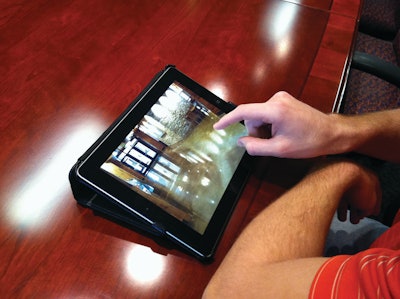 You can tell people how great you are all day long, but wouldn't it be nice to have proof in your portfolio that someone else thinks you're great, too? Consider including testimonials in your portfolio and website, and always offer your clients references they can call about your past work.
Another way to prove other people think you are great is by being recognized in a concrete awards contest. The American Society of Concrete Contractors holds a national decorative concrete awards contest every year, as do some manufacturers, industry magazines and other associations. Many state associations offer project awards contests too. A winning project could be a great portfolio builder and offer your company outside credibility.
Polished concrete is a visually striking flooring option. Use the impact of photos to your advantage by employing high-quality photography, professional and easy-to-use websites, and technology to show potential clients what you can do.