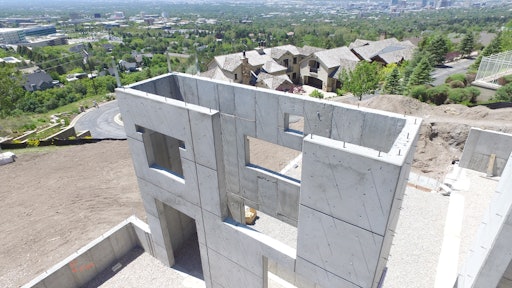 Concrete Foundations Association, Project of the Year Competition, as submitted by SCW Footings & Foundations, Inc.
Ludwig Mies van der Rohe, renowned architect and one of the strongest influencer's of the modernism movement in architecture was once quoted as saying, "Reinforced concrete buildings are by nature skeletal buildings. No noodles nor armoured turrets. A construction of girders that carry the weight, and walls that carry no weight. That is to say, buildings consisting of skin and bones."  In this quote, one finds the relationship of a project, particularly one of concrete, compared to the very physical and familiar nature of the human body. In many ways, this quote gives insight to the way contractors experience each and every work they eventually turn over to another or pull back from to allow completion and ownership to transcend their creative energies, in other words, the molding is done.
In the Spring of 2017, SCW Footings & Foundations of Salt Lake City, Utah completed construction on a project presenting quite unusual qualities when compared to the traditional foundations experienced across the landscape of both the CFA's award programs and that of the traditional projects noted as single-family residential foundations. In relation to the quote from Mies, where most concrete foundations establish a base for the architecture, this project pulled the team of SCW into delivering architectural concrete that not only provides the structure for the home but also becomes part of the visual aesthetic, the skin and nuances of what many home owners today look for from their home.
The project itself is not the ostentatious presentation of sheer size, volume and extreme contracting conditions that has been the moniker of this award program in years past. At just over 4,500 square feet (420 sq.m.) the project was sized among the more benign projects typically undertaken in the mountains and valleys of the lower Rockies. Yet, one is quick to take notice of this project after looking past the basic statistics. It features concrete walls that exceed 20 feet (6 m) with only a third of the total wall length under 11 feet (3.4 m). These tall walls display a decorative concrete feature down the center of the floor plan that anchors the foundation and the house itself into the landscape.
Submitting the project for the program, Dave Sheppard, project manager and estimator for SCW had this to say, "There aren't many homes under 5,000 square feet that have these types of walls. Most noticeably, the feature that is a decorative concrete wall system down the middle of the home poured 20'-6" (6.25 m) at its tallest point, spans over 70 feet (21.3 m) from front to back."
A few unique and very intricate details are described by the SCW team occurring specifically in this wall of which they are most proud. "The 4'x8' (1.2m x 2.4m) smooth ply finish panels were showcased across all exposed faces of the wall," states Sheppard. "These were outlined with chamfer strips and detailed with 18 faux cone tie holes in each panel. Overall, the finish covered nearly 1,600 square feet of wall."
Companies that traditionally use manufactured handset forms for cast-in-place concrete foundations find a strong learning curve when they are given the challenge of producing a more contemporary, exposed concrete aesthetic like the snap-tie cone rhythm of a wall like this. When asked about their approach to this specialized aesthetic, Kirby Justesen, president of SCW Footings & Foundations had this to say, "Although we mostly form with aluminum panels, when we pour decorative concrete walls, whether that is board-form walls or traditional architectural walls with chamfer and cone ties, we use the Symon forming system. Symon forms allow us to more easily attach the boards or liners. Those boards can be wood planks, HDO plywood, or plastic/rubber liners. It just simply takes a lot more time to build and a lot more time to plan."
In addition to the smooth-ply decorative tie pattern, SCW provided architecturally-detailed concrete throughout the project. Some of these features included nine (9) separate custom-built "bucks", the rough or in this case finished opening for doors, windows and fireplaces. Although it may seem that casting high-quality square openings that will be exposed to the home could be relatively straight forward, the SCW quickly notes that not all these were simple squares or rectangles. The three fireplace bucks had exacting tolerances in order to receive the fireplace headers and sills. Each buck was built to leave a full opening in the wall while the headers and sills were inset only 4 in. (100 mm) into the wall. Justesen is quick to note, "This may seem simple but when you're dealing with tight corners and depth changes, concrete doesn't always flow perfectly. Avoiding 'bug holes' and 'honeycombing' was our biggest worry in these small corners. We had to develop a special concrete mix design that we had practiced and experimented with in order to avoid these issues. Along with our knowledge of pour timing and vibrating, we were able to achieve nearly flawless corners around these bucks."
SCW as a company has spent a lot of time experimenting with architectural concrete as the Utah market has been trending toward a greater amount of the expressed concrete aesthetic in housing. "We have conversations with architects and home owners nearly every week asking us if we can achieve a particular look they have found on Pinterest or seen in a magazine.  We actually like the challenge and have become accustom to experimenting and testing in order to achieve the requested or specified finish," states Justesen.
SCW was recognized two years ago for another impressive feat of architectural concrete involving the "board formed" appearance that has been very popular in the last ten years or so. The team at SCW is known throughout the region as the company contractors can turn to in order to mold concrete to fit the vision of the designer. Justesen believes it to be their attention to detail and craftsmanship that makes the difference. "This contractor was incredibly impressed with our portfolio found on our website (www.solidconcretewalls.com) and along with in-person site visits to other jobs we were able to take them. We feel our architectural concrete is unmatched in the residential foundation industry in Utah, and we are fortunate with this opportunity that they agreed."
But the challenge of a project like this, combining both size and complexity of the concrete work doesn't come easy. Scheduling, is what Sheppard and Justesen believe to be an essential part of the success. In order to commit to such a project, knowing it will require a crew that has perhaps the most experience and is larger than normal. Whereas the standard residential foundation job is often characterized as a three-day project (given perfect conditions), the team at SCW know going in to this type of a project it will take weeks to complete.

"Since projects like this can take weeks to complete and we must be sure other jobs aren't neglected because of them, we start by dedicating a project manager to the study of the project and pair him with a CAD draftsman in order to draw the details necessary to visualize the project from our perspective," states Sheppard.
"Architectural and even engineering plan sets just don't deliver the detail we need," states Justesen. "Therefore, our team redrafts the picture and details the wall heights, rebar schedules and step locations for our field crew so that they would not be hindered in any way."

This type of effort results in a completely new package of drawings that address each and every detail SCW will encounter on the project.  All buck locations, panel sizes and locations and every connection detail are drawn fully to the satisfaction of the project manager before they get to the job site.
When asked how the company feels about the achievement of completion on this project and the recognition it now receives from the CFA Projects of the Year, Justesen offered, "These projects are fun to do and scary at the same time. We are always relieved when they turn out good. I love the look of durability and strength that exposed concrete walls have. When we have the chance to add a little artistry to our work it is enjoyable. When we receive industry recognition it is just icing on the cake."
Ed. Note: More photos of this project can be seen in the awards section of the CFA's website, www.cfawalls.org, where the annual project award recipients are archived. 
Projects are submitted by member organizations in a variety of project categories and reviewed by a panel of professionals from diverse backgrounds. The judges score projects based on established criteria and from these scores and from them categorical winners and honorable mentions are selected. The program continues to evidence a growth of complexity, pride and interest with another record number of entries contributed.
Want to know more?  Contact CFA Executive Director, Jim Baty at 866-232-9255 or by email at jbaty@cfawalls.org. The Concrete Foundations Association mission is to support the cast-in-place contractor as the voice and recognized authority for the residential concrete industry.