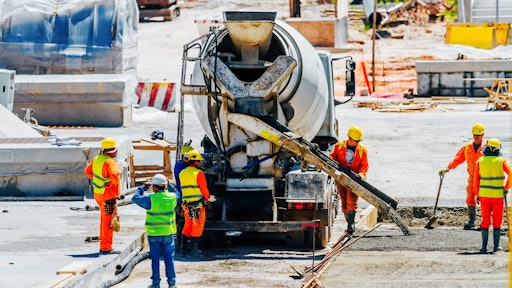 GCP Applied Technologies
The concrete industry is undergoing its own technological revolution. To achieve higher-performance concrete, tighter quality controls and the technology required to facilitate such precise QC are becoming more of a necessity for concrete producers to differentiate from competitors.
People are talking about things like IoT (Internet of Things), automation, and cloud-connected systems. These aren't just buzz words, but modern solutions to centuries-old problems.
Perhaps one of the most pressing matters for any concrete producer is controlling the quality of their perishable ready-mix concrete as it's transported from the plant to the jobsite. It's a balancing act between minimizing cost—avoiding overdesign with excess cement, reducing rejected loads and tightening truck cycle times—and maximizing the volume of high-quality, consistent concrete.
There are many high-tech solutions to address some of the above issues. Yet, even the most technologically advanced system won't amount to much if it's not effectively augmenting a concrete producer's bottom line.
A good example of viable technology, which utilizes IoT, automation and the cloud to improve a concrete producer's business: an in-transit concrete management system.
CTA: Learn about VERIFI® in-transit concrete management system
It's an IoT device because it translates the properties of ready mix concrete into quantifiable data, via truck-mounted sensors. The system uses data to manage concrete mixing in the drum; preprogrammed w/c settings, for example, will cue the system to automatically inject water and/or admixture into the moving mix, when slump dips below target. And the system is connected to the cloud so that all of the data collected from truck-mounted sensors is captured and analyzed over time for actionable ready-mix business improvements.
Below are five specific ways a concrete producer can benefit from incorporating an in-transit concrete management system into their fleet.
Top 5 benefits of installing an in-transit concrete management system
#5: Producers can effectively meet advanced performance-based specifications for concrete
The controls and data gained from an in-transit concrete management system facilitate ready-mix producers' responsibilities in meeting a performance-based specification for concrete.
#4: Producers can avoid overdesign when working within max w/c
Automated and monitored water additions in transit allow ready-mix producers much tighter controls when trying to maintain specified slump without exceeding maximum water-to-cementitious ratio.
#3: Producers can maintain consistent concrete quality, truck-to-truck
The automated system reduces concrete variability, truck to truck. Instead of relying on many subjective, variable opinions on what, for example, a 6-inch slump looks like, the system acts as one objective manager across all trucks. This translates to consistent, quality concrete delivered throughout the job.
#2: Producers can optimize mix designs under real-world conditions
Concrete producers can test mix variations in transit (real-world as opposed to in a controlled environment like a lab) by way of data collected from the in-transit concrete management system. Analysis over time will indicate which SCM, for example, works best for a given performance requirement.
#1: Automated slump management reduces onsite truck time
Ready-mix trucks equipped with an in-transit concrete management system can pour immediately upon arrival at the jobsite. Since slump is continually managed by the automated system, there's no need for a slump retest at the jobsite. Better yet, this translates to less rejected loads for the producer; less waste concrete and tighter truck cycle times for higher volume with the same fleet size or the same volume running less trucks.
Ed. Note: Matthew Nazarenko is the Global Marketing Manager for the VERIFI® technology platform at GCP Applied Technologies. He is responsible for the development and execution of the global VERIFI® business expansion program. For the past five years he has been one of the leaders guiding a cross-functional team and closely collaborating with customers for the VERIFI® technology segment. Matt holds a Bachelors of Science degree in Mechanical Engineering from Union College, and an MBA from Rensselaer Polytechnic Institute. He has been with GCP, formerly W.R. Grace for 12 years in various customer-facing roles.