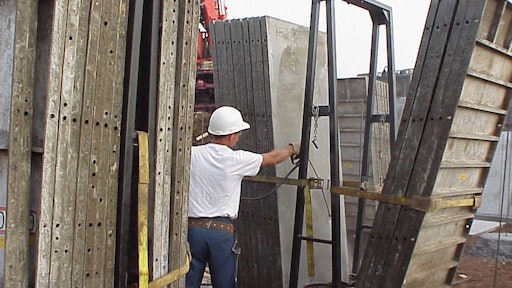 Concrete Foundations Association
Question: There has been an increase in the communication of regulation for crane operator certification from OSHA and now we are being told our operator must be certified. We own a single articulating boom truck that delivers baskets of forms to the jobsite much like the delivery trucks from the local lumberyard.  Is it true we must now seek certification for this operator and if so, by what date and where can we go to get it?
Answer: Crane operator certification has been a decade-long discussion topic around the concrete foundation industry, well actually all industries. OSHA published the final crane standard on August 9, 2010 after nearly a decade of negotiated rule making all the way back to 2003. During this time period, the serious discussion of employer responsibilities for any and all cranes was completed, and a four-option certification scheme developed. These were:
Option 1: Certification by an independent testing organization accredited by a nationally recognized accrediting organization;
Option 2: Qualification by an employer's independently audited program;
Option 3: Qualification by the U.S. military; or
Option 4: Compliance with qualifying State or local licensing requirements (mandatory when applicable).
The Regulation History
These options were documented in 29 CFR Part 1926.14272. Once published, a series of delays in the ruling for Crane Operator Certification proceeded in order to ensure competency and to establish proper training and certification programs.  Set to take effect on November 10, 2017, the ruling was then delayed for one more year until November 10, 2018 in order to coincide with further updates to subpart CC, known as "the crane standard". While delays like this begin to question the actuality of any final implementation step, they ultimately provide for adequate planning and preparation for employers to determine their ultimate responsibility and leadership for the regulation.
The final ruling becomes effective on December 9, 2018 and employers have until February 7, 2019 for evaluation and documentation requirements. This is the hard edge to the issue but given your position in the residential concrete foundation construction industry, there are a lot of soft or gray edges to the issue that are both an opportunity and perhaps a requirement for you to pursue. Under this final rule, "employers are required to train, certify/license, and evaluate operators to safely perform crane activities." According to the final ruling, it is likely that operators in this industry will be certified on the chosen crane type only since capacity is more a function of reach for your operations. However, OSHA does option for crane type and capacity certification as well.
What does this mean for employers in this industry and how, if at all, are you exempt from the requirements? This may be seen as a common misconception to the language of the ruling and is why this is also an opportunity. The CFA hosted a presentation by Jay Sturm, certification and training consultant for Cranes 101, an accredited third-party certification company during Concrete Foundation Convention 2018 in Midway, Utah. During that presentation, Jay offered, "I take this business and separated it into two pieces.  As a business owner, I find it important to look at the perspective of liability as well as that of safety.  We all want our workers to go home safe and to make for a safe jobsite. We also have to consider liability. There's things that we are going to do to protect our liability that will also enhance safety."  When looking at the requirements of OSHA's final ruling, the employer responsibilities for accessing, providing and paying for operator certification are important to understand but also seeing it as perhaps the best way to protect the company while advancing worker proficiency are your opportunities. OSHA makes it a mandate (for most operations) but the employer ultimately chooses the path of implementation.
Sturm explains that for the crane type known as knuckleboom, which typifies the majority of equipment used by the residential concrete foundation industry, operators of this equipment are "exempt" from required certification. However, "in the same breath that the knuckleboom's are exempt, there are exemptions to the exemptions." When the piece of equipment is being used for delivery, it is exempt from the regulation as it is not involved in an act of construction. This means that when the equipment is used solely for taking material from its deck and placing it down on to the ground, it is exempt because the equipment is viewed as not participating in the construction standard. "If it is being set, however, in a place where the material (or in the case of baskets of forms) is to be used, it is now a part of the construction standard and the operators are no longer exempt. Sturm's advice is that if you are trying to avoid citations and OSHA scrutiny, the best decision is to pursue certification and comply with the construction standard at all times. This also protects you from legal liability in the event that an incident should occur and investigation point back to a certification requirement.
Here is What You Should Know
OSHA's final ruling requires employers to get their operators certified by a third party.




OSHA's final ruling requires employers to qualify an operator on the specific equipment they will be using and for the specific operation they will be conducting.

OSHA requires the employer/operator to run a piece of equipment according to the manufacturer's qualifications and specifications.

The owner's manual has now become part of the law as manufacturer's state in this document that you must read and understand this manual prior to operating the crane a statement that becomes part of their specification for you owning the equipment.
As an employer, you should own a copy of ASME B30.5 (Mobile Cranes) or B30.22 (Articulating Cranes) standards.

These can be ordered in digital or print format for $94.00 each at ASME.org.
Certification for an operator includes classroom education, passing a written examination and passing a practical (physical) examination.

These certifications are portable, meaning they are owned by the operator and not the employer.

Status of state adoptions and specific licensing requirements for the regulation can be found in system databased like that at Cranes 101,

http://www.cranes101.com/Licensing.php

.

OSHA requires "only operators engaged in construction activity" to be certified under its standard.




OSHA's revised 29CFA 1926.1427 exempts operators from cranes with a manufacturer-rated hoisting/lifting capacity of 2,000 pounds or less.

Each operator certification has a 5-yr duration with a renewal requirement of additional recertifying.


Any incident that occurs with a certified operator will require re-training for the piece of equipment and the condition of operation.
What's Next?
While the first response to new regulatory action is almost always to complain about another layer of control, another hoop to jump through or another cost to burden, CFA leaders are finding that this regulatory action can be met with an optimistic look at developing the workforce and as Sturm states, choosing safety that comes from limiting liability…in essence, risk management.
In order to begin bridging the gap between opportunity and requirement; liability and safety, the Concrete Foundations Association will begin hosting third-party certification sessions using Cranes 101 and Industrial Training International. These week-long sessions will provide the three facets of an NCCCO-certified course including classroom education (2-3 days), a written examination (1-day or afternoon) and a practical examination (1-day). These courses can also be scheduled with third party providers by contacting them directly and scheduling an operator to attend one of several course sites that exist with pre-determined schedules. Certification for operators will run between $1,500 and $2,500 on average plus expenses incurred during the time away.
Want to know more? Contact CFA Executive Director, Jim Baty at 866-232-9255 or by email at jbaty@cfawalls.org. CFA hosts a member Hotline, where issues can be discussed freely for a range of experiences and resolutions.  The Concrete Foundations Association mission is to support the cast-in-place contractor as the voice and recognized authority for the residential concrete industry.
References:
1. Cranes and Derricks in Construction: Operator Qualification, published by the Occupational Safety and Health Administration, as maintained at www.osha.gov  | https://www.gpo.gov/fdsys/pkg/FR-2018-11-09/pdf/2018-24481.pdf
2.               1926 Subpart CC – Operator qualification and certification, published by the Occupational Safety and Health Administration, as maintained at  www.osha.gov