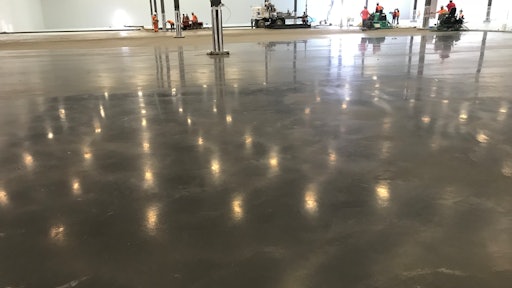 Gresser Companies
The quest for inexpensive joint free floors to minimize maintenance problems with floors as they age is an on-going effort by many companies. In the 1980s in Europe engineer Xavier Destree placed high dosages of steel fibers in concrete (68 lbs/cu yd.) to construct floors with joints as far apart as 100 feet.
In the 1990's Latvian concrete contractor Janis Oslejs adopted Destree's technology. Realizing that steel fibers distribute cracks and make smaller ones—even microscopic—shrinkage remained a problem. The technology did eliminate saw-cut joints but the cost was curled dominant joints every 100 feet as wide as 1 inch. Some of his steel fiber floors also cracked badly. So Janis and his team set out to improve the system. They applied for and won a European Union technology development grant entitled "Eureka" which provided funding for a laboratory and research. In 2008, after years of experimentation involving Northern Europe's leading academics and many field trials, in 2008 a system for production of zero shrinkage, unlimited joint distance concrete floors called PrīmXComposite was patented in the Baltics. It involves the use of a proprietary shrinkage compensating admixture which causes steel fiber in the concrete to act as pre-stressed reinforcement
Over the next decade, PrimXComposite became a leading industrial floor system in Scandinavia and the Baltics. During that time, the system was also installed in Europe, Africa, Asia, and the Middle East.
Mike Gresser, owner of Gresser Companies in Shakopee, Minnesota, heard about PrimXComposite in 2013 through mutual contacts. He visited Sweden to view and walk several installed PrimX floors and was very impressed. So he became the first U.S. licensee in 2014 and today is the Master Licensee Partner for the North American market. Gresser's second generation 50 year old company focuses on larger projects that include high tolerance industrial floors, multifamily buildings, and projects with higher barriers to entry.
Gresser seeks out experienced concrete construction companies with reputations for high quality industrial floors to become licensees. In exchange for a licensing fee, they receive a large exclusive territory, training, and a comprehensive support system including design, structural engineering, and access to the patented technology and its proprietary admixtures to create zero shrinkage, joint-free floors backed by a five year warranty.
Quality control
The system includes comprehensive quality control measures including:
Sub-grade testing: Plate load testing to verify the bearing capacity the sub-base, a more demanding test than is usual in U.S. floor construction.
Admixtures: PrimX supplies their own superplasticizers and shrinkage compensating admixtures.
Steel Fibers: Licensees purchase steel fibers from PrimX with consistent tensile strength, size and shape. Other fibers can be substituted once quality, strength, and design are certified by PrimX .
Aggregates: Licensees provide PrimX with samples of aggregate and sand from their local ready-mix producers to test and develop the PrimX concrete mix design. Most aggregates in North America are compatible and suitable to PrimX Composite. However, in some parts of the country with poor aggregate quality, aggregates may need to be shipped in from other areas.
Cement: Batch plants usually have at least one cement type that is compatible with the system, so cement is rarely brought in for a project. Cement analysis is important because it influences the design of other mix ingredients.
Timing: Jim Malenich, the vice president of licensee Fessler & Bowman Inc, Flushing, Michigan, a PrimX licensee in five states, says that at the beginning of a project, test data from each load is recorded on an iPad and sent in real time to support staff in Latvia. "They make suggestions about adjusting loads in real time and after placement gets started loads are checked every 5th truck," he adds. "The goal is a very consistent setting curve load after load, making the finishing process easier."
Engineered mixes: Concrete differs around the U.S. depending on local aggregates and cements. Also, floor loads are different from project to project. Some facilities install high-rack systems while others have high equipment loads, conditions which influence design. PrimX engineers the concrete mixes to meet each project requirement.
Concrete mixes
Concrete mixes are designed for good ductility and compressive strengths of 4,000 psi, but Gresser says it's not unusual for final PrimX Composite designs to achieve strengths near the 10,000 psi range at 28 days. There isn't anything unusual about the final mix in terms of ingredients, workability or placement. The placing-slump range of the concrete is 6 to 7 inches. Mixes include:
Local cement usually meets PrimX specs.
Large aggregate with a maximum size of ¾ inch is typical.
Fine aggregate and sand sourced locally usually meets PrimX requirements
Superplasticizer called PrimX Flow is supplied by PrimX . What is important here is that concrete setting patterns are well established so licensees know what to expect when using this admixture.
Shrinkage-compensating admixture supplied by PrimX , called PrimXDC, expands the inner matrix of the slab after the initial set, putting steel fibers in a pre-stressed compression.
Steel fibers, at 1.5" long, are typically dosed at the rate of 60-68 pounds per cubic yard. The fibers must be high quality and tested to verify consistent strength.
As ready-mix trucks arrive on site, they proceed to two mixing and dosing stations. The mixing takes an additional 10 to 12 minutes on site.
How the process works
Jim Malenich, the vice president of Fessler & Bowman Inc., Flushing, Michigan a Primx franchiser and installer, says that sub-grade and sub-base preparation is a focus of the PrimXComposite floor system. It should be for any floor system but unfortunately in most slab-on-grade applications the sub-grade and sub-base do not get the attention that is needed for a slab to perform as it is designed. We are a self-performing concrete and civil contractor so on some of our projects we have control of the sub-grade and sub-base prior to placing the slab-on-grade, but that is not always the case. At these times the challenge is with our customer is to get them to understand the importance of the base prep. "Quality control of both the sub-grade and sub-base is a big deal and is the key to the successful installation of any slab-on-grade project," he adds.
PrimX requires a "plate test" to verify compaction. The test is somewhat unusual in the U.S. for checking base compaction, but available in most markets. To perform, the test engineers place a 12 inch diameter steel disk approximately 1 inch thick on the ground and use a hydraulic jacking device to put a measured force on the disk. The disk is monitored by depth gauges to determine movement in the sub-grade. Movement beyond a certain limit means the sub-grade won't properly support the concrete floor. The base requirement is 150-200 pci depending on design, a standard ACI sub-base recommendation.  This requirement is not extraordinary but must be monitored and validated prior to placement.
When a concrete truck arrives at the onsite it stops at two mixing stations; one adds super plasticizer and shrinkage admixtures and the other blows in steel fibers. The final placing slump is approximately 6-inches.
Steve Lewis of Lewis Construction, Schofield, Wisconsin, a PrimX licensee, says his company locates construction joints in a floor so that they won't occur in traffic areas. Per the PrimX Composite process, they also wrap columns with felt and plastic film and place three pieces of rebar around both columns and re-entrant corners for additional crack control. Concrete is placed and finished conventionally in a single lift. Following placement, workers place wet curing blankets and keep the concrete wet for 14 days. The slab can typically be loaded with lifts and equipment in 72 hours.  Wet curing is critical to the zero-shrink process as the PrimX DC demands water to produce the zero-shrink reaction. After wet curing is complete, the floor slab is cleaned and a densifier is applied to complete the work.
Being competitive
According to Gresser, the cost of materials for PrimX adds 65-80% to the cost of concrete versus conventional ready mix. In spite of these costs, PrimX Composite slabs can be cost competitive with traditional floors because PrimX engineered floors are thinner than standard floors for the same load ratings. Applications with higher load demands are even more attractive because PrīmX's prices are often lower than conventional slab designs as loads become higher and traditional designs become thicker. For example, a conventional floor specified to be 7 inches thick, even with reinforcement, can usually be engineered to only 4 inches thick using the PrīmX system. Malenich said they recently offered an owner an $800,000 credit for using PrimXComposite instead of a conventional floor specified with a double-mat of reinforcing steel.
PrimX technology has been available in Europe for over ten years and is now the dominant system in Northern Europe. In the U.S., more than three million square feet has been installed to date and Gresser plans to install as much as 12 million square feet in 2019 in the ten states where they currently have licensees. "Right now we have proposals out for more than 60 projects in the US and Canada" he adds, "with more coming every week."
"We also have owners asking us for proposals in several states where we are still negotiating with potential licensees. This helps us partner with local best-in-class concrete contractors as potential licensee partners allowing them to see the process before committing."