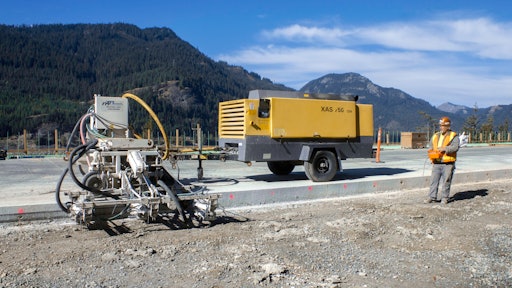 By Troy Johnson
Swift growth has come with a downside for the Tacoma, WA, region (population: 1 million): increased traffic congestion. The slowdown has been especially evident on Interstate 5 through the downtown area, where some 150,000 vehicles per day move east and west.
"Around there, you tie several different highways into one massive, congested interchange," says John Salinas II, president of Salinas Construction Inc., a heavy highway and airfield concrete construction contractor based in Mukilteo, Washington. "I-5 traditionally runs north-south until you get to this specific stretch where it works east-west and causes a huge traffic jam."
To reduce congestion and increase safety on I-5 through downtown, the Washington State Department of Transportation (WSDOT) is working through a multi-year, $700-plus million overhaul. The effort includes three projects on which Salinas Construction is serving as the concrete paving subcontractor:
Skanska's realignment of the I-5/SR-16 interchange with building of high-occupancy-vehicle (HOV) bridges and ramps
Construction of HOV lanes from M Street to Portland Avenue by Max J. Kuney Construction
Hamilton Construction's development of a northbound HOV lane from Portland Avenue to Port of Tacoma Road
Salinas Construction is facing significant challenges as it lays more than 100,000 cubic yards of concrete throughout the area. The WSDOT contracts establish tight limits on access, working area and working hours in order to minimize traffic and environmental impact.
Salinas II says the dowel-pin drilling component of each project is complicated by space restrictions, dust-control requirements and what he calls "the hardest aggregate on the planet."
"We have to drill tens of thousands of holes across the three projects," Salinas II says. "The aggregate is exceptionally strong and tough to drill through. The traffic barriers physically block you from being able to perform your normal drilling methodology. And, because Seattle/Tacoma is so environmentally conscious, OSHA's final silica dust rule (which came into force Sept. 23, 2017) was adopted pre-emptively."
Self-propelled wireless drill delivers
To meet the demands of the dowel-pin drilling task on all three projects, Salinas Construction is using the A-3SCW three-gang self-propelled wireless drill and dust collection system from Minnich Manufacturing, an industry leader in drills, vibrators and vibrator monitoring systems.
Minnich on-slab self-propelled wireless units are designed to increase drilling efficiency, accuracy and safety. Wireless remote control technology enables operators to drill several holes at once and drive down the slab to drill the next set of holes — all while standing in the grade away from the equipment.
From this clear vantage point, operators can drill faster and more accurately while avoiding dust, debris and obstacles. Power crab steering further boosts efficiency by letting operators drive down the slab without raising and lowering the drill bed.
The Minnich dust collection system uses Venturi-style suction to remove dust at the source as the operator drills. The compact, canister-style unit runs off of the same air compressor used for drilling, eliminating the need for an additional power source.
"We needed a drill to beat through this hard rock, but also meet the OSHA silica requirements and allow the operator to stand out of harm's way because there's so little working room," Salinas II says. "The Minnich drill has been very effective at getting the job done."
Despite the variety of project challenges and some exceptionally wet weather, Salinas Construction is scheduled to finish its portion of the projects within the originally scheduled pouring days. "There's been a lot of moving parts," Salinas says, "but we're getting there."
Troy Johnson is a writer at Performance Marketing.