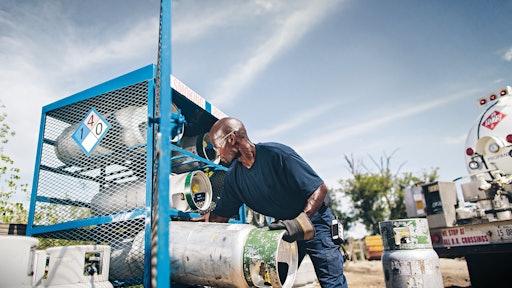 Propane Education & Research Council
Concrete can be both the foundation and the finishing touch on a construction project. It's why concrete construction often requires a lot of flexibility on sites when it comes to working around weather, utility connections, and other contractors working on different aspects of a project. And this is where propane-powered concrete construction equipment can stand out compared to other fuel and power sources.
Propane has been used for decades as a reliable, widely-available fuel. It can fuel jobsite lighting and space heating, helping to safely extend work days beyond daylight hours and provide the right temperatures and moisture levels no matter the season. The fuel is also frequently used for power generation on sites lacking utilities. More recently, propane has also been found powering all manners of concrete equipment, including power trowels, power buggies, saws, and concrete finishing equipment such as grinders, polishers, and floor strippers.
In fact, more brands that were once electric-only are now offering engine-driven solutions powered by propane. This is in addition to the trend over the past couple years of manufacturers exploring options beyond diesel in heavy duty applications, as well. There are a few reasons why brands and contractors continue to turn to propane for concrete construction: the fuel's lower price per gallon, its versatility, and its low emissions.  

Propane has a low price per gallon
Concrete contractors have likely enjoyed low prices throughout the first quarter of 2019 for gasoline and diesel, but the high gasoline prices of last summer and prior years has left a lasting memory with many in the industry. And even now, forecasts are calling for gas prices to approach $3 per gallon at the height of the summer work season again. However, by considering propane equipment, contractors have another option for fueling equipment that can provide a long-term solution to the price fluctuations of traditional fuels.
For starters, propane is a product of both natural gas and petroleum, and the price for propane falls between the price of those two fuels. Additionally, the majority of the propane supply used in the United States is produced in North America, providing cost stability even when the global fuel markets fluctuate. Because of these factors, propane is consistently less expensive than gasoline and diesel.
Contractors who commit to using propane equipment can further protect themselves from market fluctuations by entering into a fuel contract with a local propane supplier. The fuel contract can provide an advantage in forecasting annual costs by locking in a set price per gallon for  both short-term and long-term fuel needs.
Propane is versatile and portable
Propane allows contractors to cut the cord tying them to the electrical grid, a benefit on sites that aren't yet connected to utilities or are located off the grid entirely — a growing possibility as green construction trends gain traction.
Removing the restrictions of cords also gives contractors more freedom of movement when it comes to grinding and polishing work on large open spaces. With propane, there are no concerns of working beyond the reach of a power cord, allowing work to be done faster as employees no longer have to operate with finding the next outlet or compatible power supply in mind. Using propane-powered concrete finishing equipment in well-ventilated rooms can also reduce trip hazards from electrical cables while other jobs are completed.
Additionally, propane cylinders used for construction equipment are able to be safely transported to jobsites on trucks or trailers with equipment. On long-term jobsites, propane cylinders can even be stored in secure, locked cages. And by setting up a cylinder exchange program with a propane supplier, contractors can ensure that fuel is always available without the hassle of refilling gasoline or diesel tanks at a filling station. Speaking with a local propane supplier can help contractors find the best refueling solution, as well, which is as easy as using the Find a Propane Supplier tool available online from the Propane Education & Research Council.
Propane is a clean fuel
Compared to gasoline and diesel equipment, propane produces fewer emissions. This includes carbon monoxide emissions, as well as greenhouse gas emissions such as nitrous oxide (NOx) and sulfur oxide (SOx). For contractors working on sites requiring reduced emissions, the availability of propane equipment can be a selling point for customers. With proper ventilation, propane's emissions profile enables the fuel to be used both indoors and outside, as well, which can mean huge gains for crew productivity, particularly when moving materials around a site with a power buggy or forklift.
The fuel is also recognized by the EPA as a non-contaminant of soil, water, and air — another fact that contractors can call out when working with green-minded customers.
Whether a concrete contractor is looking for a solution to fuel cost fluctuations, or to meet the needs of a tricky project, propane can offer a lower price per gallon, usage versatility, and reduced emissions to help land bids and turn profits. For more information on propane, visit propane.com/propane-products/construction-equipment.
Ed. Note: Jeremy Wishart is the director of off-road business development at the Propane Education & Research Council. He can be reached at jeremy.wishart@propane.com.