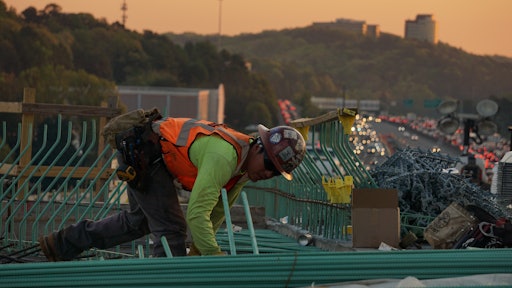 Chandler Denise/Unsplash
In the last issue, I wrote briefly about opioid abuse and steps contractors can take to combat this growing issue. Since then, several contractors have told me that I may have missed the mark. They see that the problem is not limited to opioid abuse, but rather, deals with the broader subject of employee well-being. Another contractor criticized the fact that I did not give enough information about how to deal with this problem. So this time around, I will try to address both issues.
There is little doubt that the concrete industry is one of the more dangerous industries in the American economy. The Occupational Safety and Health Administration (OSHA) considers construction, in general, to be the riskiest business for employee safety—and concrete construction is no exception. Construction is physically demanding, stressful work, and physical injury is almost inevitable, despite your best efforts to train your workers and encourage safety above all else in the workplace.
When a worker is injured—whether on- or off-the-job—a number of problems typically arise. First, there is of course the physical injury. If that prevents the employee from working, there will be economic loss of some kind. With that, the employee typically will have mental anguish or stress, both about the loss of income and not being able to work. In cases of prolonged lack of work, the individual may also incur some emotional stress. All of this is further complicated by added stress placed on the worker by family and friends.
You might think that good medical assistance would solve these problems. But, the medical community, including physicians, pharmacists, physical therapists and mental health counselors, often make the problem worse. Particularly in the case of soft tissue injuries where it is difficult to measure pain or changes in mobility or flexibility, the medical professional has a tough job. Many respond by prescribing pain relievers to injured workers without really being able to measure the scope, frequency or severity of the pain. And, in many cases, the pain relievers are opioids. To prevent the patient from running out of desperately needed pain medication, the medical professional will often overprescribe. At first, the worker is taking opioids for genuine pain relief, but over time, as the pain diminishes, the reliance upon opioids does not. Instead, opioids become a way for the worker to "get through the day." 
Please note that the same situation can occur from the abuse of alcohol. Moreover, although opioids have become the current "evil" prescribed by the medical profession, it is important to remember that abuse of lawful, prescribed drugs is still a big problem. There is no question that many of these drugs affect the worker's ability to do the job. 
So what should concrete contractors do? Here are seven steps to ensure the health and wellness of your employees:
Educate your employees about the health and productivity issues related to prescription drug abuse and alcohol.
Be sure to incorporate educational information about alcohol and substance abuse in your workplace wellness programs and strategies.
Check to see that your health insurance coverage includes benefits for substance abuse disorders. If it does not, price it and consider paying the cost.
Make certain that your drug testing plan is well-written and covers all forms of substance abuse, including abuse of lawfully prescribed drugs.
Make certain that your employees are well aware of your drug-free workplace policies and how they work.
Consider providing an employee assistance plan/program that provides specific information and services related to substance abuse prevention, treatment and return to work issues.
Train managers and supervisors to recognize and respond to alcohol and substance abuse issues, so that problems can be addressed timely, safely and legally. 
Ideally, managers and supervisors should be trained to recognize any diminished capacity, as any distraction can affect the worker's job performance. Sometimes the distraction is caused by the worker dealing with a family member's prescription or substance abuse problem. While no one is suggesting that you can solve all of your employees' problems, it is important that your employees perceive you as a helpful resource. This requires constant, effective communication and a genuine desire to help your workforce become the best they can be. With all the other distractions that come with running your business, it can sometimes be hard to find the time to make a difference to the individual employee, but it is always worth it.
David C. Whitlock has over 25 years experience in business immigration, compliance, employment counseling and training. Whitlock can be reached at (404) 626-7011 or davidcwhitlock@gmail.com.